• Grand Final scorecard: Every Swans player rated
• McVeigh disgusted by insipid Swans
• Ten things we learned from the Grand Final
NICK Malceski will decide within "the next couple of weeks" whether he'll play for the Sydney Swans in 2015.
The unrestricted free agent hasn't yet indicated whether he'll re-sign with the Swans.
Click here for the latest list of 2014 free agents
He and his teammates shared a few quiet drinks on Saturday night, dissecting the mammoth loss and trying to piece together what went wrong.
Speaking at the club's family day on Sunday morning, Malceski said the humiliating 63-point Grand Final failure wouldn't play a role in helping sway his decision.
With the pain of the failure still raw, the 30-year-old All Australian will now consult his loved ones about his future.
"I'll sit down with my family and hopefully work something out after that … the next couple of weeks," Malceski said.
"I haven't had time to think about yesterday's game, to be honest with you.
"We didn't perform how we wanted to and we're just disappointed with how we played."
Around 400 Swans faithful greeted the team on Sunday morning, just a kilometre from the club's spiritual home of Lakeside Oval.
Veteran Swan Adam Goodes said that although the Grand Final heartbreak only intensified his competitive fire, like Malceski, he insisted it wouldn't play a role in deciding his future.
"The fire still burns - it can't not burn after that loss," Goodes said.
"Whether it was a win or a loss, I'm still going to take the time to think what I'm going to do next year.
"What happens with the group next year, whether I'm there or not, we can't accept that [loss].
"Unfortunately we didn't have too many guys who were rowing the boat, for us it's a learning curve – we need more guys rowing the boat."
Veteran Swan Adam Goodes says he's unsure of his plans for next year. Picture: AFL Media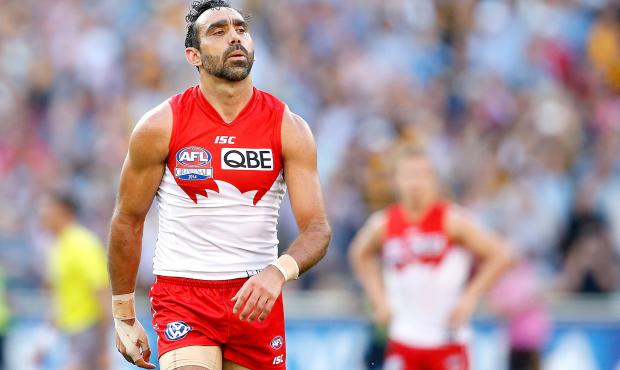 Ex-Hawthorn champion Leigh Matthews said, despite Goodes' fine finals series, it was time for the Swans star to retire.
"From my observations, he's still (playing) OK but it's a matter of how far below your peak do you go before you stop playing?" he told Channel Seven on Sunday morning.
"His last couple of games ... yesterday he was pretty good, his preliminary final was very good, but I thought most of the year he's looked like (he might be thinking) 'it's just about time to say I'm off my peak, and I might be on the fringe of whether I'm in their best team' and that's the time, for me, when really good players decide to stop playing."
Goodes' former teammate Jude Bolton agreed, saying it was better to retire early than go on one year too many.
"My feeling is he probably wants to go around again but … the suggestion is, pull them up when you get a chance," Bolton said.
Lance Franklin said his impressive four-goal effort for the Swans counted for nothing.
It was Franklin's second Grand Final loss, after kicking three goals for the Hawks when the Swans triumphed in 2012.
The superstar said his side's performance simply wasn't up to scratch on Saturday, but backed it to emerge stronger for the disappointment next season.
"I've lost two of them now; it's a bad feeling but we've got to stick together as a football club," Franklin said.
"What we put up yesterday wasn't on, but we'll be better as a football club for this.
"We'll learn a lot from yesterday and there is a lot of improvement still to come.
"They absolutely destroyed us … we're going to look forward to a good pre-season and get everything right we can."
Twitter: @AFL_Harry