WHILE James Hird was a notable absentee from Essendon's best and fairest count on Wednesday night, Mark Thompson has used the occasion to all but state he wants to stay on as senior coach.
His absence was not acknowledged at any stage of the evening, which casts even more doubt on whether he will remain at the club.
In comparison to Hird's actions, chairman Paul Little confirmed the Bombers would "move on" from the court challenge and would not seek to appeal it.
The Bombers appear set to decide Hird's future on Thursday at a board meeting, and Thompson has given them more food for thought by stating he doesn't want to "take a step back" from the role he's filled during Hird's suspension.
"My situation is ... it was a fantastic year I had. I loved coaching the boys, they were really receptive, we got improvement in wins and losses and it was everything coaching is. It's a good job in some parts and that part is fantastic," he said.
"The thing I'm really struggling with right now is taking a step back. That's where it's all coming from.
"The plan was to leave after this year. I don't really want to because I love this footy club and I love the players and I want them to do really well.
"I can't do a job that doesn't actually fill a need, so we'll have to wait and see how we go in the next few days.
"You don't go backwards in this world. We don't ever want players to play in the AFL and then go back to the VFL and expect them to enjoy that. 
They hate that and that's a little bit about how I feel."
It is understood Thompson is heading overseas on Thursday for two weeks.
He was met with raucous cheers from the 1600-strong crowd at the function when he said he didn't want to leave the players after a "pretty productive year".
Little said the club hoped to be in a position to outline the details of his role next year "in the next few days".
It was a strange atmosphere in the room, with notable uncertainty surrounding Hird's future – and the fact he was not mentioned once amid the obvious support for Thompson.
Meanwhile, Little again stated the club believed none of its players ingested "harmful or banned substances" during the supplements program of 2012.
But, he said it was time to abandon legal challenges after last month's failed Federal Court push and do what they could to expedite the process to "clear our players' names for once and for all".
"We are of the strong belief that if there is no appeal, the show-cause process will recommence immediately and both ASADA and the AFL will undertake to move with as much expedition as possible," Little said.
"It is therefore my recommendation to all of you here tonight and our supporters generally, that it is now time to accept the Federal Court's decision and move on.
"Our priority remains the welfare of our players and protecting their rights. 
"Through no fault of their own, the players and their families continue to live with the uncertainty of this investigation."
Mark Thompson has strongly suggested he wants to stay on as Essendon coach. Picture: AFL Media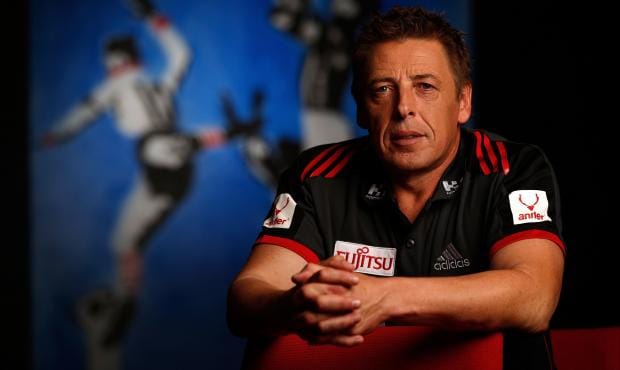 Captain Jobe Watson emphasised the players remained united in their position despite the apparent splintering of Hird from the club. 
He also said, while uncertainty remained in regards to when the saga would end, the players believed in how the AFL Players Association was handling the process.
"It's been very difficult ... it's been bordering on 20 months now of a situation that we've found ourselves in," Watson said.
"The playing group has dealt with it as best they could.
"It's remained united, it's tried to focus entirely on football, despite the distractions that have surrounded us.
"We hope there's an end in sight. There's no guarantee that's the case, but I know the AFL Players Association is working incredibly hard and the players are certainly united behind the players' association.
"They are looking forward to having a situation where one day it will be behind us and football can be the sole focus on Essendon."
Thompson thanked the crowd for their support and for convincing him to take on the role 12 months ago at the same function.  
He also urged them not to "drop off now that we're at the better end of this whole crappy issue we're all talking about all the time".
"You haven't got long to go. Stay in there. We don't want any blood, we just want you to try a little bit longer to hang in there and stay together," Thompson said.
"If we get through it, there will be nothing that ever holds us back because we will be that resilient as a club and we will do everything right and we'll have a real point to prove."