JUST four seasons ago, Andrew Mackie's career was at the crossroads. Having been dropped for the 2010 finals series, his future at Geelong seemed uncertain.
But the dashing defender, who grew up in Adelaide, has fought back brilliantly since then.
He was a member of the Cats' 2011 premiership team, was elevated to the leadership group in the lead-up to the 2013 season, made the All Australian side last year, and is now preparing to celebrate his 200-game milestone when Geelong takes on the Brisbane Lions at the Gabba on Sunday.
"It's obviously something that I'm very proud of," Mackie said.
"To do it with this great group that I've been luck enough to play with for 12 years is an honour and something that I don't take lightly.
"Every day you come into the club is a great day. It's great fun. The environment we get to work in is unbelievable, so I'm very lucky."
Preview: Brisbane Lions v Geelong
Mackie arrived at the Cats with high expectations after being selected with pick seven in the 2002 NAB AFL Draft.
He was a spindly teenager then, and his teammates love ribbing him about the fact that he looks barely a kilogram heavier all these years down the track.
"I've tried to put on a bit of weight, but it hasn't really worked," he said with a chuckle.
Mackie spent the 2003 season honing his game in Geelong's reserves, then made his AFL debut in 2004.
However, it wasn't until 2007 that he finally cemented his spot in the Cats' team.
His timing was impeccable, as that was the year Geelong took the competition by storm, thrashing Port Adelaide by 118 points in the Grand Final.
In the following two seasons, Mackie also played in the losing Grand Final against Hawthorn and the Cats' victory over St Kilda in the 2009 decider.
After the setback in 2010, his fortunes improved when Chris Scott took over as coach in the lead-up to the 2011 season.
"I don't think it's a bad thing if he thought his career might be at the crossroads a little bit," Scott said. "But even coming into the club, that was never my impression.
"I've always had a high regard for Andrew. Getting to know him within the football club has only increased my admiration for him.
"He's one of the most respected players at our football club, which is saying something, I think, because there are a lot of well-respected and highly-decorated players.
"He's a guy that his teammates just love playing with. He's a little bit of a barometer for our enthusiasm as a group, too.
"When things are tough, Mack's typically the player that generates a bit of enthusiasm and brings the players with him."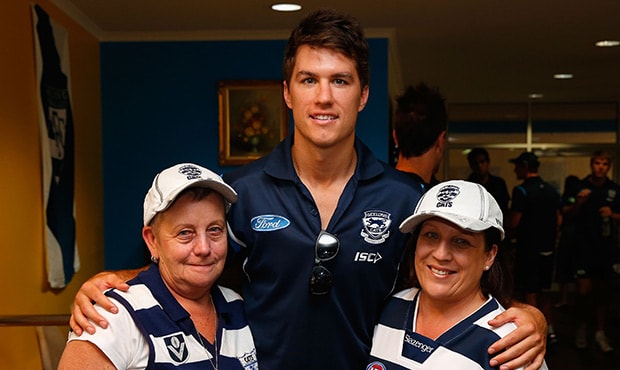 Andrew Mackie with a pair of loyal Cats fans at the club's Community Camp in Colac earlier this year. Picture: AFL Media

Mackie's value lies in his ability to stop opponents of all sizes while also pushing forward and kicking goals.
His other weapon is an acid tongue, with his sledging regarded as legendary within the walls of the Simonds Stadium.
Among many quips, he is credited with saying "Do we still get four points for beating you blokes?" to a North Melbourne player after the Cats easily beat the Kangaroos at Simonds Stadium one afternoon.
"He's pretty good," said fellow three-time premiership player James Kelly.
"He's probably a bit better than when he started. He's a bit smarter and his timing's a bit better."
Added Mackie: "There's been a lot of times where we've ended up paying ourselves out as much as the opposition, which has been quite fun over the years. 120 minutes is a long time out there. Sometimes you've got to have a bit of fun."
Last year, Mackie produced the best run of form of his career, at the ripe old age of 29. He played every game, was selected on the bench in the All Australian team and finished third in Geelong's best and fairest.
"We've always thought he was a very good competitor and very good performer at his best," Scott said. "The thing that's improved in Andrew's game is that even his bad games are pretty good now.
"His consistency is at such a level that we would compare him to guys like Corey Enright, which is a big rap.
"I suspect that the 200-game mark is just a small milestone in his career. He's still got a lot of things that he wants to achieve and help the Geelong footy club achieve."