WITH the NAB Challenge approaching,
AFL.com.au
will examine all the
defenders
, midfielders and
forwards
on your club's list.
Hawthorn
Jed Anderson: Hospitalisedwith pneumonia in late November and subsequently lost a lot of weight. Hasgradually worked his way back to fitness and should be ready to play in roundone, but will be eased back via the VFL.
Jonathon Ceglar: Theruckman broke through to play his first two AFL games last season and aninjury-free pre-season has enabled him to bulk up. Behind Ben McEvoy and David Halein the ruck pecking order, but ready to come in if required.
Mitch Hallahan: The Hawks are keento blood the 2013 Liston Trophy winner this year, with the inside midfielderyet to play a game in his three seasons at Waverley. Alastair Clarkson's recentindication that Luke Hodge, Sam Mitchell and Shaun Burgoyne will continue tospend less time in the midfield bodes well for Hallahan.
Bradley Hill: Thewingman has not rested on his laurels after winning a premiership in his secondseason, taking his training to another notch this summer. One of the new breedof runners that have given the Hawks' midfield a better outside balancerecently.
Will Langford: Shonein the midfield with Box Hill last year after being shifted from defence,impressing at stoppages and in run-with roles. Broke through to make his debutin round 17 last year and should enjoy more senior opportunities in 2014.
Jordan Lewis: Nowone of the Hawks' senior midfield hands with Luke Hodge and Sam Mitchellincreasingly used elsewhere. Has also been extremely effective pinch-hitting inattack in recent seasons, having shut down opposition playmakers such as HeathShaw.
Luke Lowden: Theruckman has not played a senior game in his five seasons at Waverley, but theHawks are pleased with his progress. Has bulked up this summer and should beable to build on his 2013 form with Box Hill, when he played with moreconfidence and started to take contested marks.
Ben McEvoy: Theformer Saints ruckman is set to replace the retired Max Bailey in the Hawks'team. After shouldering St Kilda's ruck duties on his own in recent seasons, heshould thrive on sharing the load with David Hale in 2014, but will have toadjust to spending more time in attack.
Brad Sewell: Struggledin the first half of 2013 after an injury-interrupted pre-season and wasdropped after round 15. Returned to play an important part in the Hawks' run tothe premiership and has enjoyed a far better 2014 pre-season. The Hawks expecthim to bounce back to his best this season.
Liam Shiels: Usedprimarily as a run-with midfielder in an injury-interrupted 2013, the22-year-old will be looking to take on more responsibility in Hawthorn'son-ball division this season. Fit, disciplined and seen as a future leader bythe Hawks.
Jonathan Simpkin: Played14 games in his first season with the Hawks last year, including thepremiership. After an outstanding pre-season, the hard-at-it midfielder will belooking to cement a regular senior spot in 2014. Will also spend time inattack.
Isaac Smith: Thewingman's growing importance to Hawthorn was recognised late last year whenopposition teams began to tag him. Has again dominated Hawthorn's running timetrials this pre-season and should only continue to improve in his fourth AFLseason.
Brendan Whitecross: Setto be sidelined for most, if not all, of 2014 after undergoing his second kneereconstruction in a year last September, but has impressed the Hawks with hispositive attitude. Equally effective in the midfield, forward and defence.
Alex Woodward: Thetough inside midfielder made an encouraging return against the Brisbane Lionsin this week's NAB Challenge game after undergoing two knee reconstructionsinside a year. If he can stay fit, the 20-year-old appears to be one of theyoung midfielders Alastair Clarkson is keen to develop in 2014. – Nick Bowen

Hawthorn midfielder Jordan Lewis with the 2013 premiership cup. Picture: AFL Media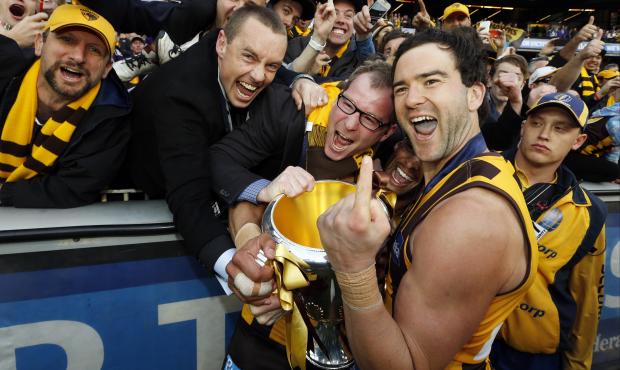 Melbourne
Dom Barry: His speed makes him a valuable player but he still needs time. Has impressed the coach at training in the past three weeks and he is building his strength. A good ball user, he is more likely to be held back until he is knocking down the door.
Daniel Cross: Experienced and hardworking, he has had an excellent pre-season. Obviously he's going to be used in a variety of roles but he can still play reasonable football. He might be used as a battering ram in the midfield and also gives the coach options in defense.
Michael Evans: Another player plagued by injury who has shown his capability in glimpses. Only managed nine games in 2013 before a foot stress reaction derailed his comeback. Has speed and uses the ball well but seems to be on his last chance to prove his body can cope with the demands of AFL.
James Harmes: Rookie midfielder is a hard nut who likes to win the football. Melbourne has reasonable depth in this area but he will have a chance to stake his claim in the VFL.
Mark Jamar: A toe injury sidelined the club's No.1 ruckman after just nine games. He did not perform under Mark Neeld but he is capable of making a massive improvement. Has been monitored through the pre-season and is facing competition in the fight for the top ruck spot.
Matt Jones: Took his opportunity in 2013 playing every game but faces much more competition for spots this season. On the flipside, the increased depth will allow Jones to play more of a supporting role. Roos has noted his pace and he could slot into a wing.
Nathan Jones: The new co-captain has shouldered such a load in the past two seasons he might find himself with time to breath. With Cross, Tyson, Vince, McKenzie, Michie and Trengove all capable of playing in the guts, Jones might get a chance to spend some time on the flanks. He can kick team-lifting goals.
Jordie McKenzie: A respected player who will leave nothing to chance in his preparation, he looks likely to once again play a run-with role. However he will benefit from Cross' presence, which might free him up at times. Has had a good pre-season after an injury interrupted 2013.
Viv Michie: The big-bodied midfielder should get a chance to impress through the NAB Challenge series. He is capable of playing as a high half-forward, with track watchers impressed with his cleverness around goal.
Aidan Riley: On the long-term injury list, he is ahead of schedule as he returns from his broken leg. The club expects him to be right to go in round three (round one for the VFL). Has a reputation as a hard nut.
Christian Salem: Well-built and a stylish kick he impressed in the scratch match. Apart from being sidelined due to a brief illness he has done everything asked of him in the pre-season. Has time when he gets the ball and looks comfortable at the level. Expected to have to fight for his chance.

Former Bulldog Daniel Cross will be a useful addition to the Demons' midfield. Picture: AFL Media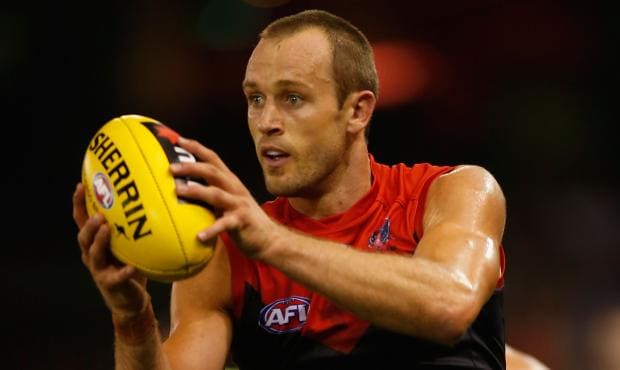 Jake Spencer:
Has first crack at the rucking spot after a fine pre-
season. Had shoulder surgery post-season but is fitter than the other talls at this stage of the year.
Jimmy Toumpas: Four goals in an intraclub match was a good confidence builder for Toumpas. He has enjoyed a good pre-season after being slow out of the blocks last season due to hip problems. Looks likely to play more as a wingman/half-forward than in the centre this season.
Jack Trengove: Looking to become a high half-forward, inside stoppage player in the mould of the Swans' Ryan O'Keefe. Fitter than last year and without the captaincy he is fresh and raring to go. Needs to work hard and run to the right spots to become the player he is capable of becoming.
Dom Tyson: Has done every session since Christmas after an injury-interrupted 2013. Just wants to get some consistency into his season and build confidence. A good stoppage player with fast hands, he will bring teammates into the game.
Bernie Vince: Vince stands out at Melbourne training. He has a vibrancy about him that identifies him as a good player. He moves the ball quickly and will be keen to impress early.
Jack Viney: Viney has had a modified pre-season to ensure he recovers fully from lingering foot and hip problems. Everyone knows he is a bang and crash player but it's likely Roos will manage his game time and vary his roles to ensure he plays the 'mad dog' role when his body is ready to absorb it.
Jack Watts: Another throw of the dice for the number one draft pick with Watts earmarked for the midfield. The Demons will be looking to get the ball in his hands, as he is a good user of the football. He has pace, a big body and is agile in traffic. Watts is capable of a breakout season.


North Melbourne
Liam Anthony: Fellout of favour last season and faces a battle to re-establish himself ahead ofNorth's raft of emerging young on-ballers. His ability to win the ball hasnever been a problem, but his kicking can let him down. Had a delayed start tothe pre-season after a right shoulder reconstruction.
Shaun Atley: Hasspent the past two seasons in defence, but North will look to utilise his explosivespeed through the midfield in 2014. Touted as one of North's most improvedplayers this pre-season, he looks ready to break games open this season.
Ryan Bastinac: Oneof the Roos' most well-rounded midfielders, Bastinac wins a good mix of insideand outside ball and is a regular goalkicker. Enters his fifth season in 2014and should continue to improve.
Ben Cunnington: Readyto take his game to another level, according to North star Brent Harvey.Cunnington has toiled hard to improve his fitness since arriving at the Roosand looks set to add more run to his elite stoppage work.
Daniel Currie: Getsa chance in the NAB Challenge to show North there is room for him and ToddGoldstein in the same side. Looks capable of holding his own in the ruck at AFLlevel, but has to prove he can also be an effective forward.
Nick Dal Santo: Theformer Saint can expect to spend time in defence and attack this season, but islikely to play predominantly in the midfield. The three-time All Australian hasalready made a big impression at Aegis Park, having been added to theleadership group, and gives the Roos another elite ball-user.
Trent Dumont: TheRoos' second pick in last year's draft is likely to start the season in the VFLwith North Ballarat. A strong-bodied midfielder who played senior SANFLfootball with 2013 premier Norwood, he could push for a senior berth later inthe season.
Sam Gibson: Addedto North's leadership group this season in recognition of his outstandingpreparation and work ethic. The Roos' best distance runner, his ability to keepproviding an open target late in games is underrated.
Levi Greenwood: Hamperedby a foot injury this summer, but is on track to return later in North'spre-season campaign. Largely out of favour the past two seasons despite somestandout performances as a run-with midfielder, he comes out of contract at theend of 2014 and faces a make-or-break year.
Taylor Hine: Theformer Sun enjoyed a solid first season with North last year, playing 14 gamesas a run-with midfielder. The Roos love his fierce competitive streak and couldalso use him as a small defender in 2014.
Ben Jacobs: Foundhis niche as an inside midfielder late last season when he came into North'steam to help cover injured captain Andrew Swallow. Enjoyed his firstinjury-free pre-season this summer and will look to cement a midfield spotearly this year while Swallow remains sidelined.
Jamie Macmillan: Regardedas one of North's most promising young leaders, he has not missed a game in thepast two seasons. Likely to again alternate between the wing and half-back thisseason.
Tim McGenniss: Excelledas a run-with midfielder with Werribee last year in his first season on North'srookie list. Has emerged as one of North's best distance runners thispre-season and will look to win more of his own ball in 2014.
Brad McKenzie: Anotheryoung Roo who has had to work hard on his fitness, the left-footer is one ofNorth's best ball-users. Played 10 of the Roos' last 11 games in 2013 and willbe looking to start having an impact on matches this season. Could also playacross half-back.
Andrew Swallow: Theskipper is making good progress in his rehabilitation from a ruptured leftAchilles tendon, with North now expecting him to return between rounds 5-8. TheRoos covered his absence well late season, but he remains the heartbeat oftheir on-ball division.
Kayne Turner: Inhis short time at Aegis Park, the slightly built 18-year-old has impressed theRoos with his fanatical attack on the ball. The rookie will spend this seasondeveloping in the VFL with Werribee.
Jack Ziebell: Anoutstanding pre-season has helped Ziebell improve his aerobic fitness, aconstant focus in his five years at North. The emerging leader is bull-like atstoppages and should form a formidable inside trio with Cunnington and, when hereturns, Swallow. – Nick Bowen

Big things are expected from Jack Ziebell in 2014. Picture: AFL Media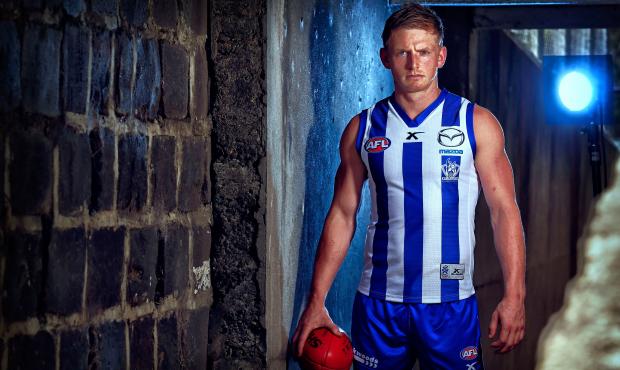 Port Adelaide
Travis Boak: A perfect pre-season from the skipper as he looks to cement his place as one of the competition's very best midfielders. His leadership has continued to prove inspirational throughout the summer.
Matthew Broadbent: A quiet achiever, but a truly valued member of the club's midfield group. Broadbent has continued to build his game and his no-frills game makes him a coach's favourite.
Brad Ebert: Such a hard worker and undoubtedly one of the most important players on Port's list. The vice-captain has trained the house down again this off-season and is primed for a big 2014.
Hamish Hartlett: Shoulder surgery has meant a cautious pre-season for Hartlett, but he's managed to build a fitness base regardless. He should manage a trial before round one.
Ollie Wines: A phenomenal debut season in 2013, Wines has continued to display maturity beyond his years. He's slimmed down slightly, but is still an excellent size for an inside mid.
Kane Cornes: The veteran loves pre-season and he's excelled yet again. He remained unbeaten in the time trials and looks as fresh as ever as he edges towards 300 games.
Matt White: Like Polec, the recruit has enjoyed a stellar pre-season. His outside speed is going to be hugely beneficial for the club so expect him to play regularly.
Jared Polec: Once he got over an early bout of tonsilitis Polec has been outstanding this summer. He's really impressed the coaching staff and looms as a definite round-one starter.
Matthew Lobbe: A huge year looms for Lobbe, who will shoulder much of the Power's ruck burden. But if his form over the pre-season is anything to go by he's up to the task.
Dom Cassisi: The veteran has been around long enough to know what he needs to do in the pre-season to ensure a good base and with no injury worries he's in top shape ahead of 2014.
Andrew Moore: Appears ready to take another big step in his development after some really impressive form in 2013. Importantly, he's remained injury free, which should allow him to up his output.
Jarrad Redden: A knee injury and resulting surgery was the sour icing on a bitter cake for the young ruckman, who had endured several previous surgeries since July last year.
Ben Newton: Is being talked up as a real possibility to make his AFL debut early in the season. This year is his fourth on the Power's list and he's closer than he's ever been to a game.
Aaron Young: He played some important football late in the season and has got through most of the pre-season, which is a good sign for another player who's battled injury issues in the past.
Brendon Ah Chee: The big-bodied midfielder is starting to look pretty good at training after a delayed start to the pre-season due to a knee problem. If he can find early consistency he could make an impact.
Karl Amon: The skilful left-footer has managed to put on some size in his first pre-season as an AFL footballer and has slowly crept up as a possible debutant in 2014.
Sam Gray: Has adapted well to life as an AFL footballer after starring for Port in the SANFL for a number of seasons, but a shoulder injury has set him back a little.
Brent Renouf: Forced into a delayed start to the summer after minor knee surgery, Renouf's form has improved recently as he returns to full health.
Kane Mitchell:
Mitchell has continued to hone his disposal skills this summer as he seeks a place on the club's senior list. A quality impact player, he wants to earn a starting place in the side.
Rising star Ollie Wines enjoyed an outstanding debut season in 2013. Picture: AFL Media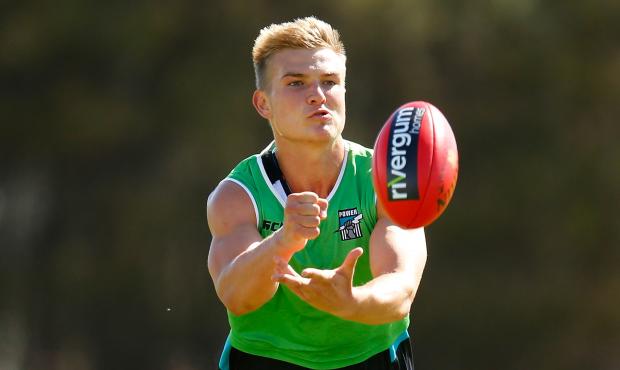 Richmond
Matt Arnot: Joined the main group last week after a long rehab from a stress fracture in his back. Is a few weeks from playing but got through 18-on-18 match practice this week. Is feeling good after overcoming the mental hurdle of such a long rehab.
Reece Conca: Has been monitored this pre-season as he overcomes the hamstring tendon tear he suffered in the elimination final. Started training with the main group two weeks ago. Is expected to play in the second NAB Challenge match and push for round one or two.
Trent Cotchin: In typical fashion, has trained the house down. Is having a pre-season rated better than his 2012 one, which saw him equal runner-up for the Brownlow Medal. Has also shown excellent leadership ahead of his second season as captain.
Brett Deledio: Like Cotchin, is another who unexpectedly has put himself through a solid summer and has been reinstated as vice-captain. Has remained durable ahead of his 27th birthday and has spent a lot of time in the midfield and working at the stoppages.
Brandon Ellis: Is set for more of a midfield role after playing wing and half back last year, having trained at the centre bounce and in contested ball work. Has again displayed his envious tank by starring in the time trials.
Nathan Foley: Is having possibly his best pre-season yet. Overcame the disappointment of being dropped for the final and is benefiting from finally being fit over summer. Is up there with Cotchin as far as setting a high standard in the midfield group.
Nathan Gordon: The mature-age half forward has been playing on the wing and on ball after demonstrating an ability to run all day. Is expected to add depth to the midfield and put pressure on the senior players for a berth early on.
Ben Griffiths: Has been settled in the forward line and like Elton, is benefiting from one-on-one work with Mark Williams. Has shown a bit in intraclub games and the belief is playing defence at times last year helped his development. Will play both forward and in the ruck.
Shaun Grigg: Had shoulder surgery in September to tidy up the area around his AC joint. Has been training with the main group for four weeks. The durable midfielder has had to deal with being in the rehab group for the first time in awhile but has benefitted from strength and weights work while out.
Brad Helbig: Joined in full training just before Christmas after starting the pre-season in the rehab group. Has since been working on his contested ball and stoppage work and will be available for pre-season games.
Bachar Houli: Had an interesting pre-season that saw him go on a pilgrimage to Mecca before becoming a father for the first time. Will play on the wing and off half-back and has spent the summer learning the midfield ropes from Cotchin, Grigg and Deledio.
Dan Jackson: Missed the first NAB Challenge game with groin soreness after being managed through the pre-season. Had a terrific 2013 where he played every game and has come in and out of drills as he listens to what his body needs ahead of his 11th season.
Ivan Maric: Had post-season groin surgery that helped alleviate the soreness that has plagued him for years. Was managed through most of the summer and missed the first NAB Challenge game with an ankle. Will team up with Hampson in a new combination this season.
Kamdyn McIntosh: Has been the standout of the younger midfielders. Has shone in the time trials along with Ellis and has given himself a strong opportunity to debut this year after showing promise on the wing and across half back in the 18-on-18 games.
Anthony Miles: Was targeted to increase the midfield's depth after the retirement of Shane Tuck. Has shown his ability to win the ball in close and has done everything since moving to the Tigers from GWS. Needs to be elevated to play but hasn't done his chances any harm so far.
Ricky Petterd: Has trained everywhere and will fill a versatile role across half-forward, half-back and in the middle. Has had a pretty good pre-season but has been managed because of his body's history and missed the first NAB Challenge with a calf.
Orren Stephenson: The warhorse ruckman has completed nearly everything this pre-season. Will be ready to play when needed throughout the season and will play in the NAB Challenge with Maric unavailable for at least the first game.
Matt Thomas: The big-bodied former Port Adelaide midfielder will add depth this season after being recruited as a rookie. Has done everything he can so far despite not being named for the first NAB Challenge.
Cadeyn Williams:
The second-year rookie had shoulder surgery over the pre-season and came back after Christmas. Since then, has improved his running and has ticked all the right boxes.
- Jennifer Phelan
Richmond skipper Trent Cotchin in action during the NAB Challenge. Picture: AFL Media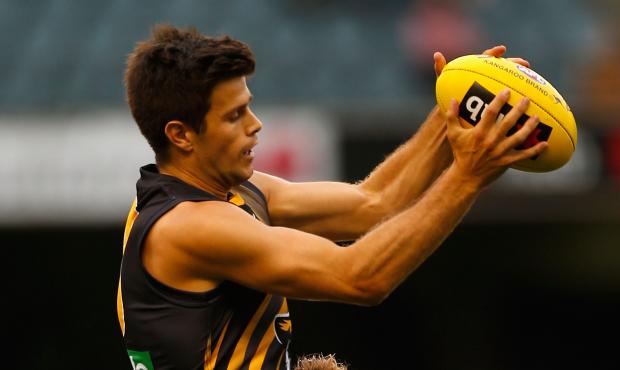 Blake Acres: Had a shoulder reconstruction that restricted him pre-Christmas, but has impressed with his running ability. Added size post-Christmas and has been used predominantly on a wing in match simulation drills.
David Armitage: After a clean run with injury, the Saints hope the midfielder can take the next step in 2014. He has added leadership to his game this summer and has been strong in contested situations all pre-season.
Tom Curren: Hit his straps as a run-with player late last season and earned elevation for 2014, but his workmanlike attitude has not changed. An uninterrupted pre-season has him well placed to push into a full strength midfield.
Sam Dunell: A strong pre-season has seen him improve his running power, which was already a strength. The 23-year-old shapes as a versatile player who can be used both midfield and forward.
Luke Dunstan: The strong-bodied recruit has impressed with his clearance work and running ability in his first pre-season. Enjoyed a strong intra-club match, winning a lot of possessions in congestion.
Lenny Hayes: Completed a lot of work in his best pre-season for a number of years but has been backed off over the last two weeks. Expected to play at least two practice matches.
Clint Jones: Has impressed the club's new coaches with his work rate across another strong summer. Continues to work on the balance between winning possessions and being an asset to the midfield as a run-with player.
Tom Hickey: Entering his fourth season, the athletic big man has worked closely with ruck coach Darren Jolly while also improving his ability as a forward. After 12 games in 2013 he is preparing to take on more ruck responsibility.
Jason Holmes: The American rookie has shown a great attitude since arriving at the club and has surprised with his ability to pick up the nuances of the game quickly. Already a popular team man.
Billy Longer: The former Brisbane Lion has done a lot of competitive training head-to-head with Hickey, starting match simulation work early in the pre-season. He has impressed with his ability to take strong marks in the forward line.
Leigh Montagna: The Saints have noted Montagna's increased leadership involvement in his 13th pre-season. The midfielder returned to training in good shape, has run hard and is said to be enjoying his role mentoring the club's young players.
Jack Newnes: Has recovered from an off-season shoulder reconstruction and is focused on adding size in the short-term. Started his career at half-back and has held his own through his first pre-season as a midfielder.
Lewis Pierce: The promising young ruckman has been managed this summer because of stress fractures in his back. Has started running and will be focused on regaining fitness and touch.
Farren Ray: The well-established midfielder is fit and training well ahead of his 11th season. Has 176 games' experience to draw on and has used it to build a strong pre-season that has him primed.
Seb Ross: Putting on size has been a focus for the young midfielder, whose inside game continues to develop. His fitness has increased and his instincts at stoppages are sharper.
Josh Saunders: An explosive runner who has been used as both a wingman and small forward in match simulation drills this pre-season. Has matured going into his second season, according to his coaches, and is in a strong position to build on his 10 games from 2013.
Shane Savage: Has slotted into the group well and impressed with his work defensively in the midfield, using his pace to chase and tackle. Has kept his head down and worked hard after crossing from Hawthorn.
Jack Steven: His explosiveness has been on show this summer as well as an increased maturity going into his seventh season. Highly respected because of his intensity around the ball, the club champion is well placed to continue on an upward trajectory.
Eli Templeton: Has worked hard through his first pre-season and is highly regarded for his energetic and positive approach. Has impressed with his speed, kicking and endurance.
Maverick Weller: Has approached his first pre-season at St Kilda with a bit to prove after being delisted by Gold Coast, starting early and leading the way in running drills. Has since been a part of the midfield in all match simulation work. - Nathan Schmook
Sydney Swans
Craig Bird: A no-fuss player that simply gets the job done, he returned from his break in good condition, he can do an effective job on opposition players and is expected to spend more time in the midfield this year.
Harry Cunningham: The club is rapt with Cunningham's pre-season, putting him right near the top with his attitude and work rate. If his current rate continues, a regular spot in the side seemingly awaits.
Tom Derickx: Brought into the side from Richmond as cover for the loss of Shane Mumford, he has integrated into his new surroundings well and shown some promising signs.
Dan Hannebery: A notoriously hard worker that is driven to improve, the 2013 All Australian is aiming to add some more variety to his already impressive game this coming year.
George Hewett: Requiring knee surgery shortly after arriving at the club via the 2013 NAB AFL Draft, he is only now working on his fitness and starting to take part in some skill work.
Kieren Jack: Considered the club's No.1 trainer, the co-captain continues to lead by example to the Swans' young list and his signs over the pre-season all point to another strong year ahead.
Lewis Jetta: Such a critical member of the line-up when fully fit, Jetta's pre-season was interrupted by a minor knee procedure, but he took part in the latter stages of this week's intra-club match and should be about right for round one.
Zak Jones: Eager to learn, Jones has already impressed the coaching staff with his attitude and dedication. His main task at the moment is getting up to speedwith the Swans' game plan and structures.
Josh Kennedy: Following a solid breather after an arduous 2013, Kennedy has returned in terrific shape and could be ready to take his already super consistent game to another level.
Jake Lloyd: An improved runner over the pre-season, the youngster has been taskedwith focusing on his defensive transition in an effort to keep progressing at senior level.
Harry Marsh: Quite simply one of the club's best performers throughout the pre-season. Returning from the break in excellent shape, he has the required fitness levels to start having a clear impact on games and push for senior selection.
Ben McGlynn: A number of his teammates have expressed their admiration at the amount of work McGlynn has put in during pre-season. Training predominantly as a midfielder, there are high hopes for him in 2014.
Jarrad McVeigh: Whether it's through his outstanding leadership or his versatility, able to play virtually anywhere across the ground, McVeigh is one of the most important players at the club.
Patrick Mitchell: The American was signed as an international rookie in August 2013 and has been training with the rest of the club's ruckman as the former basketballer slowly learns his new craft.
Tom Mitchell: Requiring ankle surgery at the end of last season, the rising star's rehab has progressed well, to the point that he showed few ill effects in the Swans' intra-club match this week.
Sam Naismith: Still growing, taking his frame to around 205cm, the ruck project hasenjoyed an impressive pre-season after some injuries ruined his first year on the Swans' list.
Toby Nankervis: For a teenage ruck prospect, Nankervis has impressed everyone during his first pre-season at the club. With good skills and an ability to get forward, he kicked three goals in this week's intra-club hit-out.
Ryan O'Keefe: Another Swan that suffered from such a heavy workload last season, he is refreshed heading into his 15th season and has talked confidently about theamount of footy he feels is still left in his 33-year-old body.
Luke Parker: The tough young midfielder has shown noticeable improvement each year on the Swans' list and his efforts during the pre-season indicate there is no reason that won't again be the case this year.
Lloyd Perris: Another player that needs to continue working on the Swans' system and structures, the strong runner needs to convert an excellent pre-season intoperformances on match day.
Mike Pyke: Limited during pre-season by a knee complaint, he has been building his fitness towards round one. With Shane Mumford heading across town to GWS, Pyke is undoubtedly the Swans' No.1 ruckman and vitally important to the cause this year.
Dan Robinson: It has been a good pre-season so far for the former NSW scholarship holder, impressing the coaches with his approach and running ability. With increased aerobic capacity, the club is keen to see him improve his spread from stoppages. - James Dampney
West Coast
Dean Cox: The evergreenveteran played all 22 matches in 2013 and continues to set the standard for histeammates. Has led from the front in the pre-season and remains a veryimportant player for the Eagles in a year when he is set to become the clubgames record-holder.
Jamie Cripps Played 15 matchesin 2013 in his first year at West Coast after two years with St Kilda. Will gethis opportunities in the NAB Challenge after kicking goals in the intra-clubmatch. Might be used up forward as well as though the midfield.
Xavier Ellis: The former Hawkappears to have overcome his calf problems of 2013 and looms as a huge pickupfor the Eagles if he can stay healthy. His skills, decision-making, and classhave stood out in the pre-season and he appears likely to play in round oneagainst the Western Bulldogs.
Andrew Gaff: One of only twoplayers to play all 22 matches in 2013, the 21-year-old wingman foundopposition teams targeting him a bit more. Has trained well throughout thepre-season and his foot skills will be important in Adam Simpson's new game-plan.
Mark Hutchings: Played nine seniormatches last year after debuting in round seven and performed exceptionallywell. He also dominated in West Perth's premiership win in the WAFL. Has workedvery hard in the pre-season to improve again.
Scott Lycett: After starting2013 poorly he finished really strongly when given the chance in the absence ofNic Naitanui. Lycett has enormous talent and is working closely with Dean Coxto hone his craft. Will get his chances in the NAB Challenge and during theyear as the Eagles continue to manage Naitanui.
Will Maginness: Young rookie fromVictoria who has trained very well in his first pre-season. Has not had to bemanaged in any way. Has a light frame but is a good clearance player. Will needinjuries to key midfielders to get his chance.
Chris Masten: Had an excellentseason in 2013, averaging 26 disposals in 19 games. Has turned himself into anelite runner at West Coast and continues to work on improving his foot skills. Willlook to improve again in 2014.
Patrick McGinnity: Had a horror 2013with injury and an unfortunate suspension. Has trained fully throughout thepre-season. Should get his opportunities in the NAB Challenge to re-establishhimself.
Nic Naitanui: Endured adifficult 2013, playing just 11 games due to persistent groin issues. He hasbeen carefully managed in the pre-season and did not play in Tuesday's intra-club,but Naitanui is very confident his body will stand up in 2014.
Matt Priddis: The 2013 best andfairest has impressed the new coaching staff with his work ethic and leadershipin pre-season training and is in the 2014 five-man leadership group. Continuesto be a ball magnet and a week in, week out performer for his team.
Matt Rosa: Played just 11matches in 2013 after the start of his season was ruined by a freak compartmentsyndrome injury to his quad following a match in Alice Springs. Finished theyear well when the team struggled. Appears fit and will be hoping for aninjury-free 2014.
Scott Selwood: Had a terrific2013 despite missing four matches with a broken thumb. Has been elevated to thevice-captaincy in the pre-season and is a candidate to take over the leadershipwhen Darren Glass retires. Selwood has said he expects to play a more defensivemidfield role this year.
Dom Sheed: The Eagles'first-round pick in last year's draft has impressed many throughout thepre-season. He has challenged Matt Priddis and Scott Selwood in one-on-onestoppage work and will play in the NAB Challenge matches. Is expected to playsenior football this year.
Brad Sheppard: Played 13 matcheslast year in his fourth season at the club. This year looms as an importantyear for Sheppard. He has trained well in the pre-season and will get hisopportunities to push his case in the NAB Challenge. Has the capabilities ofplaying a variety of roles.
Luke Shuey: Suffered hamstringissues late in 2013 and played just two matches in the last nine. Has had avery good pre-season after being managed before Christmas. Was a standout inthe intra-club and will be important for the Eagles in 2014.
Sharrod Wellingham: Had a difficultfirst year at his new club, missing 12 matches due to two ankle injuries, oneself-inflicted in the pre-season. His 2014 pre-season has been hampered by abone stress injury in his leg. Played a half in the intra-club match and will be keen to perform wellin 2014. – Alex Malcolm
Western Bulldogs
Matthew Boyd: In the twilight of his impressive career, the former skipper looks set to end his career the way it started, as a tagger. Should remain an important part of the side in 2014.
Tom Campbell: The recently re-signed big man will once again back-up Will Minson in the ruck while also providing a strong-marking target up forward. Another rookie draft bargain for the Dogs.
Adam Cooney: The Brownlow medalist put knee troubles behind him in 2013 to record his best season in years and win a new two-year deal. His outside run and goalkicking will be important in the Dogs' climb back up the ladder.
Sam Darley: The former Giant's run and carry and sure foot skills were targeted to compliment a plethora of inside players. Will spend time at halfback but the club see him as an outside midfielder.
Alex Greenwood: Looms as a make or break season for the third-year rookie who has mainly played VFL reserves in his time at Whitten Oval. A creative inside midfielder with a huge engine.
Ryan Griffen: The recently installed skipper will once again be crucial to the club's hopes of a return to finals action. Just as damaging on the inside as the outside, the 27-year-old is a genuine star of the competition.
Nathan Hrovat: Calf injuries slowed his progress early in his debut campaign but the diminutive midfielder oozed class in nine senior appearances. Will spend time at half-forward while he builds a tank.
Tom Liberatore: After leading the AFL for clearances and being ranked No.2 for contested possessions in 2013, Liberatore is looking to add more potency to his outside game. One of the game's brightest young stars.
Jack Macrae: The top ten pick has grown 3cm and added plenty of muscle to his once slender frame in his 12 months at the club. The elusive midfielder looks a 10-year player for the Dogs.
Will Minson: The aggressive ruckman has flourished since Brendan McCartney's arrival, earning his first All Australian jumper in 2013. Will continue to lead the ruck division while acting as a mentor to Tom Campbell and Ayce Cordy.
Liam Picken: The heart and soul tagger found himself in the VFL last season but fought back to be a mainstay of the team. Can also play as a lockdown small defender but his kicking can be erratic.
Josh Prudden: The clearance specialist battled injuries in his first year at the club but is highly rated, resulting in a contract extension. A senior debut in 2014 is not out of the question.
Clay Smith: After being struck down by a season-ending knee injury in round 16 last year, the tough as teak midfielder will have a delayed start to 2014. Has worked extremely hard to improve his kicking.
Koby Stevens: The former Eagle had an impressive first year at Whitten Oval with his bull-at-a-gate approach endearing himself to the Bulldog faithful. Needs to work on awareness and kicking skills.
Jason Tutt: The goalkicking wingman has battled inconsistency in his three years at Whitten Oval but the Dogs like his run and sure foot skills. A little more self-belief and physicality could see him flourish.
Mitch Wallis: After finishing third in the 2012 NAB AFL Rising Star award, the 21-year-old found himself in the VFL at times in 2013. Consolidated late in the season to become the Dogs' number one tagger but needs to improve his kicking and outside game. - Ryan Davidson