WHEN most future champions had an eye focused on the still-distant AFL Draft, a teenage Eddie Betts was illiterate and had a penchant for drink and drugs; he was on a path to nowhere.
However, inside Betts, lay incredible determination to be something more.
The fact the 27-year-old will play his 200th AFL game on Friday night is unequivocal proof.
But had he not been relocated from Port Lincoln on South Australia's Eyre Peninsula to Melbourne as a 15-year-old, his story today would be unremarkable.
The move from the country's tuna capital to the big smoke was heart wrenching – he suffered terribly from homesickness, but Betts told AFL.com.au he thanked his mother and aunty "every day" for forcing him to move.
Betts' resolve was quickly tested in Melbourne playing for Templestowe Football Club.
When many of his teammates skipped training, Betts caught two buses and a train each way – because he "loved footy".
He faced a similar situation when selected for Victoria Metro at the NAB AFL Under-18 Championships.
"I even did that when I was playing for Calder Cannons in the TAC Cup, I got picked for Vic Metro and they were training at Oakleigh," Betts said.
"Everyone else was getting lifts with their parents but we didn't have a car, so I had to get on the train, then get on a bus to go to state training – then at eight o'clock at night I'd finish training, get back on the train and go all the way home.
"It was tough at times but I really enjoyed it – it was all for the love of footy."
As easy as the Carlton-turned-Adelaide star can make football look, his path to the top has been anything but.
Even after the Blues selected him with pick No.3 at the 2004 Pre-season Draft, Betts' determination was continuously tested.
He took reading and writing classes at the same time he cut his teeth in the AFL, initially just to understand what contracts he was being asked to sign.
Then there was the time he returned to Port Lincoln and decided, for a little while, that he would stay.
Betts admitted he lied to then-coach Denis Pagan, claiming his father was unwell in the hope of being able to remain in his hometown.
Eddie Betts struggled to read or write when he was first drafted to Carlton. Picture: AFL Media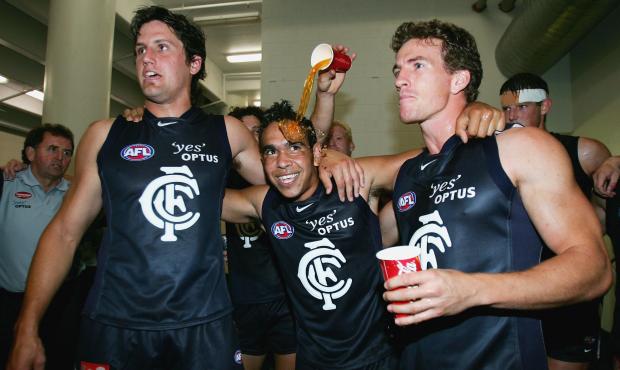 Years later it's easy for Betts to reflect back on that incident and acknowledge the lesson he learned.
At the time though, returning to life as an elite athlete took a massive amount of strength.
"I went away, went back to see my dad in Port Lincoln and I actually got homesick and stayed for an extra four days," he said.
"I turned my phone off, didn't phone the club, got in trouble by Dennis Pagan when I got back and I lied – I lied to the club – I told them that my dad was sick.
"It's not a good thing to lie to the club, it's all about honesty and I found that out along the way.
"You learn about what you've got in front of you, compared to if you muck it up you'll have nothing, and I had nothing in reserve.
"I couldn't read or write when I first got drafted, I took three years of literacy and numeracy classes - it was hard to know what you were signing and it was hard understanding big words in meetings."
Betts described his determination as a by-product of his love for the game.
Unlike so many veterans who have spent 10 years at the elite level, his enthusiasm for football is written all over him.
But what's his trick?
"I just love kicking goals," he said.
To read more about Eddie Betts' love for football pick up a copy of the AFL Record on match day.