• 1603 games, 5 premierships: the inductees by the numbers
• Hall of Fame 2014: Full profiles, stats, videos and more
ANTHONY Koutoufides, Ern Henfry, Brad Johnson, Warren Tredrea, Andrew McLeod and Matthew Richardson were inducted into the Australian Football Hall of Fame at a gala function at Melbourne's Crown Casino on Wednesday night.
Anthony Koutoufides
• Profile: the kid from Lalor who changed the shape of the game
Koutoufides played 278 games for the Blues from 1992-2007 and was a member of the club's 1995 premiership team.
Affectionately known as 'Kouta', the now-41-year-old finished in the top three in Carlton's best and fairest five times, winning in 2001 and 2005.
Standing 191cm and weighing 99kg, Carlton's 'Kouta' was a game-changer. Picture: AFL Media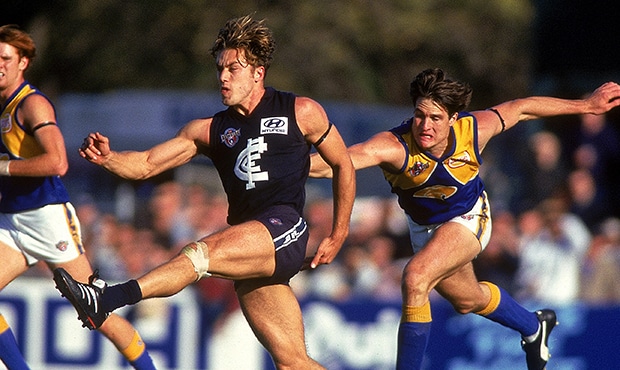 "I am forever grateful that I chose this wonderful game and that I was born in this wonderful country and got the opportunity to represent Carlton Football Club," Koutoufides said.
"I thank you all for the honour. It's an absolute honour for me to be here on stage and be inducted into the Hall of Fame. I would have been just as happy to play one AFL game. This has gone beyond my highest expectations and dreams as a young kid."
Though his parents were initially unhappy he took up the Australian game as a kid, Koutoufides said they eventually accepted it and started to become interested.
"They did not miss one single game I played. The Australian game woke us up from our European way of living," he said.
Koutoufides paid tribute to David Parkin, his long-term coach.
"After a few years, I was really stand-offish, [but] he's a remarkable friend now," he said.
"He taught me so much about living life ... that's what 'Parko' was terrific at. Your footy career goes so quickly and you don't realise it as a young kid, but he wanted us to make the most of it."
Ern Henfry
• Profile: an imposing centreman, champion captain and coach
Henfry played 85 WAFL games for Perth and 84 VFL games for Carlton from 1937-54.
Henfry later headed home and coached Perth in 139 WAFL matches, winning a premiership in 1955. He died in 2007.
"He would have enjoyed [tonight]," Henfry's son Ken said at Wednesday night's induction ceremony.
"He loved Melbourne, he loved Perth, he loved football clubs. I think he would be doing cartwheels if he knew that this had happened tonight."
Henfry devastated Dick Reynolds and his Bombers in the 1947 Grand Final. Picture: AFL Media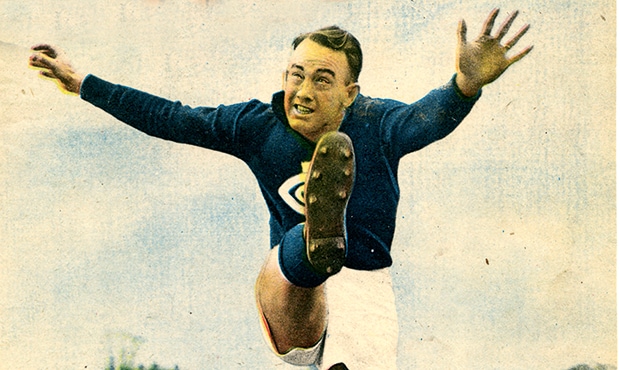 Henfry was named the Blues' captain on his arrival at the club and skippered Carlton from 1947-52, during which time he twice won the club's best and fairest.
"He was very appreciative," Ken Henfry said of his father's appointment as captain.
"He didn't know all of the reasons why he was chosen. He acknowledged it was a wonderful accolade and he acknowledged that it was something he couldn't have done without the commitment of the other players. He said right from the very start he was surprised but they made him feel welcome and they accepted he was the captain. To have success in that first year (Carlton won the premiership in 1947 beating Essendon by one point in the Grand Final) ... success is wonderful in any sport."
Brad Johnson
• Profile: one of the west's favourite sons
Johnson, now 37, played a club-record 364 games for the Bulldogs from 1994-2010.
He won the Dogs' best and fairest three times and was the club's leading goalkicker in five seasons, most of them towards the end of his career.
"I was taught at a very young age to try to work as hard as you can ... I grew up following the Dogs, I just loved the game," said Johnson, who mentioned Doug Hawkins, Steve Wallis and Chris Grant among his Bulldog heroes.
"It really was an honour and a privilege to pull on the Dogs' colours for 17 years."
The Smiling Assassin: Brad Johnson at Wednesday night's Hall of Fame ceremony. Picture: AFL Media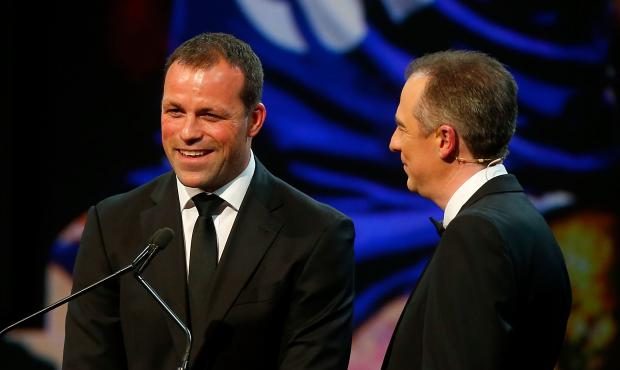 Johnson didn't play in a Grand Final, but was part of the Bulldogs' run of three consecutive preliminary final losses from 2008-10.
Premierships weren't everything, he said.
"When we look back, we made two preliminary finals, in 1997 and 1998. And then, in 2008, '09 and '10, we were right in those games (also preliminary finals). It just didn't pan out for us. Maybe a little bit of luck didn't go our way. You walk off in some ways knowing we gave everything."
Warren Tredrea
• Profile: A Port Adelaide great who answered destiny's call
Tredrea, now 35, played 255 AFL games for Port Adelaide from 1997-2010 and captained the club to the 2004 premiership.
He was the Power's leading goalkicker eight times, booting a club-record 549 goals in all.
Warren Tredrea (r) appeared destined to play for Port Adelaide. Picture: AFL Media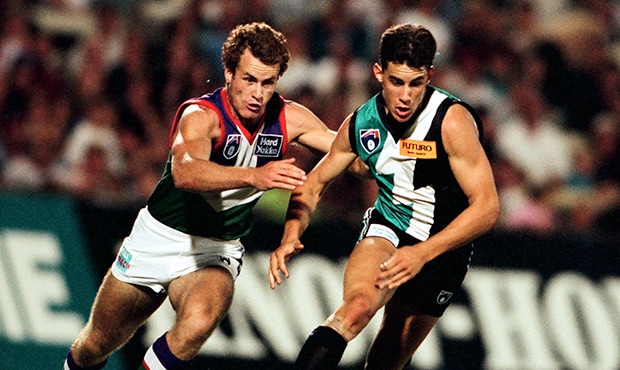 Tredrea told
portadelaidefc.com.au
he was honoured to be recognised in the Hall of Fame, especially after starting his career with the sole aspiration of representing Port Adelaide in the AFL.
"There are no guarantees when you come into the AFL system and for me I just wanted to get my name on a locker, so to finish with a SANFL premiership and an AFL premiership is something special to me," Tredrea said.
"It's really humbling and I'm rapt that it's happened.
"I was always a Port boy. I stayed out of the draft in '95. It was a no-brainer [to wait to join Port Adelaide]."
Andrew McLeod
• Profile: The greatest Territorian of them all?
McLeod, who will be 38 in August, played a club-record 340 games for Adelaide from 1995-2010.
He is best remembered for his dazzling best-on-ground performances in the 1997 and '98 Grand Finals, which were both won by the Crows.
Andrew McLeod (l) often liked to bring out his best on the big stage. Picture: AFL Media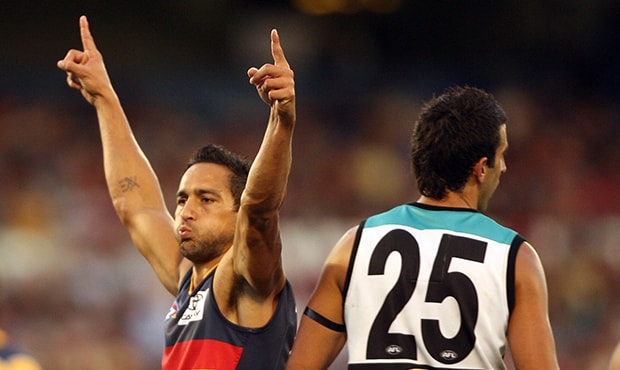 "There was certain periods," McLeod said on Wednesday night, "where everything was in slow motion. I felt like I was one step ahead all the time. I could read the play and I knew where the ball was going to go. In those moments where it did happen you almost felt like you were unstoppable."
McLeod said receiving confirmation of his induction brought out his emotional side.
"I was heading out the door with my wife ... something caught my eye in the letter box. I walked back to the car and said to my wife Rachael, 'You'd better open this, because if I do I think I'm going to cry'," he said.
McLeod said when he told his brother he was joining the Hall of Fame, his brother responded: "I thought you were already there?"
Matthew Richardson
• Profile: An incredible athlete who was cruelly denied team success
Richardson, who turns 40 next year, played 282 games for Richmond from 1993-2009, booting 800 goals and winning the club's goalkicking in 13 seasons.
"Footy's an emotional game," said Richardson, a player who wore his heart on his sleeve in a career that returned only a 41 per cent win ratio.
"You ride that rollercoaster every week when you play AFL footy. I wasn't too good at disguising it. I felt I played my best footy when I was on the edge."
Tiger champ Matthew Richardson wasn't afraid to let it all out on the footy field. Picture: AFL Media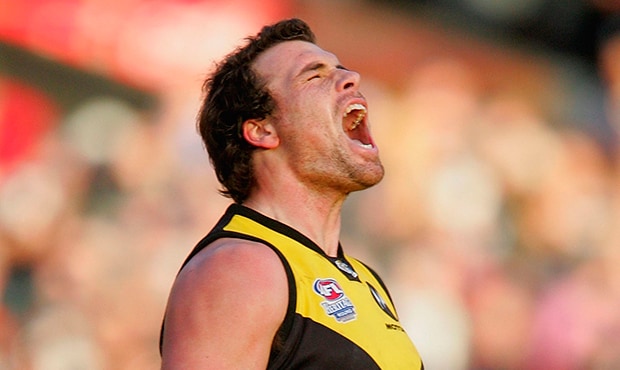 He almost capped off his career by winning the Brownlow Medal in 2008, finishing third, two votes behind the winner, Western Bulldogs midfielder Adam Cooney.
"I could really feel the support in the room," Richardson said. "I remember walking away thinking I was staggered by the support." Raised in Devonport, Richardson said his first memory of Richmond was the 1980 Grand Final.
"From that day on I wanted to play for Richmond," he said.
"I was filthy when I wasn't selected [in round one of my first year]. I felt like I could run with the best and I could get the footy that way."
No player was elevated to Legend status this year.
Twitter: @AFL_AdamMcNicol