Shaun Atley - 6
Did some nice things but lacked impact across the game. Had nine disposals in the first half and beat three Swans with a dash from a centre clearance that set up Boomer's first goal in the third quarter, before he kicked a goal at the start of the fourth.
Ryan Bastinac – 2
Started as the substitute and came on for Aaron Black early in the third quarter. Had six touches and didn't really catch the eye in the time he was on the ground.
Aaron Black – 2
Was well and truly beaten by Gary Rohan. After two disposals in the first quarter, he failed to touch the ball again and was unceremoniously subbed out for Ryan Bastinac before the midway point of the third quarter.
Ben Brown – 7
Kicked the first goal of the game after marking on the lead in front of Heath Grundy, and his second major before half-time came from a decent mark. Took four marks in total but was part of a forward line that was largely overwhelmed by the Swans' sublime defence.
Ben Cunnington – 8
Was the most influential midfielder in the first quarter with nine touches and three clearances and was workmanlike throughout the game at the stoppages and with contested ball.
Nick Dal Santo – 6
Had plenty of the ball with 24 touches and provided Cunnington with some help at the stoppages but lacked impact with his disposals. Gave some rebound out of defence but didn't stand out as an influential contributor.
Michael Firrito – 7
Played against Goodes, where he matched the 350-gamer in some one-on-one contests, and also played loose in defence as well as up the ground. Rebounded well, took eight marks and tried to create.
Sam Gibson – 4
Gave the Roos a bit of run in the third quarter after racking up 13 touches in the first half but didn't really stand out or make an impact.
Levi Greenwood – 8
Was one of the hardest-working Roos out there but joined his teammates in making some erratic decisions. Kicked a goal against the flow in the second quarter through traffic but was plagued by some moments of panic.
Nathan Grima – 5
Started well against Kurt Tippett and out-bodied him early but struggled to go with him for the whole game. Took five marks but the Swans' forward line proved too much to handle for the entire backline.
Todd Goldstein – 7
It was a tight battle with Mike Pyke but Goldstein probably slightly emerged in front, due to his work around the ground and the fact he managed to sneak forward for a goal. Had 29 hit-outs to Pyke's 30.
Brent Harvey – 4
After all the drama associated with Harvey's Tuesday night tribunal challenge, the stage was set for the veteran to make an on-field stand. But Harry Cunningham was standing in his way and nullified the veteran's impact drastically. Had only one touch in the first quarter before finishing with 19 and one goal – well down on his best.
Brent Harvey consoles Jack Ziebell after the Roos' preliminary final loss. Picture: AFL Media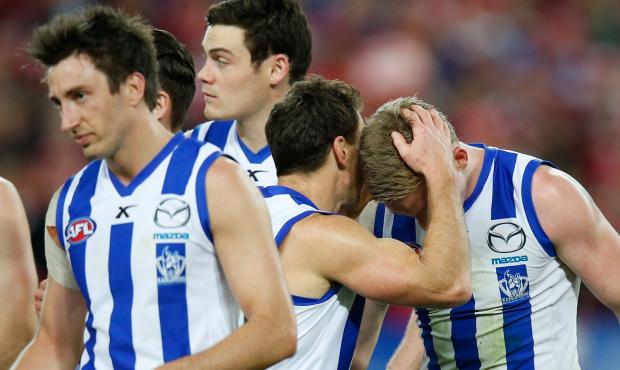 Ben Jacobs – 3
Came in for Jamie Macmillan and had 11 rather unobtrusive touches. Failed to make an impact, but he wasn't alone on the night.
Luke McDonald - 4
Won a bit of the ball with 11 disposals in the first half but trailed off after the main break when the game was decided. Will be better for the experience of playing in three finals in his first year.
Drew Petrie – 5
Not a great game from the experienced forward. Ended with five goals but his first cut the margin to 45 points and started a flurry that came too late. Had plenty of chances and missed a sitter in the first and another early in the second. Needed to kick them when it mattered.
Andrew Swallow – 4
Another of the key Roos who had a quiet first half. Battled to get his hands on it early with just five touches to half-time. Won a few clearances in the third but they didn't translate to scoreboard pressure. Had eight touches for the quarter but like Petrie, was missing when it mattered.
Lindsay Thomas – 4
Was moving gingerly with his knee still heavily strapped but that can't solely be blamed for his two touches in the first quarter. Found Goldstein early in the second for a team-lifting goal but failed to kick one himself and had 15 touches for the game. Very quiet against Nick Smith.
Scott Thompson – 4
Struggled all night against Franklin. Battled against the imposing Swans' forward athletically and was out-marked and out-worked time and time again as Franklin powered his way to 11 marks and five goals. Night ended with a corked hip in the fourth quarter.
Kayne Turner – 4
It was a quiet start to the school holidays for the youngster, who racked up just seven touches. Did a bit with them, taking the ball inside 50 four times, and will remember a strong mark early in the second at half forward in front of Rhyce Shaw that set up Petrie for a set shot. Like McDonald, will benefit from the experience.
Daniel Wells – 5
Another who lacked huge impact in the first half although his four clearances were significant as the Swans' midfield looked to break away. Started the second half at full-forward in a bid to shake things up but still didn't really make a difference. Marked well but failed to kick a goal on his way to 15 touches.
Sam Wright – 6
Lined up on Sam Reid and held his own before the Swans' forward was subbed off with a knee injury in the third quarter. Suffered a nasty finger injury late in the game that ended his night after 22 touches. Far from the Roos' worst.
Jack Ziebell - 5
Wasn't the way Ziebell wanted to celebrate his 100-game milestone. Was another key Roo who didn't play his best game. Tackling was his highlight and he won 11 contested possessions but was down on impact.