ALTHOUGH it was no surprise to anyone when Scott Pendlebury was appointed Collingwood's 46th captain on Wednesday evening, hearing the news was still a surreal moment for the 26-year-old.
When club president Eddie McGuire offered the reigning best and fairest winner the opportunity to succeed Nick Maxwell as skipper that morning, his words became somewhat of a blur.
But one line stood out.
"He told me there has been four premiership captains of the football club (since World War II)," Pendlebury told AFL.com.au.
"I'd love to be the fifth one."
If he could add that honour to a stellar career that already includes a premiership, a Norm Smith Medal, two best and fairests, four All Australians, and a placing in the Brownlow Medal it would make his football career complete.
Buckley, as driven as anyone to help Pendlebury achieve that ambition, told him to enjoy the moment for now, as he had regretted not doing so when appointed captain in 1999.
But Pendlebury's words belied him, suggesting he would be unlikely to smell the roses for long: "I'm very excited for the challenge and take the role very seriously."
Maxwell – one of the club's four premiership captains – remains in the leadership group, ready to support Pendlebury as he finds his feet in the job.
Having led the Magpies in 104 games and taken it to the 2010 flag, he knew better than anyone that the time was right.
Pendlebury joined the leadership group as a 21-year-old when Maxwell was first appointed captain in 2009. They have worked closely together ever since and their respect for each other is real.
"His [Maxwell's] legacy, his standing among the players is as high as one can get," Pendlebury said.
"We have always spoken about trying to get me ready for the role and I have always been trying to learn off 'Maxy,' so the beauty of it for me is I have still got Maxy here for me to bounce things off."
Alongside Pendlebury, Maxwell and Luke Ball in the leadership group is an eclectic mix with newcomers - Nathan Brown, Travis Cloke, Steele Sidebottom, Clinton Young and Lachlan Keeffe - included at the helm of a group undergoing significant change.
"I think it's a great group. It gets across the football club. You are going to have different opinions, different views and I think that is good. It creates good conversation and good ideas usually come from that," Pendlebury said.
Young's inclusion – after just two games with the Magpies in 2013 – will surprise many but Pendlebury said the ex-Hawk is a lateral thinker that sees the game in a way that really helps the group.
As to what sort of captain Pendlebury will be, he is not sure.
It will evolve, as his style of play has, in a fashion that is his alone.
He has long been a mentor to younger players, passing on the importance of preparation and attention to detail to new arrivals, as Paul Licuria did to him when he first started.
He has already noticed among young players a tendency to try to impress by doing extras before they have got used to the rigours of the program. So he has refined his message over time.
"They often just forget to dot the I's and cross the T's with the everyday stuff that you have got to take care of first," Pendlebury said.
"I'm big on the young guys getting embedded into the program: understand it and learn it and know it back the front and then (you can) start tweaking your (own) routine."
He still tweaks his own routine as he gets more experienced, his need to get better revealing that he carries the mix of seemingly conflicting attributes that underpin many successful athletes: a feeling of insecurity that drives work, but a sense of superiority that builds belief and a discipline to do what needs to be done.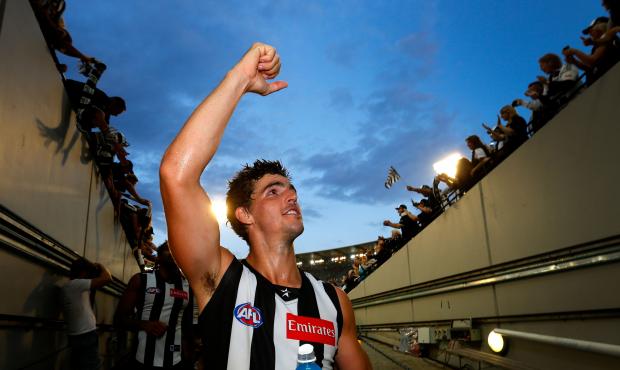 Scott Pendlebury celebrates with the Collingwood faithful last season. Picture: AFL Media
Pendlebury will be a good captain but whether he becomes the fifth premiership captain is open to debate.
The challenge is huge and the question obvious: can Pendlebury and coach Nathan Buckley – one of the club's 45 previous captains – succeed in leading the regenerated group back to the top?
Last year it finished eighth and crashed out of the finals. It had gone from fourth to first to second back to fourth and then to eighth in five big years and has not missed finals since 2006.
Questions emerged around culture and five premiership players were off the list at season's end -- some exits more graceful than others.
Pendlebury says such change is so constant in football that players become somewhat immune to the comings and goings of players, but he admits this off-season has been as significant as any at Collingwood with so many big names going.
However, significant positives have emerged through that process.
"When there is a lot of youth at a football club there are a lot of hungry players that want to establish themselves and it's been great to be around so many different guys training the house down and to see that real eagerness and hunger in guys' eyes at training, and they are competing against each other to get a spot for round one," Pendlebury said.
All are hoping such competition will lead to improvement but no-one is sure where the club sits.
In 2013 the team won just 43 quarters – 11th in the competition – and was inconsistent.
Pendlebury admits it was year when things shifted.
"We had a winning culture for so long - and we still played finals last year - but there was a few more bumps in the road," Pendlebury said.
He said the attitude and effort and intensity was not there every week for every quarter:
"That is something we want to get back to as a group to give that consistent effort across four quarters."
Collingwood has its 46th captain. Pendlebury is its man.