• Check out your club's draftees at the NAB AFL Draft Hub• 10 things we learned from Thursday night's draft• Draft wrap: Saint Paddy's day and the Cats go for the X-factor• Watch video highlights of your club's new recruits at the NAB AFL Draft Tracker
WELL, it's the morning after…the show is over…and how do you feel?
Is there a sense of euphoria after a big night? Or maybe a feeling of 'what on earth just happened'? Then again, it might be a combination of both...even a sense of relief…like thank God it's over!
These are all emotions that would be shared amongst recruiting staff today as the draft 'circus' is packed into its wagons on the Gold Coast and wheeled out of town for another year.
The best laid plans and preparations have now been completed and everyone associated with the 2014 NAB AFL Draft takes a collective 'sigh' (although recruiters will already be reviewing their notes ahead of next week's rookie draft).
Everyone that is, except the main stars, the players, who will start training with their new teams from next week – many living in different cities for the very first time – only days after being drafted onto the AFL's biggest stage.
For most, it's a dream come true to finally get to perform in the centre ring…although there will be some fear and trepidation about what is to come – much like climbing the trapeze or sharing a cage with untamed lions.
So what did we learn from last night's show and what were some of the most notable performances?
Firstly, the Saints, the club with the No.1 selection and the eyes of the football world upon it. They had the most pressure of any team, the most to gain – but also, the most to lose. This was one of the toughest years in recent memory to have the first pick because it could been used on any one of four or five players.
As a recruiter, you like nothing more than having a stand-out number one player but this year, that simply didn't exist. With no offence to Paddy McCartin, who is an outstanding talent, it could have just as easily been Christian Petracca, Angus Brayshaw, Jarrod Pickett or Jordan De Goey – not to mention Darcy Moore and Isaac Heeney if they had not been taken as pre-draft father/son selections.
But in the end St Kilda chose wisely – not only in their decision with McCartin but just as importantly on the recruitment of four different positional types…all of which whom possess outstanding character…something that will hold them in good stead for the coming years.
As for Melbourne, they would be delighted today. Their staff would have woken with red marks all over their bodies from pinching themselves with excitement in getting both Petracca and Brayshaw in the same draft – especially as they already have their own McCartin type of player at the club in Jesse Hogan. The addition of two strong midfielders in one year is essentially the ultimate of outcomes.
Then there were was GWS, with another three selections inside the first seven and yet again, talent to burn!
Pickett is capable of playing in round one next year – a quick and skilful utility who can play anywhere across the ground while Caleb Marchbank and Paul Ahern add further depth to an already burgeoning list of elite juniors.
What about Collingwood? The Magpies will have come out of this draft with a smile that only Eddie McGuire could match when giving away a "million dollars" on television. To attract one of the year's surest talents in De Goey, followed by versatile big man Moore, and then complement that with Brayden Maynard and Matthew Goodyear, is like stealing the best young dance troupe from an opposition circus.
Now for Geelong, the club who probably delivered the biggest surprise in the top 10 via the selection of Nakia Cockatoo from the Northern Territory – but who might also get the biggest return on their investment. Cockatoo is a special player, an elusive forward/midfielder who can run like the wind. A player who, along with Steven Motlop, will likely make some opposition defenders look like clowns in coming years.
Fremantle caused something of a shock when they opted for midfielders over key position players in the selection of Lachie Weller, Connor Blakely, Ed Langdon and Josh Deluca-Cardillo. All of them will learn greatly from the likes of Nat Fyfe, David Mundy and Michael Barlow. Weller is already a wonderful talent while Blakely is a clearance specialist who just might become one of the finds of this draft.
Lachie Weller joins a Fremantle midfield already stocked with talent. Picture: AFL Media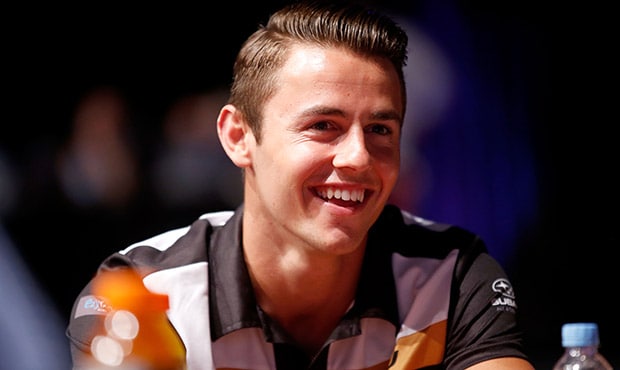 But who were the teams who really did get the best seats in the draft tent?
Firstly, Gold Coast, seated ringside and in the front row again - Peter Wright, Jarrod Garlett and Touk Miller are all highly skilled players who will thrive in the warm environs of Queensland. Scott Clayton and Dom Ambrogio have pulled another three rabbits out of their magician's hat.
Then there's North Melbourne. Sam Durdin just shouldn't have got to pick No.16 - he has all the makings of becoming a performer on the big stage and exactly what the Kangaroos needed as a key defender who can also play forward/ruck. Durdin absolutely complements the emerging group of youngsters at Arden Street who have developed so well in 2014.
The other club seated in the dress circle was Essendon. Two picks and two star attractions in tall utilities Kyle Langford and Jayden Laverde. They are simply the perfect fit for the Bombers' list. Adrian Dodoro and Merv Keane have just delivered choc-tops and popcorn to everyone seated in the black and red stalls!
Two more clubs that deserve special mention are West Coast and the Western Bulldogs.
The Eagles assembled a group of players who should provide class and talent to their team in coming years. Liam Duggan was one of my favourite players in this year's draft – a skilled and versatile type who uses the ball beautifully and Tom Lamb is the ideal addition to a forward line already boasting Josh Kennedy, Jack Darling and Mark Lecras. While Jackson Nelson, Damien Cavka and Alec Waterman could well become the circus master's apprentices as they develop new tricks under the tutelage of Brownlow medalist, Matt Priddis.
Once the Eagles picked Damien Cavka (front right), all four Keilor guns were AFL bound. Picture: AFL Media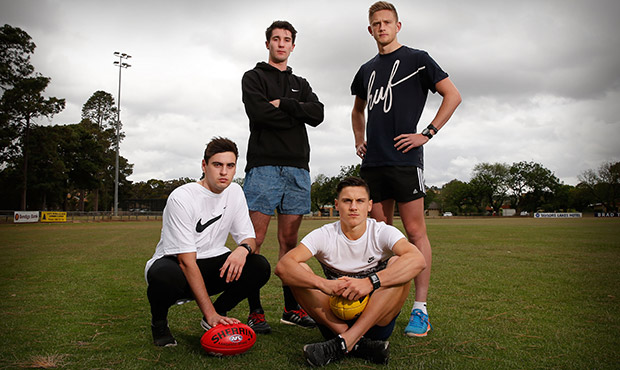 And finally, the Western Bulldogs, who should be congratulated on showing the courage (and wisdom) in selecting the smallest player in this year's draft - 167cm South Australian, Caleb Daniel. He is a prolific ball winner and competitor, a player of outstanding resilience who could just be the next Lewis Taylor – a lion of this circus last year.
* * * * * * * * * *
So who were the winners and losers of the 2014 NAB AFL Draft?
There were several clubs who have come away as the ringmasters of this year's show.
Relative to their selections in the draft, Gold Coast, Collingwood, Essendon, Melbourne, GWS, St Kilda and West Coast stand out as the teams who should pack up their tents for the trip home with the biggest smiles on their faces.
Yes, the main act is over for another year. But please don't leave your seats because it's only intermission - as act two, the rookie draft, will commence via video conference from AFL House next week.
Step right up…the circus is coming to a town near you!