IT'S HARD to believe the once powerhouse Brisbane Lions are now on their knees.
A disastrous past two months has seen a sacked coach, young players wanting to leave, a public board split and the Federal Government refusing to guarantee funds for a new training base.
Whichever way you cut it, the club is in disarray.
From the outside, everything was going along smoothly until favourite son Michael Voss was given the boot as coach on August 13.
But it would be too simplistic to blame that one unanimous – let's not forget, every one of the six board members voted him out – decision on the hole the Lions are now in.

Lethal takes to Twitter to target Lions board

On the field, the Lions have played in just one finals series since their 2004 Grand Final loss to Port Adelaide. Excluding the expansion clubs, only Richmond has had such a barren stretch.
Things started heading south after the AFL cut the club's retention allowance following the hat-trick of premierships.
It's ridiculous to suggest one is directly linked to the other, and the competition is meant to work in cycles of success and failure, but there's little doubt the Lions have struggled more than most without this luxury.
They have trouble attracting players, and with no concessions, will continue to do so.
It's a vicious cycle. No extra cash, no big signings. No big signings, a long road back to the top.
Fellow outpost clubs Gold Coast (Gary Ablett), the Sydney Swans (Lance Franklin) and GWS (Tom Scully) have all been able to attract players with five-year plus deals worth $1 million a year or more.
Not only do the Lions not have that luxury, they have been losing money hand over fist the past six years.
The Brisbane market is fickle and complex. Major flooding that all-but destroyed Brisbane in early 2011 put the city into a financial spin.
Throw in the recent success of the Queensland Reds (rugby), Brisbane Roar (soccer) and the city's ongoing love affair with the Brisbane Broncos (rugby league), and corporate dollars are severely diluted.
While none of this has helped, the Lions must search within for the answers.
Angus Johnson took over as chairman from Tony Kelly at a difficult time late in 2010.
This was at the tail end of Brendan Fevola's failed year at the club and a time when the football department underwent a huge restructure.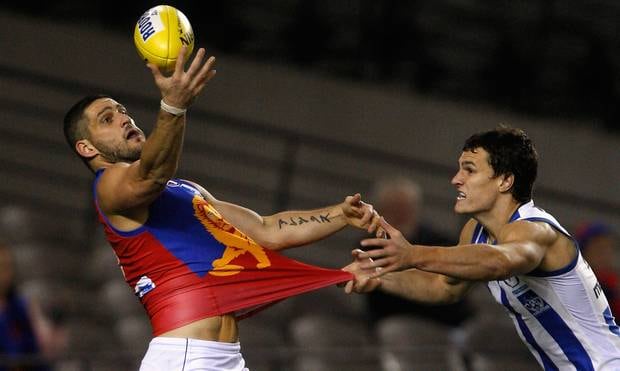 Brendan Fevola was a recruit who brought little to the Lions but divisiveness. Picture: AFL Media

Voss assumed less of a controlling hand, and the club began an overhaul to promote its young players.
Johnson has been involved with the club for 15 years, and while not the most dynamic performer, has had the club's interests at heart.
But since the Voss sacking, things have spiralled out of control.
His fellow directors Mick Power and Paul Williams teamed up with Leigh Matthews to form an opposing ticket to overthrow Johnson.
Williams, and more recently Matthews through his Twitter account, have been on the front foot in questioning Johnson's reign, and particularly, the failed Paul Roos acquisition.
The AFL's attempt to mediate shows boss Andrew Demetriou has some level of support for Johnson, and perhaps has a question mark or two over the Power-Williams-Matthews ticket.
Members have also made it known they want a vote on the current 'paddle pop lion' jumper design with a proposed return to the Fitzroy lion that adorned the guernsey during the glory years.
The whole thing has been a public relations disaster, as fans have grumbled about a lack of communication from management, and rival supporters celebrated in mocking the once mighty Lions.
Not so long ago Melbourne was the basket case of the competition, and maybe its plight, along with the Essendon ASADA dramas, have shielded the Lions from further public scrutiny, but they are a deserved laughing stock at the minute.
Whether Voss should have got a contract extension or not is debatable.
His five years was by-and-large a misfire, but things looked headed in the right direction with a late season surge.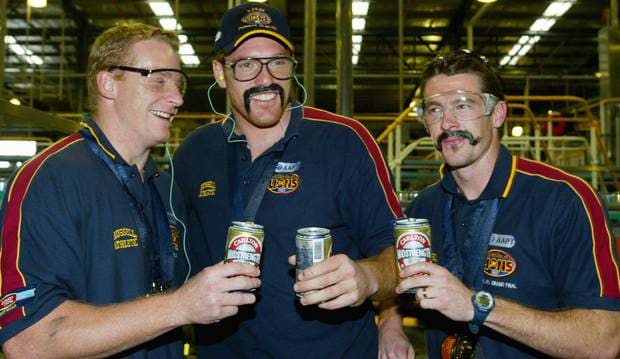 Michael Voss with the man who recently replaced him as Lions coch, Justin Leppitsch, along with Craig McRae during happier times. Picture: AFL Media
The football department was heavily consulted on his future, so it appears his offsiders and senior players – it couldn't just be the kids, because they all still want out after his departure – have some blood on their hands.
It was handled poorly and there was no turning back but the point remains - the decision should have been made – and executed – after the season.
As for the 'homesick' youngsters, that is another drama that runs many layers deep.
Jared Polec, Patrick Karnezis (2010) and Billy Longer, Sam Docherty and Elliot Yeo (2011) all want to return home after being taken in the first two rounds of recent drafts.
The recruitment teams must take a share of blame.
Questions hovered over the attitude and resilience of Polec and Karnezis not long after they entered the club.
The welfare department also must put its hand up.
It can't be coincidence that five players all chosen within 12 months of each other want out at the same time.
They are afforded many luxuries – trips home, extra time in their home state, family visits – but something must be amiss.
The club's coaching staff and senior players must also look at themselves.
Perhaps these five were a bit mentally fragile, perhaps they were homesick – but the coaches and leaders had to stop the rot sooner. Two or three years should have been enough time to change their minds.
There's no one culprit in all of this, but a blend that needs to be sorted out under new coach Justin Leppitsch and the new board once it is voted in.
And finally there's the proposed new training base at Springfield in Brisbane's western suburbs.
After all the cash worries, the Lions have rustled up financial support from Ipswich City Council, Springfield Land Corporation, the AFL, and the Federal Government – or so they thought.
This is to be a grand new facility to take the Lions away from the ageing Gabba facilities and the need to train at alternate venues in Yeronga and Coorparoo during the pre-season.
Hitching their wagon to the underdog Labor government was always a risk, and now the Coalition has stated there's no guarantee of supplying $15 million of the $60 million project the opposition originally promised.
It's just another nail in a calamitous period.
All's not lost though. Wednesday's confirmation of a November 13 Extraordinary General Meeting gives supporters, members, sponsors, and even the AFL, hope at closing a dark chapter in the club's history.
Members can pick their board, a guernsey they love and even have Leigh Matthews involved again via a change to an out-of-touch constitution.
While the Lions are still firmly on the canvas, Port Adelaide's past 12 months proves that revivals can be swift. There's no reason the Lions can't do the same in 2014, but it will take soul searching at every level
Glory days: Leigh Matthews and Michael Voss at Brunswick St Oval in 2003. Picture: AFL Media