AS ST KILDA chief executive Matt Finnis observed on Monday, it's not often an AFL club holds a press conference to announce a new development coach.
The groundbreaking appointment of female trailblazer Peta Searle, however, is no ordinary case.
After walking away from coaching at VFL level earlier this season because of a lack of opportunities, Searle's dream became a reality on Monday when she was unveiled at the Saints' Seaford base.
It was Finnis who raised Searle's name shortly after he was appointed CEO in early March.
And he didn't need to work too hard to convince senior coach Alan Richardson she would be a worthwhile appointment.
"I was open-minded ... when the coach that you're going to speak to is a women that's obviously new," Richardson said on Monday.
"We had a meeting and I went along wanting to do the right thing by our footy club, wanting to do the right thing by our playing list and just get a really good person, a really good coach."
Searle did enough in her first interview with the Saints to earn a second days later where game plans and philosophies were discussed. She was in her element.
"I gave a presentation regarding my philosophies and how I'd go about coaching, and I knew right from that moment we started to connect," Searle said.
"We had the same philosophies and the same values.
"It was right at that stage that I was pretty confident and pretty sure that the St Kilda Football Club was a place I wanted to be a part of."
Searle will report to St Kilda's head of development Simon McPhee, working closely with the club's young defenders.
Warmly received by the players on Monday morning, the former school teacher will help with goal setting and the curriculum of St Kilda's development program.
The first female assistant coach in the VFL, under Gary Ayres at Port Melbourne, and with a strong resume built over a decade, Searle said she set no limits on her coaching career.
"You make the most of what you've got," she said.
"The right person with the right skill set can do the job.
"I think the playing group are ready for [a female coach].
"I'm just happy to be where I am, and I'm really looking forward to getting to work."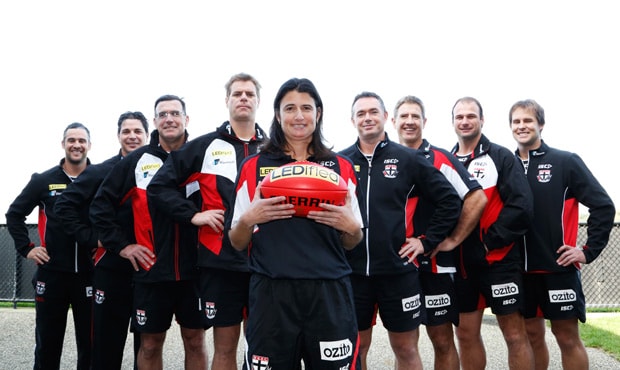 Peta Searle has joined St Kilda as a development coach. Picture: Saints.com.au