MELBOURNE has been dealt another injury blow ahead of Sunday's MCG clash with Carlton with news that Jack Watts will miss the next two weeks with a hamstring strain.
Demons coach Mark Neeld confirmed the injury at AAMI Park on Thursday ahead of the club's main training session.
It comes after news earlier in the week that forward
Mitch Clark needed more surgery on his injured foot
and will be sidelined for between six and eight weeks.
"Jack was really good for us last week, but unfortunately he's nicked his hamstring," Neeld said. 
Boom recruit Chris Dawes, who has yet to make his senior debut for the Demons, played 70 per cent on a VFL game last weekend in his first game back after a hamstring strain, but will not be considered for senior selection this week. 
"Just because one of our key forwards is out it doesn't automatically mean another is a week ahead in his rehab," Neeld said. "He just hasn't done enough work and we have to be sensible. 
"The plan is for Chris to play a full week for Casey against Port Melbourne and if he gets through that it will be an indication he is ready to play at the highest level." 
The Demons received promising feedback from Clark's surgeon and believe he will recover quickly from his latest foot surrey and be back sooner, perhaps in about six weeks. 
Melbourne is likely to reward some younger players with selection at least in the initial squad against the Blues. Jimmy Toumpas, James Strauss, Dean Kent and Jake Spencer are likely to come under consideration, while Lynden Dunn - no longer quite qualifying as a 'younger' player - is set to be picked after an outstanding 35-possession outing for Casey last weekend.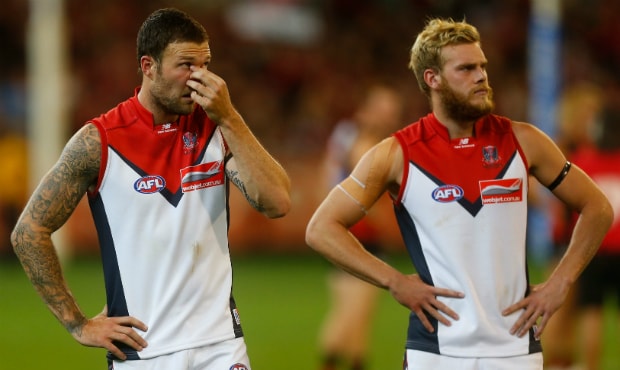 Mitch Clark and Jack Watts head Melbourne's injury list. Picture: AFL Media
The Demons are keen to have another look at Jack Fitzpatrick, the 200cm forward who has played three games in two years, but like Dawes, is working his way back from injury and needs more time in the VFL. 
Sunday's clash will mark the first time that Neeld has coached against Mick Malthouse, who he worked under at Collingwood and whose recommendation helped him win the job with Melbourne. 
They speak regularly, although the friendship is on hold this week. "He's terrific. His wife Nanette is a great support for my wife, but when teams go to battle, you go to battle. 
"When they're not, you don't speak to all the other coaches out there, but there are a few of us who have worked together along the path and we catch up every now and again." 
Neeld added that it came as no surprise when Malthouse chose to return to coaching with the Blues after a season on the sidelines. "He's a great coach. I wasn't surprised at all and he'll go really well at Carlton. 
"I hope just not this weekend."