Shane Biggs – 5
Had a huge task in just his third game trying to create run off half-back. He attacked the game early, won the ball and tried to create overlap. However Fremantle's pressure caught up with him. He won 15 disposals with 13 uncontested possessions but had minimal impact.
Craig Bird – 3
Tried to do the job on speedster Stephen Hill. He blanketed him to some extent outside but could not quell his influence completely. Bird did not get much of the ball himself and struggled in the first half. He had just six disposals, without one contested possession.
Jude Bolton – 4
The veteran struggled to get into the game in the first half with just one disposal and three tackles playing in a forward line as fertile as a gravel patch. As the game began to open up in the third quarter however, he became involved kicking a goal and willing himself to exert influence on key contests. In his final game he had seven tackles and goes out with a reputation as one of the toughest players in this era.
Harry Cunningham – 5
Showed his class with a great crumbing snap in the first quarter thatkept the Sydney Swans in touch. Playing just his sixth game he looked good when the ball was in his vicinity and finished the game with two goals. Will be better for the experience.
Andrejs Everitt – 7
Was very good after half-time playing as a loose defender, attacking the ball hard and exerting himself on the game. He was a bit of a concern on occasions as he fumbled but he managed to make good decisions and stand up in tackles. He won seven contested possessions and put the ball inside 50 on three occasions. It was a good game from the sometimes maligned 24-year-old.
Heath Grundy – 6
Grundy did a reasonable job at stopping Fremantle's resting ruckmen from taking marks inside 50. Given that the backline was under extraordinary pressure in the first half he held up relatively well. Did a serviceable job given the circumstances.
Daniel Hannebery – 4
Was missing early when the team needed him most and had just 14 disposals for the game. Given his talent it was a below-par performance from the premiership player who is known for his ability to stand up in big games. Kicked a late goal in junk time and had a mini-battle with Hayden Ballantyne midway through the last quarter but had no great influence.
Kieren Jack – 3
Provided football's villain Ryan Crowley with a protagonist during the game. He had just 11 disposals – his lowest tally in four years – and did not get his run and carry game going at all. Looked frustrated by Crowley's attention and went into his shell unable to break the shackles. He's not the first player to find himself stripped of run when Crowley moves alongside him.
Lewis Jetta – 5
Jetta looked good early, running into space and snapping the first goal of the game when he crumbed the ball and kicked quickly. But he had just 10 disposals and was not able to get behind the fanatical Fremantle defenders to outrun them into space. He kept whacking away but looked beaten a long way from home.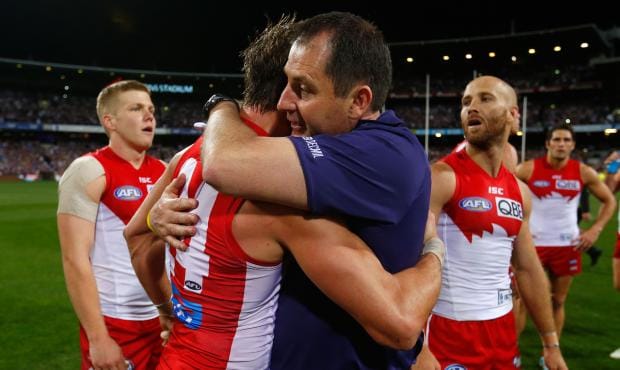 Ross Lyon embraces the retiring Jude Bolton after Saturday night's match. Picture: AFL Media.
Josh Kennedy – 7
The AFL's leading handballer tried desperately hard in the clinches but was hit with wave after wave of Fremantle pressure. He won the ball but it became common to see Kennedy handballing under pressure. Often the Swans start forward movement with a series quick handballs that release a kicker in space, but putting Kennedy's first touch under pressure meant the Dockers disrupted them at the source. He ended the game with 24 disposals and eight tackle to be one of the Swans' better players.
Nick Malceski – 6
Malceski was another who tried hard but faced enormous pressure every time he got the ball. He was often kicking the ball around corners and hacking it out of defence. To his credit, he took five marks and tried to intercept the Dockers' forward moves all to no avail. A solid battler.
Ben McGlynn – 6
Played with an intensity fitting of a man desperate to play in his first Grand Final. He flung himself into packs and attacked the Dockers ball carrier but could not turn the tide. McGlynn made seven tackles, had four centre clearances and kicked a goal to put in a strong performance against the odds. He was one of the few Swans able to match the Dockers for intensity.
Jarrad McVeigh – 7
The Sydney Swans star did not get out of the blocks quickly but began to work his way into the game when he was thrown into defence late in the second quarter. He stemmed the tide and then began to counter-attack during the third quarter. He finished the game with 30 disposals and kicked a goal and was clearly the Swans' best player.
Shane Mumford – 5
Battled in the ruck and around the ball, laying six tackles but struggling to combat Aaron Sandilands in the air. He took just two marks for the game and none were contested. Managed four clearances but none from the centre and was quiet.
Ryan O'Keefe – 5
Started on Nathan Fyfe and was well and truly beaten in the centre clearances. O'Keefe worked hard as usual but could not match Fyfe in the air and battled to find space around the ball. His kicks were often rushed and he only managed one behind. Was pushed forward in the second half to provide a target but did not have an impact.
Luke Parker – 7
Only touched the ball once in the first quarter and a half but was excellent in the second half. He responded to the situation at half-time and finished the game off very well with 22 second-half disposals and a goal. Parker had a good finals series for the Swans and has laid a good foundation to build his career.
Mike Pyke – 4
It was a dirty night for the big ruckman who did not take a contested mark for the game. After such a good season, expectations have risen and he failed to meet them. It wasn't because he stopped trying as he kicked a goal and laid three tackles but he just struggled to provide a realistic target.
Dane Rampe – 6
Rampe was very good throughout the game, attacking off the half-back and being strong over the ball. He had his hands full with the Dockers small forwards and the supply they were getting but he kept battling away. He ended the game with 16 disposals but used the ball well under pressure and laid six tackles. He could hold his head high.
Ted Richards – 5
Matthew Pavlich got hold of him early beating him off the mark and being quicker to the fall of the ball to take several chest marks. Richards was fortunate Pavlich did not kick straight or he may have been relieved of the match-up. To his credit he fought back hard in the second half, his job made easier when the midfield competed more effectively. Struggled when the ball came in quick and deep.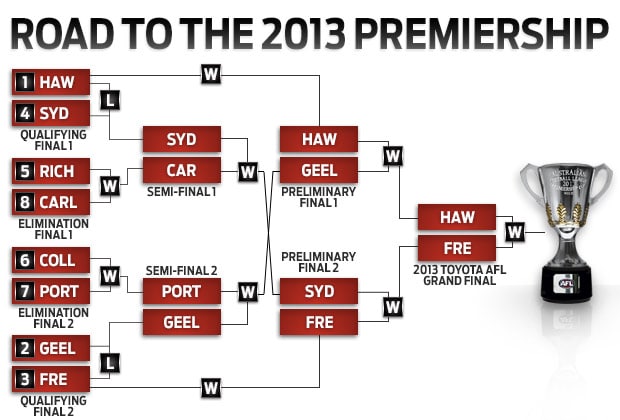 Gary Rohan – 6
Started as the sub and came on to the ground in the third quarter. Performed exceptionally well as a lead up forward, kicking two goals and one behind in four shots for goal. His pace off the mark and good hands made him an excellent option. Kicked a beautiful goal from the boundary line and looked dangerous but the game was nearly over by then.
Nick Smith – 5
Smith was under enormous pressure from the first minute as Michael Walters and Hayden Ballantyne got loose and dangerous. Normally so composed he was tackled hard and could not escape congestion. His handballs looked rushed and he struggled to find a way to get the ball moving forward. It was not a memorable night for Smith.
Jesse White – 6
Was on the move early providing a good target and marking well. However he missed two set shots in the first half and he struggled with his finishing. He kicked two goals and was the Swans best marking target with nine marks. He managed 20 disposals as a leading forward and showed enough this season to show he can hold that position.