JAY KENNEDY-HARRIS has shown some clear improvement over the last two years as he progresses from full-time small forward into midfielder. He played 11 games for the Oakleigh Chargers last year through the forward line and booted 15 goals, before becoming a more complete player this season.
As the first indigenous captain in the TAC Cup's history, Kennedy-Harris averaged 23 disposals for the Chargers, and also impressed for Vic Metro in four appearances, including his 25-possession and one-goal outing against Queensland. Some viewed him as unlucky to miss under-18 All Australian honours.
Who's next? Click here for our draft countdown homepage
STRENGTHS
Kennedy-Harris is an active player, who stays involved in games. He tackles well – averaging five a game for the Chargers this season – and that includes when he is stationed in attack or when fighting for the ball in the midfield. Almost half of his possessions in the carnival were won in contested situations. He provides run, and likes to take the game on, cutting past opponents and delivering the ball nicely. He has good vision, too, and regularly hits the target that might not be the most obvious one. He isn't a huge goalkicker but is smart around them, and can read the ball off the pack. Has rock-solid character, too.
WEAKNESSES
The obvious one is his size and at 173cm, some clubs might have concerns. But it hasn't appeared to be too much of a hindrance whenever he's gone up a level. Kennedy-Harris actually has quite a strong upper body and isn't afraid to put it over the ball. He copped a big hit against Western Australia from Clem Smith – who knows how to lay a good hip and shoulder – but Kennedy-Harris shook it off and got back up.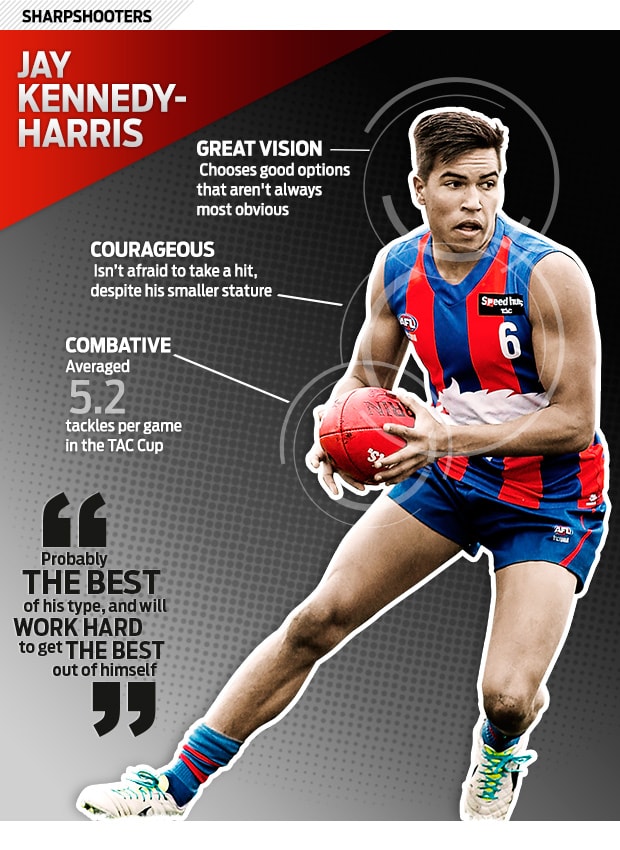 PLAYS LIKE
Geelong's Mathew Stokes moved into the midfield this year and had an impact right away. Kennedy-Harris is of similar size and plays in the same creative way as Stokes through the midfield, with the capacity to kick a goal or two a game. Jake Neade at Port Adelaide also showed playing AFL is not beyond smaller types.

DRAFT RANGE
Most likely to be picked in the 20s or 30s.

BOTTOM LINE
The draft isn't full of talented small forwards who can pinch-hit in the midfield, so Kennedy-Harris has value. Probably the best of his type, and will work hard to get the best out of himself.
Would Jay Kennedy-Harris make your top 10? Click here to pick your top 10 for your chance to win $10,000