SAM WALSH showed no signs of nerves in his first year at Carlton on the way to winning the NAB AFL Rising Star and producing one of the all-time great debut seasons.
But there was a "sweaty palms" moment before he landed at the club that sticks out for Blues list manager Michael Agresta.
Walsh was widely tipped as the No.1 pick throughout 2018, managing that expectation to piece together a brilliant and consistent season at under-18 level.
Find Road to the Draft on Apple Podcasts, Google Podcasts and Spotify.
He has been cool and calm under pressure since landing at the club via November's NAB AFL Draft, and played every game in a standout AFL campaign, but Agresta recalled the Draft Combine as a time when it dawned on Walsh what was to come.
"The Combine interview was the first time I'd seen him nervous. He was quite flustered and a little nervy. He had the sweaty palms and I'd never seen that with Sam. We had three recruiters, the coach 'Bolts' (ex-coach Brendon Bolton) and we had Marc Murphy as well as the captain [in the room]," Agresta told the Road to the Draft podcast.
WINNERS ARE GRINNERS Blues jet claims Rising Star award
"Probably just at the time it was a reality for him that 'I'm a chance to go No.1, this is really happening'. That was the first time I've seen Sam nervous and I haven't seen him nervous since.
"I went and got him from the foyer and he was nervy before, so I think it was just the reality that it may happen."
Sam Walsh's outstanding season was rewarded with the NAB AFL Rising Star award. Picture: AFL Photos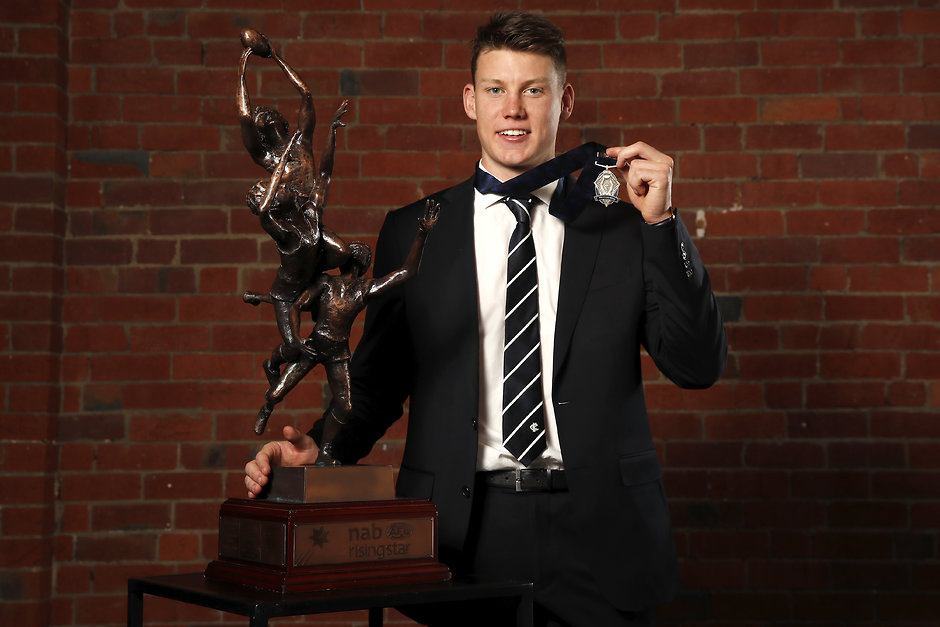 The Blues never informed Walsh that they were going to take him last year, mindful that it was possible even up until draft night that they could receive an offer to trade the selection.
"We were probably always set on Sam. We had a lot of work to do through the trade period. There was a lot of talk about whether that pick was going to be traded," Agresta said.
"We didn't actively seek a trade but if someone comes to you with something you can't say no to, we could never really commit to Sam. But we probably knew Sam was our one a long way out."
Walsh played every game this season for the Blues, averaging 25 disposals on his way to claiming the Rising Star with a record haul of votes and also being named the best first-year player at the AFL MVP awards.
Agresta, who was formerly a recruiter at Sydney before joining the Blues ahead of last season, said the 19-year-old's performances had even surprised him.
"No way you could expect to get the output we got from Sam. I was really fortunate at the Swans when we had Isaac Heeney and Callum Mills who were both unbelievably prepared first-year players, but I've never seen anything like Sam," he said.
"From the day he started training everything was 100 miles an hour. He kept getting himself up and never missed. I kept waiting for him to fatigue and that never happened. He just kept adapting."