IT WAS the hardest decision of Gary Ablett's career, and six months after he made it, he still wasn't sure if it was the right call.
Stay at Geelong, or head to the fledgling Gold Coast Suns?
He'd won two premierships and a Brownlow Medal with the Cats. It was where his famous father had forged his name over 14 seasons.
Geelong and the Abletts went hand in hand.

Match preview: Gold Coast v North Melbourne
Or he could accept a lucrative deal to be the lead man for the start-up Suns and move 1800km out of his comfort zone.
The decision weighed heavily on Ablett through 2010 - a season in which he finished runner-up in the Brownlow and the Cats fell to Collingwood in a lopsided preliminary final.
Now, on the cusp of his 300th game against North Melbourne, the Little Master reflects on his big decision that would shape the second half of his career.
"There was a lot of reasons behind the decision to come up here," Ablett told AFL.com.au.
"Getting to the end of nine years, playing in three Grand Finals, winning two premierships, (versus) the challenges of coming to a new club.
"I won't lie, the money was part of my decision.
"My brother (Nathan) was living up here at the time, we've always been super close and I wanted to be closer to him and play football with him again.
"I don't regret the decision. It's helped me grow a lot as a person, as a footballer, and I feel like I've been able to take my game to another level.
"Whether I would have been able to do that at Geelong, I'm not sure."
Ablett said moving away from his family was always going to be a challenge, but one that ultimately helped his personal growth.
It wasn't easy to come to though.
The 33-year-old is a private man, close to his family and inner circle of friends, so it's not surprising who he turned to for advice.
"Dad was the one person I spoke to the most about it.
"He understood exactly what I was going through.

Gary Ablett junior and senior have shared much through the years. Picture: AFL Photos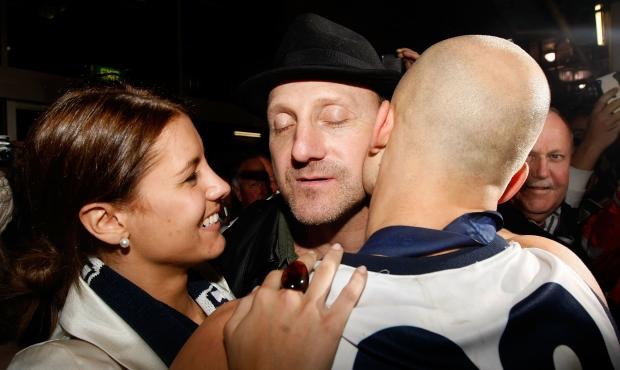 "I wouldn't say I needed his approval but I wanted his advice.
"Someone that had been there, was going through some of the same things I was going through at the time, to hear his thoughts and opinion, it was a conversation I needed to have.
"I moved up here and didn't know anyone and it forced me to grow up a little bit.
"It took me a good 18 months to settle in.
"I haven't told many people this, but the first six months I was questioning whether I'd made the right decision or not, but looking back now, I know I did."
The change came with criticism. Some thought he was greedy, others thought he lacked loyalty.
Ablett laughs at that, saying loyalty is giving 100 per cent all the time, which he did in 2010.
He dismissed the talk of a rift between himself and former Cats coach Mark Thompson.
"I think it was blown up into more than it was needed to," Ablett said.
"There was talk about my relationship with Bomber, but we've always had a great relationship.
"I really respect him as a coach.
"He did a great job down there for 10 years and was a big part of the reason Geelong had the success they did.
"I don't think I'd change anything."
Part of his reason for switching to the Suns was wanting to take his game to another level, and there's little question he did.
In a team that won just three games in each of its first two seasons, Ablett finished fifth in both Brownlow counts.
Then in 2013 he became the first player since 1999 to win Charlie from a team outside the top eight.
He was single-handedly winning Gold Coast games - and when he wasn't, he was giving fans a reason to come and watch.
He still is.
There's more No.9 guernseys getting around the Gold Coast than any other Suns jumper.
Yet another reason for heading north was to achieve success, which hasn't happened yet.
Heading into the game against the Kangaroos, the Suns are 5-8 and another loss would just about kiss their finals chances goodbye.
"I always said from day dot it was about coming up and winning a premiership," Ablett said.
"I'd hoped we would have had more success by now and played finals football, but we haven't.
"There's still another nine games to go and we need to give it our all."
These two may be closer to each other throughout next year. Picture: AFL Photos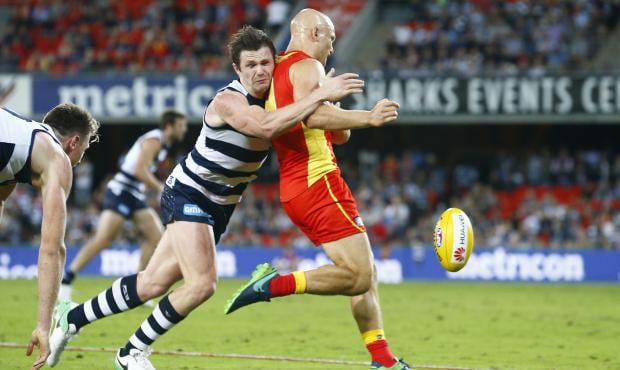 .