IF GEELONG is bundled out of this year's finals in straight sets, it will move to outright second on the 'September flops' ladder.
While many think the Cats' poor record in finals comes in the Chris Scott era, it in fact dates back to 1934.
Brisbane is also in danger of joining the 'straight sets club'.
The young Lions are playing in their first finals series since 2009. Picture: AFL Photos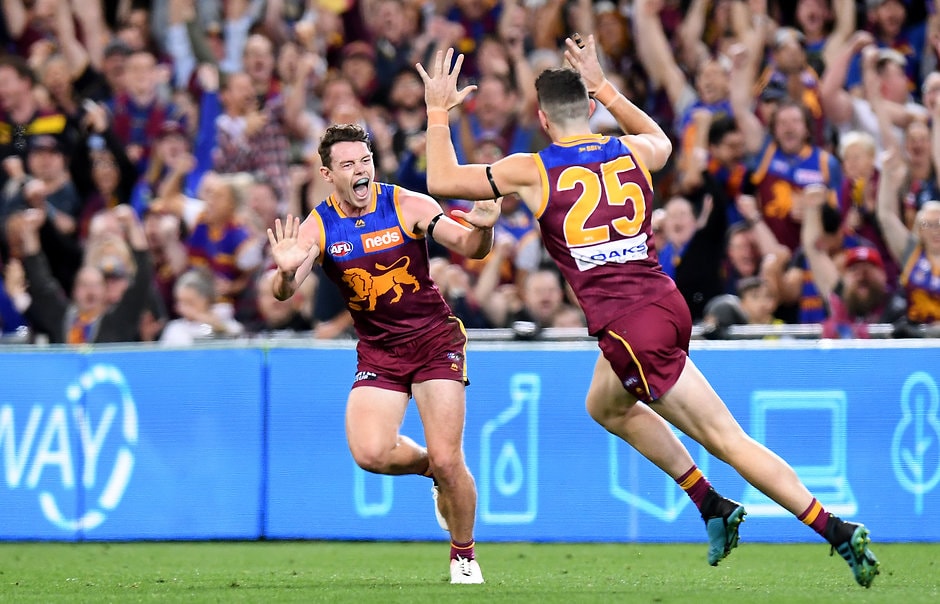 Both clubs lost their qualifying finals – minor premier Geelong to Collingwood, and second-placed Brisbane to Richmond – making it the first time since 1986 that the top two teams have lost their first finals on the same weekend.
If the Cats and Lions lose again in this week's sudden-death semi-finals to reigning premier West Coast and Greater Western Sydney respectively, it will be the first time since 1980 that the top two have been eliminated in straight sets.
FINALS PREDICTOR Who will win the 2019 premiership?
Excluding early round-robin finals series and others in which minor premiers lost both of their finals with the second defeat being in Grand Finals, there have been 42 cases of teams suffering inglorious exits after going 0-2 in September.
The Cats have been bundled out in straight sets on seven occasions, including once already under Scott in 2014, when Hawthorn belted them by 36 points in their qualifying final, before North Melbourne pipped them by six points in their semi-final.
In terms of two-final flops, the Cats are equal-second with Collingwood (seven), behind only Carlton (nine).
Find AFL Exchange on Apple Podcasts, Google Podcasts and Spotify.
Geelong will also be desperate to avoid becoming the first minor premier to be knocked out in straight sets since North Melbourne in 1983.
In better news, since then 10 minor premiers have lost their first final before bouncing back to win the next week. And four of these teams then went on to win the premiership – Essendon in 1984 and 1993, Hawthorn in 1986 and West Coast in 2006.
Since the final-eight system was introduced in 1994, at least one of the two top sides has reached the Grand Final. Amazingly, if Geelong and Brisbane succumb again, neither of this year's top two will even make the preliminary final.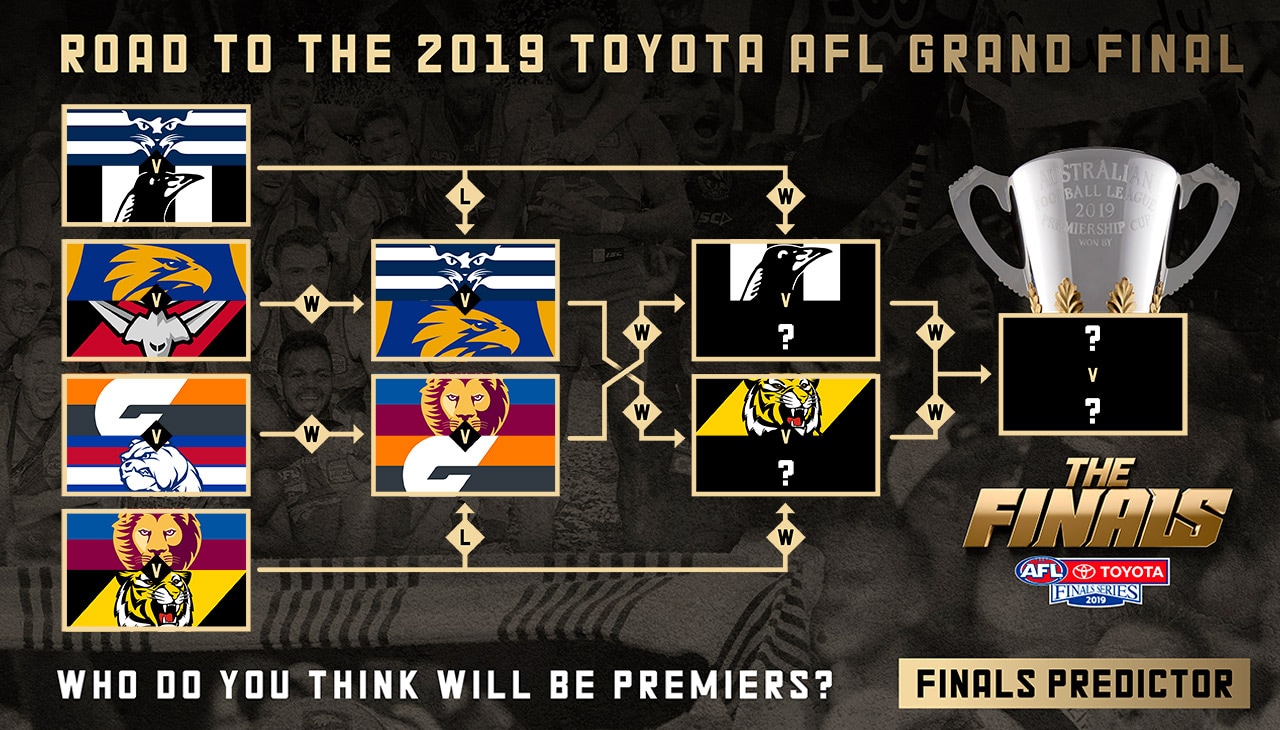 Straight-sets exits

| | | | |
| --- | --- | --- | --- |
| Year | Club | Ladder position | Finish |
| 1934 | Geelong | 2nd | 3rd |
| 1937 | Melbourne | 2nd | 3rd |
| 1938 | Geelong | 2nd | 3rd |
| 1941 | Carlton | 1st | 3rd |
| 1945 | Collingwood | 2nd | 3rd |
| 1949 | North Melbourne | 1st | 3rd |
| 1951 | Collingwood | 2nd | 3rd |
| 1954 | Geelong | 1st | 3rd |
| 1959 | Carlton | 2nd | 3rd |
| 1960 | Fitzroy | 2nd | 3rd |
| 1961 | Melbourne | 2nd | 3rd |
| 1962 | Geelong | 2nd | 3rd |
| 1965 | Collingwood | 2nd | 3rd |
| 1967 | Carlton | 2nd | 3rd |
| 1969 | Collingwood | 1st | 3rd |
| 1972 | Collingwood | 3rd | 4th |
| 1973 | Collingwood | 1st | 3rd |
| 1975 | Carlton | 2nd | 4th |
| 1976 | Carlton | 1st | 3rd |
| 1980 | Geelong | 1st | 3rd |
| | Carlton | 2nd | 4th |
| 1983 | North Melbourne | 1st | 3rd |
| | Fitzroy | 3rd | 4th |
| 1984 | Carlton | 3rd | 4th |
| 1986 | Sydney | 2nd | 4th |
| 1987 | Sydney | 3rd | 4th |
| 1988 | Collingwood | 2nd | 4th |
| 1994 | Carlton | 2nd | 5th |
| | Footscray | 5th | 6th |
| 1995 | West Coast | 5th | 6th |
| 1996 | Carlton | 5th | 6th |
| 1997 | Geelong | 2nd | 5th |
| | West Coast | 5th | 6th |
| 1998 | St Kilda | 6th | 6th |
| 1999 | Western Bulldogs | 4th | 6th |
| 2001 | Port Adelaide | 3rd | 5th |
| 2007 | West Coast | 3rd | 5th |
| 2014 | Geelong | 3rd | 5th |
| | Fremantle | 4th | 6th |
| 2015 | Sydney | 4th | 5th |
| 2016 | Hawthorn | 3rd | 5th |
| 2018 | Hawthorn | 4th | 5th |
Information supplied by AFL statisticians and historians Col Hutchinson and Stephen Rodgers