GARY ABLETT snr's spectacular career has been analysed and scrutinised like few others, so it's almost inconceivable that the Geelong legend has been the victim of a statistical error for the best part of four decades.

The evidence is conclusive: Ablett was robbed of a goal.
The superstar forward's career tally has now risen from 1030 to 1031 – still fifth on the all-time list behind Tony Lockett (1360), Gordon Coventry (1299), Jason Dunstall (1254) and Doug Wade (1057).
Unfortunately for Cats fans, the missing major wasn't from the 1989 Grand Final, which Geelong lost to Hawthorn by that very margin despite Ablett's best-afield, nine-goal masterclass.
The stray goal in question harks back to the superstar forward's brief stint with the Hawks.
TOO MANY GARYS New Cat Rohan forced to find a new name
How Gazza was robbed of a goal
In Ablett's fourth League game – an 18-point win in a top-of-the-table clash with eventual grand finallist Richmond in round five, 1982 – he was credited with one goal (1.4 in fact), but footage of the game proves he actually slotted two majors.
For almost 37 years the beneficiary of the mistake was Ablett's teammate Richard Loveridge, who, the records stated, kicked three goals when his true output was two.
Now we just have to find another goal for 'Nuts' Coventry."
The revelation came to light by sheer chance.
Footy history enthusiast Stephen Wade noticed the Ablett discrepancy while watching a YouTube video of the game (which was only uploaded in April 2017).
Wade brought his discovery to the attention of Col Hutchinson, the AFL's statistics and history consultant, who has since changed the official records.
Leading VFL/AFL goalkickers

| | | | | |
| --- | --- | --- | --- | --- |
| Player | Club | Total goals | Total games | Avg goals per game |
| Tony Lockett | St Kilda/Sydney | 1360 | 281 | 4.84 |
| Gordon Coventry | Collingwood | 1299 | 306 | 4.25 |
| Jason Dunstall | Hawthorn | 1254 | 269 | 4.66 |
| Doug Wade | Geelong/North Melbourne | 1057 | 267 | 3.96 |
| Gary Ablett snr | Hawthorn/Geelong | 1031 | 248 | 4.16 |
| Jack Titus | Richmond | 970 | 294 | 3.30 |
| Matthew Lloyd | Essendon | 926 | 270 | 3.43 |
| Lance Franklin* | Hawthorn/Sydney | 917 | 290 | 3.17 |
| Leigh Matthews | Hawthorn | 915 | 332 | 2.76 |
| Peter McKenna | Collingwood/Carlton | 874 | 191 | 4.58 |
*Active
'The Hawks are to blame'
Ablett would be dropped for the next game and make just two more appearances for Hawthorn before being given his marching orders by coach Allan Jeans for a lack of commitment. But even as an untamed 20-year-old, Ablett the Hawk showed glimpses of his eventual genius, and both of his goals that autumn afternoon against the Tigers were gems.
Wearing No.35 (which was next handed to forward James Morrissey, who donned it in three premiership teams while Ablett went flagless), a leading Ablett received a nice pass from Terry Wallace in the second quarter and, while contending with a tricky cross-breeze, nailed a long angle shot from the 'wrong' side for a right-footer.
His second goal – the one that had been mysteriously missing from his career tally – came early in the last quarter and was similar to one of his famous efforts in the 1989 decider. Leaping to snare a boundary throw-in, Ablett threw the ball on his right boot as he fell, levelling the scores (watch it in the footage above).
Gary Ablett's decorated career would include feats for Victoria as well as in Geelong colours. All pictures: AFL Photos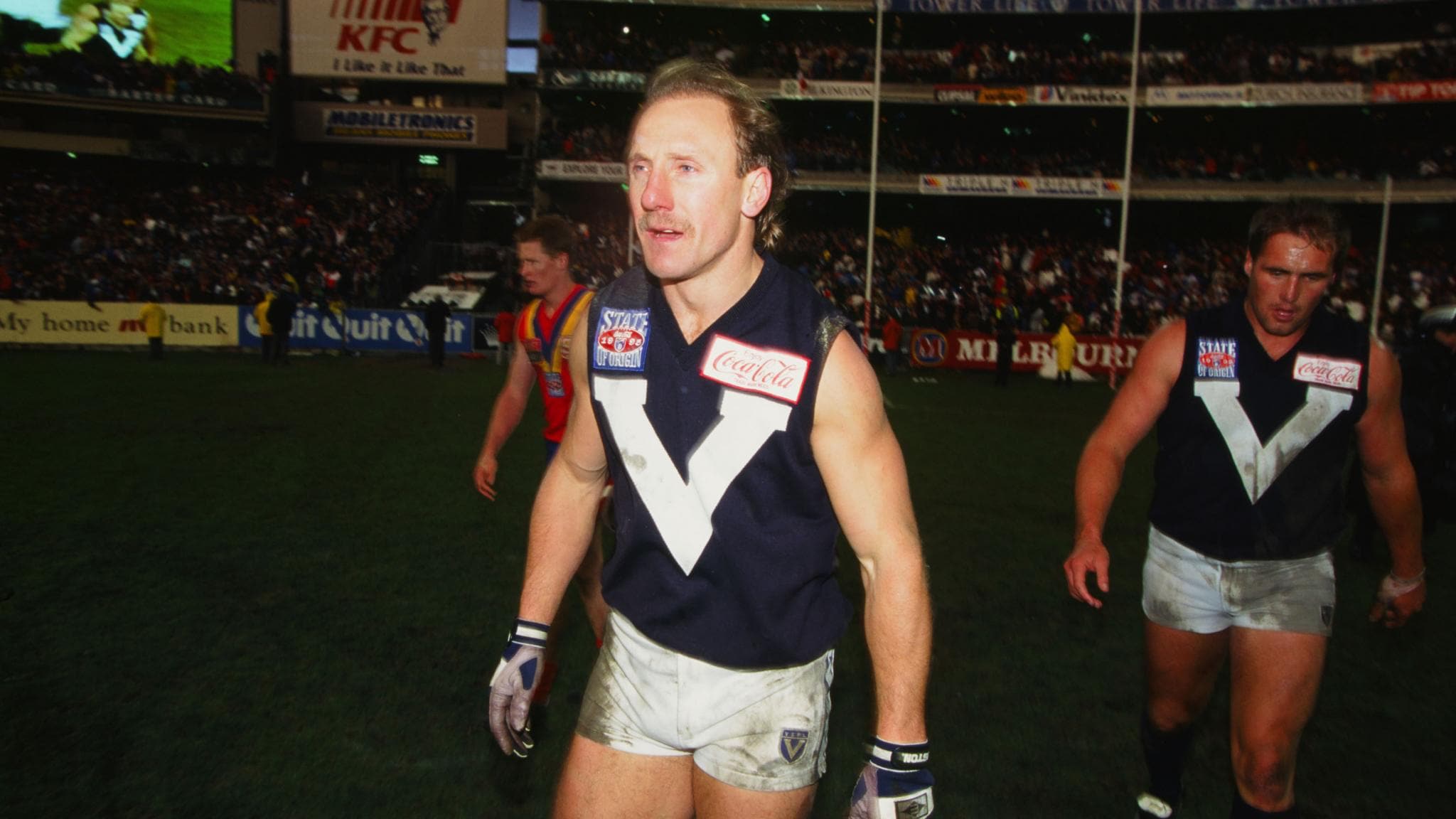 It all happened so quickly and so unexpectedly, which possibly explains why the blunder was made. Channel Seven commentator Jack Edwards initially believed it was big man Michael Byrne, and Hawthorn's 1982 annual report actually credited Byrne with the goal.
It seems the Hawks were to blame. At the time, each club was responsible for faxing its list of goalkickers to the League, and in this instance it appears Hawthorn supplied the wrong information, awarding Loveridge three goals and Ablett just one, rather than two apiece.
'I do hope Gazza is grateful'
The newspapers generally reported the Hawks' goalkickers accurately, and so did The Football Record, but the error remained undetected in the AFL database and was repeatedly perpetuated until Wade's find.
Loveridge's career goal tally has also been adjusted, dropping from 120 to 119.
119-goal Hawk Richard Loveridge in action against the Swans in 1987.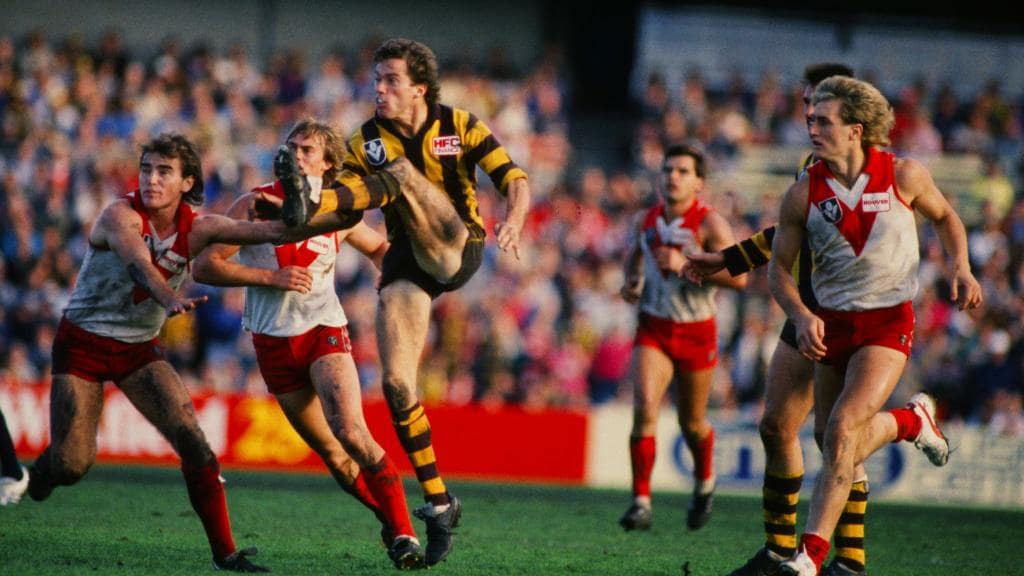 Just 19 and in only his fifth League game at the time, Loveridge went on to become a dual premiership rover/forward, and a lawyer who has served on the AFL tribunal for the past 21 years.
Now 56, he was amused by the missing goal story.
"The person who'll get the most joy out of this is Norm Goss (the former South Melbourne and Hawthorn rover who played his last game that day) because he always thought I was overrated, that he was underrated and that he kicked a lot more goals than me. He'll say this vindicates his view," Loveridge chuckled.
"And I do hope Gazza is grateful."
A satisfied Ablett in the rooms after a match with Cats teammate Bruce Lindner.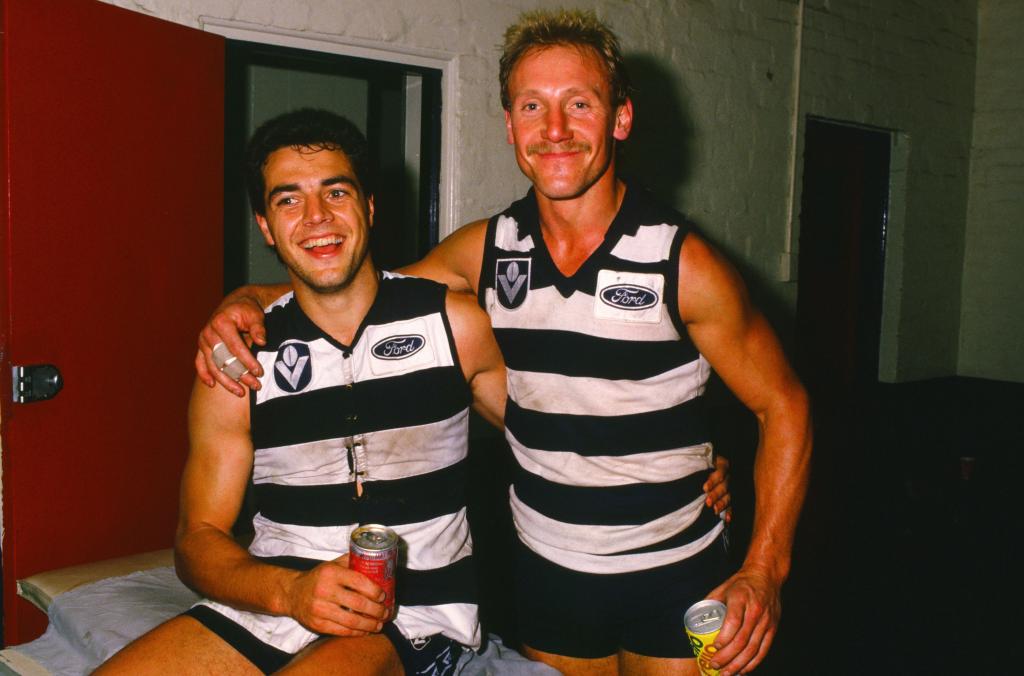 Should Ablett have had another?
There's little doubt the reclusive legend would be grateful, given that some years back he'd lobbied Hutchinson, unsuccessfully, to add another goal to his record tally of 27 in the 1989 finals series.
Ablett insisted that in the qualifying final, in which Geelong copped a 76-point hiding from Essendon, he kicked a goal that was credited to teammate Andrew Bews.
However, video evidence seems to work against him in this instance (watch it in the footage above).
In the second quarter, with the Cats already well down, Ablett tried to lift them with a swivelling left-footer. There was a contest on (or over) the goal line, the ball spilled and Bews kicked the easiest of goals. From the goal umpire's body language it appeared he deemed it a Bews goal, but these days it might have warranted a video review.
Gary Ablett celebrates his 1001st goal before fans flock onto the field.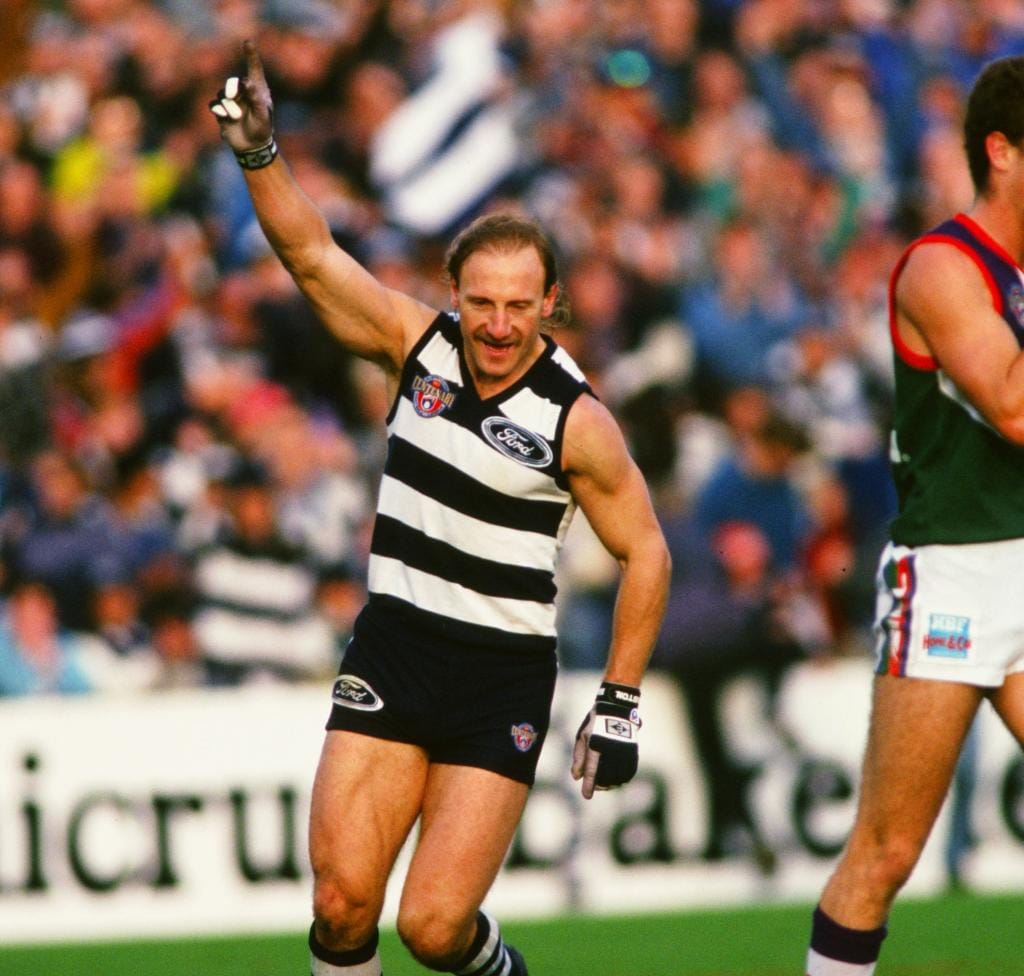 The additional Ablett goal means that when Cats fans mobbed him after his 1000th goal against Fremantle at Geelong in round 12, 1996, they were actually celebrating his 1001st major. He'd brought up the four figures earlier in the game.
Hutchinson suggested the search for more anomalies should continue, quipping: "Now we just have to find another goal for 'Nuts' Coventry to get him to 1300!"
Read more
BROWNLOW AND OUT Why five medallists missed the following season
WHEN WE WERE KINGS How pre-season footy lost its glamour