NORTH Melbourne insists it undertook an exhaustive process in securing Rhyce Shaw as its full-time senior coach, despite him being the only candidate who formally presented to the selection panel.
Shaw, 37, agreed to terms with the Kangaroos on Wednesday afternoon to replace Brad Scott for at least the next three seasons.
BARRETT Rhyce is the word, North's flippant process absurd
The former Collingwood and Sydney player had impressed Kangaroos powerbrokers during an eight-game stint as interim coach.
Carl Dilena, Rhyce Shaw and Ben Buckley at Thursday's media conference. Picture: AFL Photos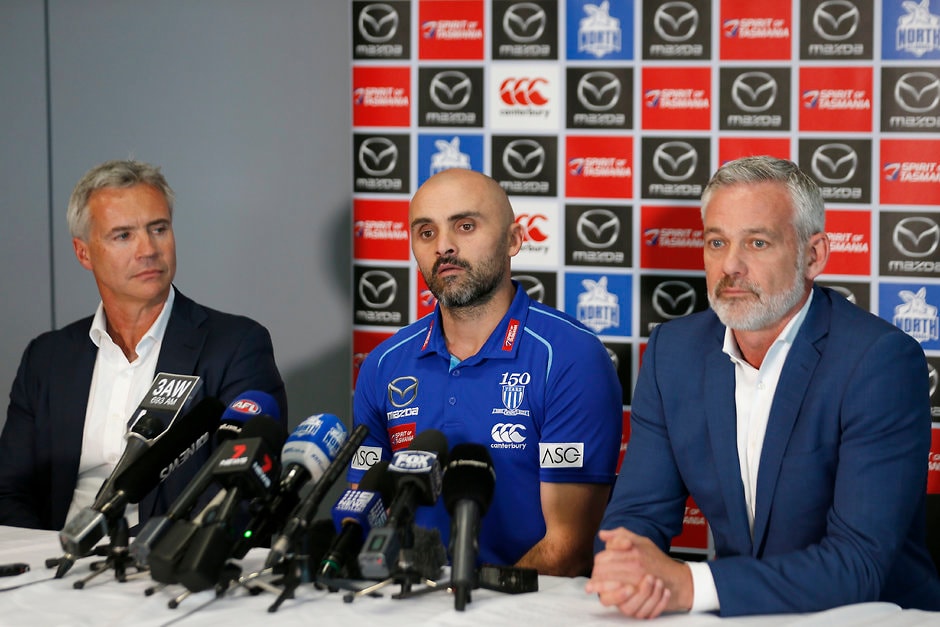 The Roos won four of the games under Shaw's tutelage, although they are on a three-match losing streak and out of finals contention in 14th spot.
They made a big play for former club great John Longmire but when he elected to re-sign as Sydney coach, Shaw's appointment was pretty much a fait accompli.
The club had also put the question to premiership coaches and Kangaroos alumni Alastair Clarkson and Adam Simpson but were rebuffed.
North chairman Ben Buckley said they spoke to others but Shaw was the only candidate to formally front the five-man selection panel led by Buckley, chief executive Carl Dilena and club great Glenn Archer.

"I've seen some commentary about our process and I can assure our members and supporters it was exhaustive," Buckley told reporters on Thursday.
"Right from the outset, we identified right across the industry a significant number of people who we thought had the capability to do the job.
"We obviously had conversations with those who are pretty experienced and pretty successful, as you would expect us to.
"All along that process, we had the opportunity to observe Rhyce in a live situation which I have to say, we're fortunate that we had because it gives us an opportunity to see someone almost presenting week-in, week-out."
Find AFL Exchange on Apple Podcasts, Google Podcasts and Spotify.
Buckley doesn't believe Shaw's outright favouritism deterred other candidates.
"We spoke to quite a number of individuals and some of those were highly engaged; others weren't so for different reasons," Buckley said.
"I can't recall anyone saying 'I'm not putting my name up because I think Rhyce is a lock' and I think Rhyce would tell you he's gone through a pretty extensive process and some pretty hard questioning from some of the panel members.
"We saw a body of work over four or five games and realised the increased output from the team wasn't just a sugar hit, which can happen sometimes when an interim coach comes in.
"I think we started to see a sustained, steady improvement and an understanding and a capability to do the job and take the job on."
Rhyce Shaw signs a fan's surfboard at training on Thursday. Picture: AFL Photos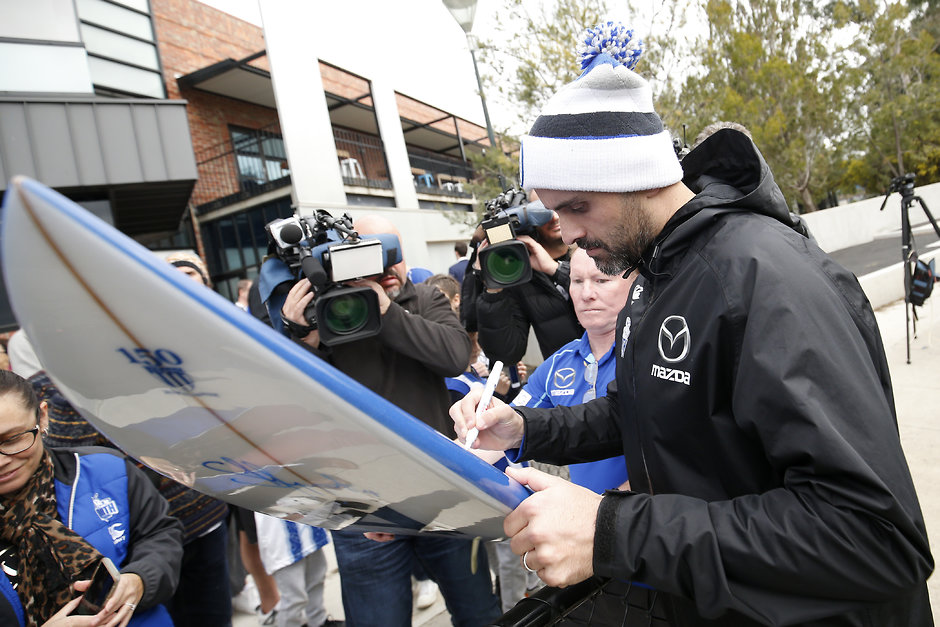 Shaw's deal will become a rolling contract after an initial two-year fixed period.
"It probably has happened a little quicker than I expected but I back myself in any situation," he said.
"I've been in the industry for 20 years now and I think I know it pretty well.
"I'm still learning each and every day and that's the great thing about being a senior coach."