Follow the 2016 women's exhibition games live
Melbourne v Western Bulldogs
Sunday March 6, 5.10pm AEDT
• WATCH the match live at AFLcommunity.com.au
• LISTEN to the live call at afl.com.au/womens or via the headphones icon on the AFL Live app
LIKE most footballers at this time of the year, Nicola Stevens is fed up with the grind of pre-season training.
Although she understands the necessity of such repetitious workloads and drills, the Western Bulldogs defender just wants to be let loose to get out there and play.
"All the girls have done a huge pre-season (but) a lot haven't been through one as intense as this one. At this time of the year, everyone is definitely looking forward to running out there again," she said.

Click here for all your women's footy news
Stevens and her teammates finally get to play on Sunday, against Melbourne at Craigieburn.
Playing in expected warm conditions on the wide and windy Highgate Recreational Reserve in Melbourne's northern suburbs will be a huge test of the players' stamina and speed.
The game will be played after the Western Bulldogs-Melbourne NAB Challenge clash and is the first of a 10-match women's exhibition series in five states this season.
Match one includes players who have been training with the various state academies. The series is part of the build-up to next year's proposed national women's competition that will include teams affiliated to AFL clubs.

Talent search: Sinead O'Mahony during the women's combine at Whitten Oval in January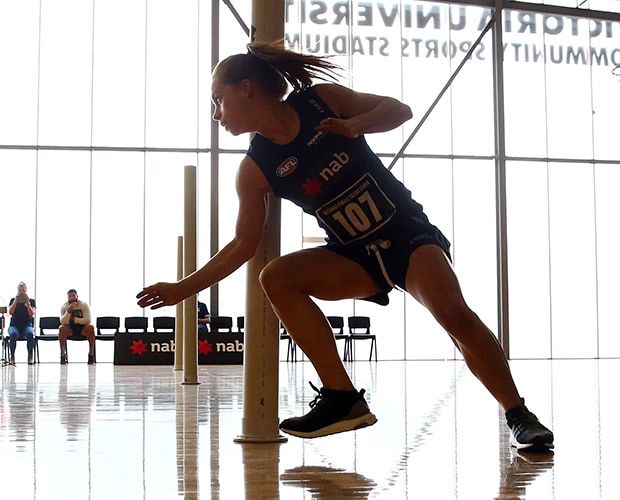 A half-back for Melbourne University and pick 18 in the inaugural women's draft (held in 2013), Stevens is among 120 fiercely competitive players in Victoria's academy.
They have completed weights and conditioning programs at the Bulldogs' Whitten Oval and the training headquarters at Carlton, Essendon and Melbourne to prepare for the season.
"We've had really good access to those clubs' facilities and their coaches and other staff,'' she said.
"As well as the other (training) with Melbourne University, it has been full-on. Most of the girls picked for this academy are trying to use this as a bridging year in the hope we get drafted for next year."
The Bulldogs, coached by Damien Keeping, assistant coach of TAC Cup club Calder Cannons, have scheduled an all-day training camp at Whitten Oval on Saturday to prepare for the match against the Demons the next day.
"It's a different squad to last year, when we had players from outside Victoria in the Western Bulldogs and Melbourne teams. All the new girls who have been drafted into the teams are from Victoria," Stevens said.
"We know each other through the academy, but we haven't had much of a chance to train together. Hopefully we can put it all together."

2013's No.2 draft pick Stephanie Chiocci leads the Bulldogs out onto Etihad Stadium. Picture: AFL Media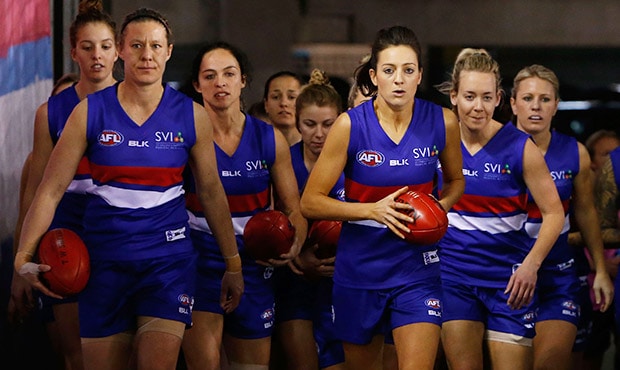 The 22-year-old, an osteopathy student at Victoria University, has added incentive to cement a team spot after missing most of last season following major knee surgery.
She tore the ACL in the left knee during a Vic Metro-Vic Country under-21s match at Whitten Oval in June of 2014 and had to revert to being a trainer with her club to remain connected with the sport.
"I was running alongside my opponent, went to pick up the ball and my foot got stuck. My knee collapsed inside," she said.
"It didn't sound good and, given what I'm studying, I knew it wasn't a good sign. I definitely knew it was going to be a long time until I returned.
"(Doing rehab) is extremely tough and my biggest battle was that I put too much pressure on myself. I've realised over the last 12 months that you've got to trust you've done everything right and, by the time you get back out on the park, there's nothing to differentiate you from the opponent next to you," she said.
"If you've done the work, you should be able to get on with the game. That's the attitude I try to take."
Stevens played the last five games of the 18-round Victorian Women's Football League home and away season and two finals with Melbourne University and she's confident the repaired knee will hold up in her quest to be part of the 2017 AFL women's league.
"One of the finals I played was on Whitten Oval and I was very nervous before that game. But I got through it and it was completely fine," she said.
"But this feels like a whole different ball game coming back and playing with the Doggies. I've always strived to get back to this level.
"Every time you step out on the track, whether it's training or a game, you're taking a risk whether you have been injured or not. All of us are willing to take that risk.''
Sunday's game starts at 5.10pm AEDT and AFL.com.au will have a live audio stream of the game.