EACH year the NAB AFL Academy provides a snapshot of the wider pool of prospects vying to be drafted at the end of the season.
Over the past 10 days, this year's level two national Academy group has been in America on a high-performance training camp.
The group of 29 players, plus four Irish hopefuls who joined them at Florida's IMG Academy, completed regular training sessions and conditioning work in a bid to replicate an AFL club program.
The NAB AFL Draft is a long way off, but here are some early thoughts on the shape of the 2018 crop.
How does the group stack up?
Some recruiters last year suggested the 2018 pool will be the next 'Superdraft', but that seems a little premature at this stage. The grass is always greener in recruiting, the next draft always gets more hype than the current one.
Nevertheless, the Academy squad was impressive in its standard of training, and scouts in the US have left enthused about the talent available to clubs. The evenness of the group was evident in the 2km time trial results, with the winner running 6:07 minutes and the last coming in at 7:14 in a very solid set of numbers.
Talk on the 2018 crop has focused on the talls available, particularly Jack Lukosius and Max and Ben King. But the range of sizes and shapes for the top bunch is also appealing. Izak Rankine looks ready to play AFL now such are the half-forward/midfielder's skills and zip, Ian Hill is exciting and adds genuine speed, while Connor Rozee's versatility will appeal.
Sam Walsh is the standout midfielder, but others have also shown talent, including Curtis Taylor, whose kicking and smarts will be worth watching this season. Tarryn Thomas is all silk and a great size at 187cm, Bailey Smith works extremely hard, Jye Caldwell will dig in and find the footy and Chayce Jones has recovered from a serious ankle injury last year and is a trusty type.
It is difficult to compare this one draft to another but looking at last year's group against this one, there appear to be more talls near the top end in 2018 whereas midfielders dominated the early picks last season.
Sam Walsh (No.5) and Bailey Smith (No.31) run the 2km time trial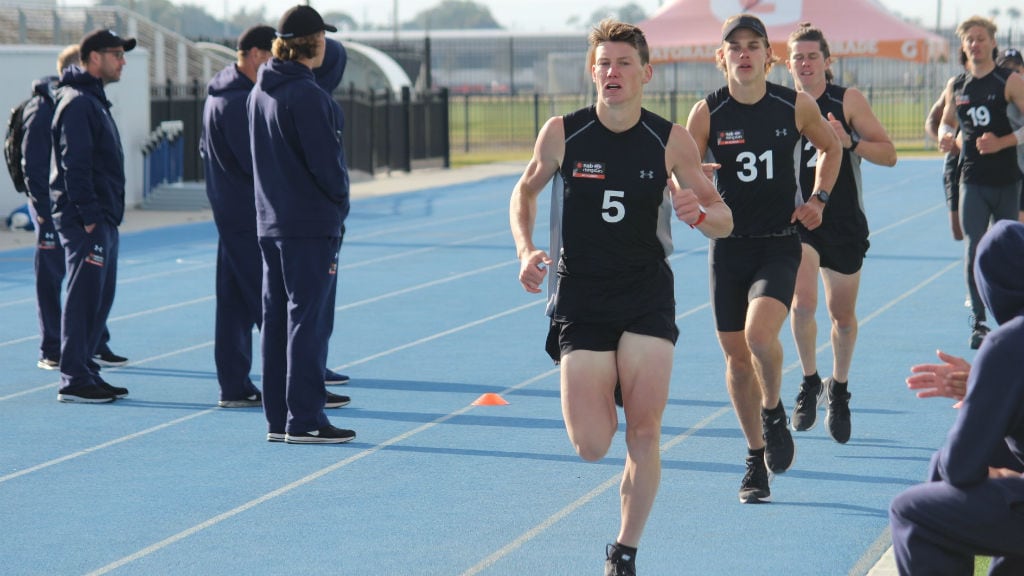 Who are the early contenders for the No.1 pick?
Lukosius' brilliant SANFL debut last year – when he booted four goals in a preliminary final – stamped him as one of the early favourites for the No.1 choice. He has a relaxed nature, but runs smartly in games and is a superb kick, both for goal and around the ground. Recruiters with early picks will be watching him closely all year.
Rankine and Hill are among the most talented, but are smaller-forward types who generally don't get taken with the No.1 pick. Nevertheless, they're among the top tier given their pace and skills and whenever the intensity stood up at training in match drills, Rankine and Hill were at the forefront.
The King brothers will dominate discussion and should be in this conversation as well, while Walsh, perhaps the most complete midfielder in the pool, will also be heavily spoken about as a possible No.1 pick.
He is a captain-in-waiting who starred last year for the Geelong Falcons on their way to the TAC Cup premiership and has most bases covered: he's tough, quick, wins it himself, kicks it well and has footy smarts. He looks a player who won't let you down.
Where will the players come from?
South Australia has gone two years without a top-10 pick, but it's hard to see right now how Lukosius and Rankine won't be in there come November this year. Rozee also did some exciting things as a bottom-ager last season, and they are three of six SA players in the Academy.
The Victorian contingent was again strong, with both Country and Metro having eight players in the group. Among them, Riley Bowman's tall frame but agile movement caught the eye at times during the tour, while midfielder Ned McHenry's bubbly and energetic personality matches his go-go-go style on the field.
There is genuine quality in the division two states, too. Nick Blakey (NSW-ACT) may be the best of the lot and will run out for the Allies alongside Bailey Scott (Queensland), while Jones and Thomas should turn around Tasmania's recent draft fortunes. From the Northern Territory, Matt Green is raw but was exciting at stages on tour with his movement for a taller type.
Izak Rankine during a drill at the IMG Academy in Florida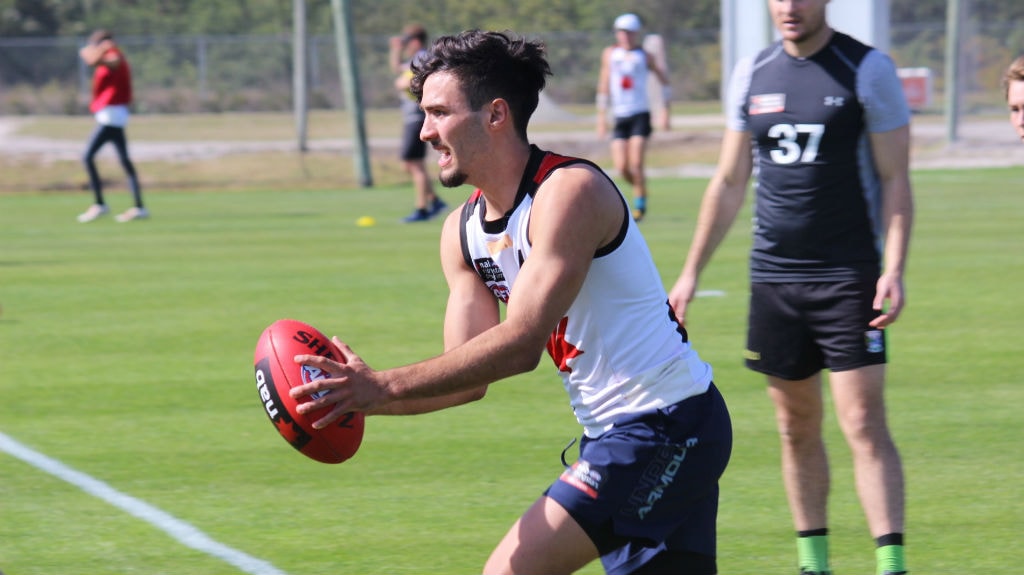 Will there be many father-son and Academy players?
It's going to be a big and busy year on this front. The three main father-son prospects will be Blakey (North Melbourne/Brisbane Lions), Scott (Geelong/North Melbourne) and Rhylee West (Western Bulldogs).
Blakey appears likely to be first picked from that bunch and could be an early selection, such is his height (196cm) and mobility, while Scott could surprise a few this year and push up. The Dogs will also watch West closely, while of course outside the national Academy Ben Silvagni (Carlton) and Mason Fletcher (Essendon) are eligible to their clubs.
Complicating matters is that Blakey (Sydney) and Scott (Gold Coast) are also eligible to join clubs as Academy picks as they have lived in their respective northern states the required time. Blakey is a leader who will take some stopping once he fills out, and Scott is an intelligent and hard-working prospect with an eye on the future.
Powerful goalkicker Matt Walker is in the Giants' Academy and will spend time being mentored by former North player Paul Spargo this year, whose son Charlie was a member of the GWS Academy before joining Melbourne last year.
The Next Generation Academy will also likely spawn its first early choice this year in indigenous prospect Thomas, who is in North Melbourne's Tasmanian zone. Isaac Quaynor is another to watch as a member of Collingwood's multicultural Academy region. The Oakleigh Charger is smart across half-back and a popular player, while Jason Carter is tied to Fremantle through its NGA region.