CRITICS of Adam Goodes need to step back and educate themselves before taking pot shots at the dual Brownlow medallist, Sydney Swans coach John Longmire says.
The indigenous 'war cry' goal celebration Goodes performed on Friday night against Carlton is still being talked about, and while the Swans star has received plenty of support, he's also copped plenty of negativity.
Proud Goodes stands by 'war cry' celebration
Some commentators, including Eddie McGuire, have suggested Goodes should have given prior notice that he was going to perform the dance on Friday night.
"Had we known before the game that Adam or some of the indigenous players were going to do some sort of war cry, we could have been able to educate and understand the situation," McGuire told Channel Nine on Monday morning.
"This is a made-up dance, this is not something that's been going on for years."
Longmire says everyone was welcome to have his or her own opinion, but further education was needed to help a greater understanding of Goodes' actions.
"I was playing with some of the great indigenous players who were able to play our game, but it wasn't really until I became a coach and was able to talk and listen to people like Michael O'Loughlin and Adam Goodes, before I got a really strong understanding of indigenous culture, and I'm still learning," Longmire said on Monday.
"As long as you've got an open mind to these things and you don't jump to any conclusions and you're prepared to listen to other people's point of view, that's when you get a true understanding of it."
The Swans coach revealed his surprise at the amount of media and fan comment on his veteran, but said Goodes was excelling in his position as a significant role model for indigenous Australians.
"He's certainly conscious of playing good football but also representing his people in the most appropriate way that he thinks is correct, and I think he gets that balance spot on," Longmire said.
"He's fortunate to be in the position to be able to get a conversation going about some things that he's really passionate about.
"I don't think it's necessarily a bad thing for society."
One fan was escorted from the ground on Friday night, but a spokesman for the SCG Trust told AFL.com.au that the incident had nothing to do with Goodes or his goal celebration.
No charges were laid by police following the crowd disturbance, which occurred at half-time.
Adam Goodes performs his war cry celebration on Friday night. Picture: Channel Seven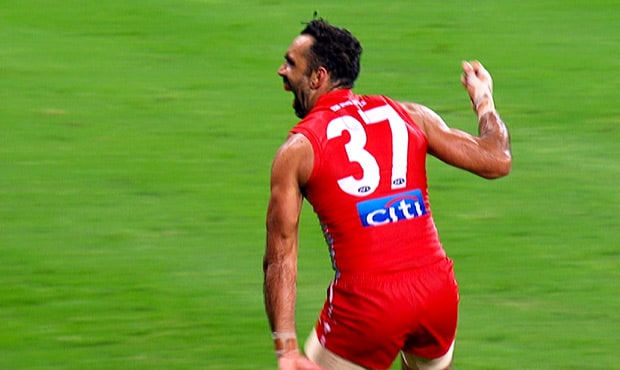 Despite the intense scrutiny of his actions against the Blues, Longmire says Goodes had handled himself well over the past few days.
While it's issues other than footy that have kept the 359-gamer in the headlines, Goodes' past two games have been his best of the season, and Longmire knows the dual premiership player will keep his mind on what is most important.
"He's playing pretty good footy at the moment; certainly us as coaches, that's what we've been focusing on, and I'm sure he goes out this week against Gold Coast in the same frame of mind," Longmire said.
"He's been getting across the ground really well, he's able to get up and down the ground like a midfielder, and he's been doing that really well the last couple of weeks."