What time does the 2017 AFL Grand Final start?
FALLEN Tiger Dan Connors turned 29 on Friday.
His former AFL team is days from playing in its first Grand Final in 35 years, and he is instead lobbying his boss in a Kalgoorlie mine to give him time off to sit in the crowd.
Connors was working on Monday night while his best mate, Brownlow medallist Dustin Martin, begrudgingly faced the media only minutes after being crowned the AFL's fairest and best player for 2017.

Mega-preview: Grand Final, Adelaide v Richmond
Their lives have gone in different directions since the fateful night five years ago when they each took sleeping pills as part of a series of events that saw them miss training the next day.
Richmond terminated Connors' playing contract – after many warnings – while Martin copped a two-week suspension and was forbidden from socialising with his fellow Bendigo Pioneer product.
They still speak multiple times a week, and Connors, who played 29 AFL games across six injury-marred seasons, is full of admiration for the man who remains a mystery to most.
"I was very proud watching him and it was good to see not only him playing well, but the other boys as well – and taking it to another level," Connors told AFL.com.au.
"He's a bloke that will pretty much do anything for you, no matter what – even if it puts him out. That's the type of guy he is. He'll literally do absolutely anything for you to help you or to further you any way in life possible.
"He's my best mate and someone I'm pretty proud to call my mate.
"It's sort of a shame on one hand that people can't see what he's like, but on the other one, it's one of the things that makes it so good about him."
Connors readily admits he could have handled his AFL exit and the ensuing months far better, and even understands why people at the Tigers thought he "wasn't good" for Martin.
"It was a shame how it all ended up," he said.
"But now I just love seeing them go well … and it turns out that Damien (Hardwick) is a terrific coach and he's done the club a world of good, so it's all positive from my end.
"Certainly for a while there I had a bit of sour grapes on him, and I even took a couple of pot shots at him on social media, but that's just immaturity on my behalf."

Daniel Connors flanked by Chris Newman and Brett Deledio. Picture: AFL Photos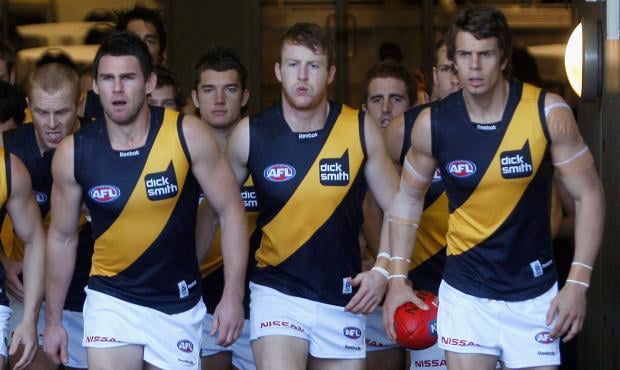 Connors, originally from Echuca, has ping-ponged between clubs since exiting AFL ranks, from Shepparton United to Aberfeldie to VFL club Port Melbourne to Bridgewater to Heidelberg.

His latest football stop is at Kambalda Eagles, a club based just outside Kalgoorlie that hasn't won a senior game for two years. Ex-Carlton footballer Andrew Walker is the new coach at Echuca and has made contact with Connors about his plans for 2018.
Connors' one season at Port Melbourne in 2014 reminded the footy world of his immense talent, with the left-footer sharing the Jim 'Frosty' Miller Medal as the VFL's leading goalkicker.
"That was one of the best years of footy I had, enjoyment wise and just mateship wise, and (coach) Gary Ayres was unreal for me," he said.
"But I had to look to move on from the dream of coming back to AFL footy and look after myself and try and start a career, so I played a bit more local footy following work roles around."
Connors isn't proud of his bad boy tag but owns it, knowing he contributed to his reputation with a string of alcohol-charged incidents. He said illicit drugs were not part of his fall from grace.
Connors hadn't drank alcohol for eight months before his sacking, as per strict rules placed upon him. But it wasn't enough for him to survive another indiscretion.
His AFL links these days are through Martin, former Tiger Brett Deledio, Sam Lloyd, Brandon Ellis and, to a lesser extent, Shane Edwards and Alex Rance.
Connors likes rather than loves football, but appreciates the sport for the friendships and experiences it provided him.
"I'd still love to be playing footy for Richmond. Who wouldn't?" Connors said.
"Now I can probably see where they were coming from, but I try not to think about it too much. They're in a Grand Final and I'm up here in Kalgoorlie."