IT'S just gone 7.40pm on Wednesday night.
A restless Dylan Shiel, desperate for another update on his pending trade to Essendon, has contacted agents Paul Connors and Robbie D'Orazio who are at Marvel Stadium.
While Connors and D'Orazio also have Dayne Beams' return to Collingwood to negotiate, it's Shiel's move to Tullamarine consuming much of their energy as the 8.30pm deadline closes in.
Connors takes a moment away from the rising tension behind closed doors to provide Shiel reassurance that the wheels remain in motion, but there are no guarantees.
A flurry of texts and handful of calls have been fielded from the 25-year-old throughout the day, but now there is heightened concern.
With less than 50 minutes to go until the door shuts on the makeshift office of AFL player movement boss Wood on level two, Shiel remains a Giant and a resolution to the stand-off is far from complete.
TRADE TRACKER See every move as it happens
In the common area outside the individual club-allocated corporate suites, the teams and agents who have all their deals locked away engage in light-hearted conversation.
Most have just returned from dinner at the surrounding Docklands restaurants, still adjusting to the first prime-time finish of a NAB AFL Trade Period.
With deadline pushed back from 2pm to 8.30pm, most clubs have over-compensated with time, many arriving earlier in the day to finalise deals with little left to do as the clock ticks down.
While their job is done, those still hungry snack on complimentary Pizza Hut, discussing the preceding two weeks of madness, all while keeping one eye on corporate suites six and 11.
D'Orazio continues to split his time between the Greater Western Sydney and Essendon camps.
It was only eight days earlier that he had picked up Shiel from Melbourne Airport after the Giant had arrived from Sydney, and driven his star client to Connors' house where they had nominated the Bombers as his club of choice over Carlton, Hawthorn and St Kilda.
This is when player agents earn their pay cheques.
Player manager Paul Connors speaks with Gold Coast CEO Mark Evans during Trade Period. Picture: AFL Photos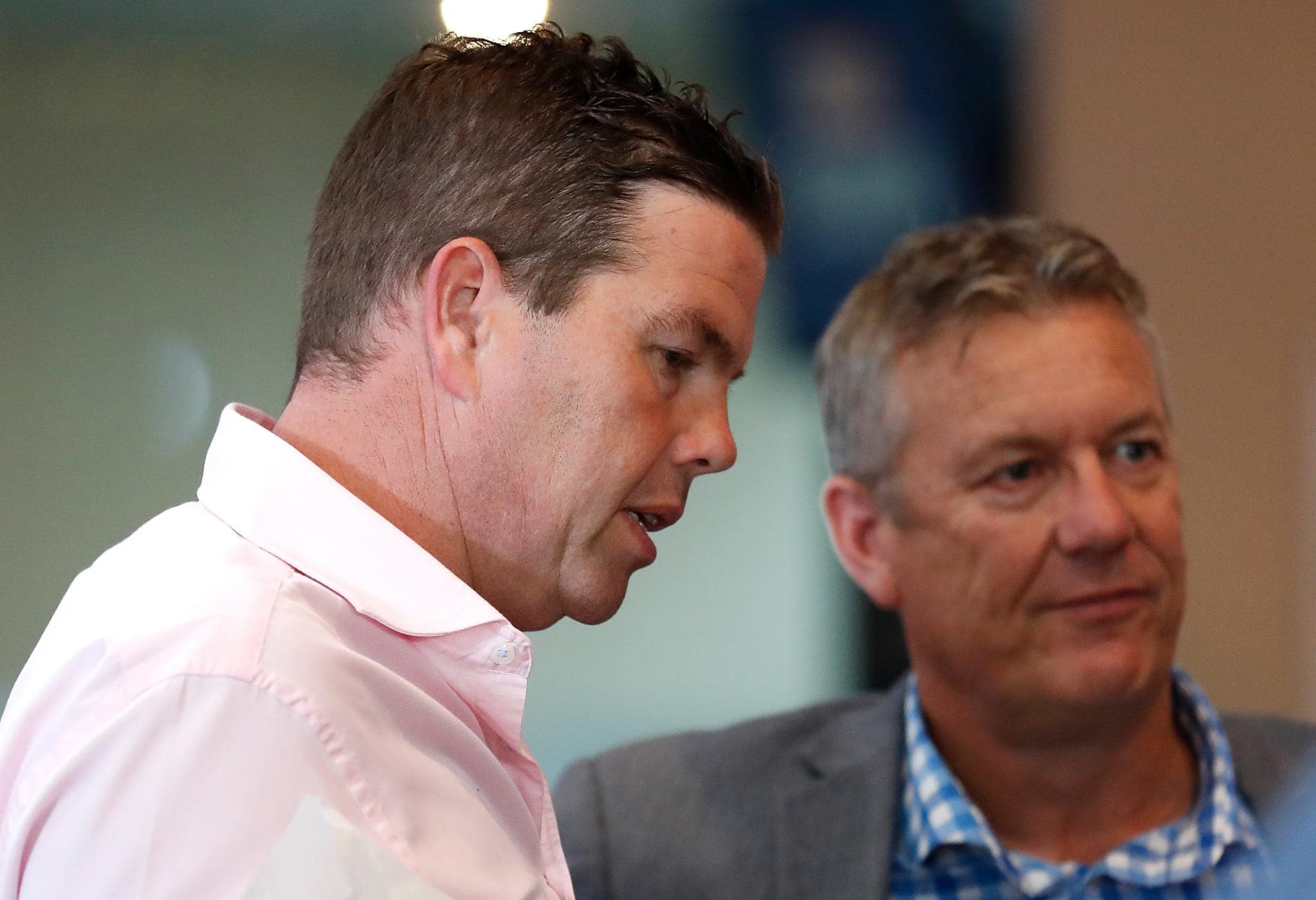 In suite six, the Giants are still demanding two first-round picks for a player contracted to their club and one year from becoming a free agent.
Earlier in the week, Essendon's pick No.9 was to be the cornerstone of the deal. The Bombers have thrown in a second-rounder but it's failed to get the Giants' attention.
That's largely because the Giants' once-bulging salary cap now has room to move, with up to $1.7 million of wages shifted via the departures of Tom Scully, Rory Lobb and Will Setterfield.
When Lobb's deal with Fremantle was agreed on Tuesday night, it gave GWS the cap space to keep Shiel to his contract if the Bombers refused to offer two first-round picks.
Now, it will be a case of who blinks first.
WATCH The best of new Bomber Dylan Shiel
The Giants and Dockers, who share the same building for their Melbourne office spaces, form part of the 'mega-deal' masterminded by TLA agent Tom Petroro to send Lobb back home.
Seven clubs are involved, and nine players find new homes, six of whom are TLA clients – Lobb, Chad Wingard, Sam Mayes, Lachie Neale, Jesse Hogan and Jack Hombsch.
Word filters through to Shiel that the Giants are prepared to keep him, and by Wednesday morning his doubts start to grow.
Is Carlton, the club that ran a close second to Essendon just eight days earlier, a feasible option?
It is understood that by that stage, the meticulous, deep-thinking Shiel is not entirely against it either, a stance he stopped short of denying when quizzed in an interview on Channel Nine on Wednesday night.
NAB AFL TRADE HUB Latest news, videos and live blog
On Wednesday morning, the diaries of Giants' head of football Wayne Campbell and list boss Jason McCartney were full.
As they discussed the outside chance of a Shiel switch to Ikon Park with the Blues, it became clear that the Blues were only prepared to put their future first-round pick on the table, not the coveted 2018 No.1 selection.
Five days earlier the Blues had parted with a future second-round pick for Giant Will Setterfield, and any decision to part with their first selection for 2019 meant they would have to balance the books and land a second-rounder from somewhere else.
If it meant securing Dylan Shiel, they were prepared to roll up their sleeves and find a way.
COMMENT Did the Giant exodus shut their flag window?
While the deal looked good on paper, especially considering the Blues' 2019 first-round pick would sit from 1-4 if, as widely expected, they finished in the bottom four again, the Giants were keen on what could help them now.
Campbell and McCartney also sat down with their Bombers counterparts Dan Richardson and Adrian Dodoro on Wednesday morning for the first time that day.
All parties left under the impression there was plenty of work to be done.
Giants list manager Jason McCartney was a busy man at Marvel Stadium. Picture: AFL Photos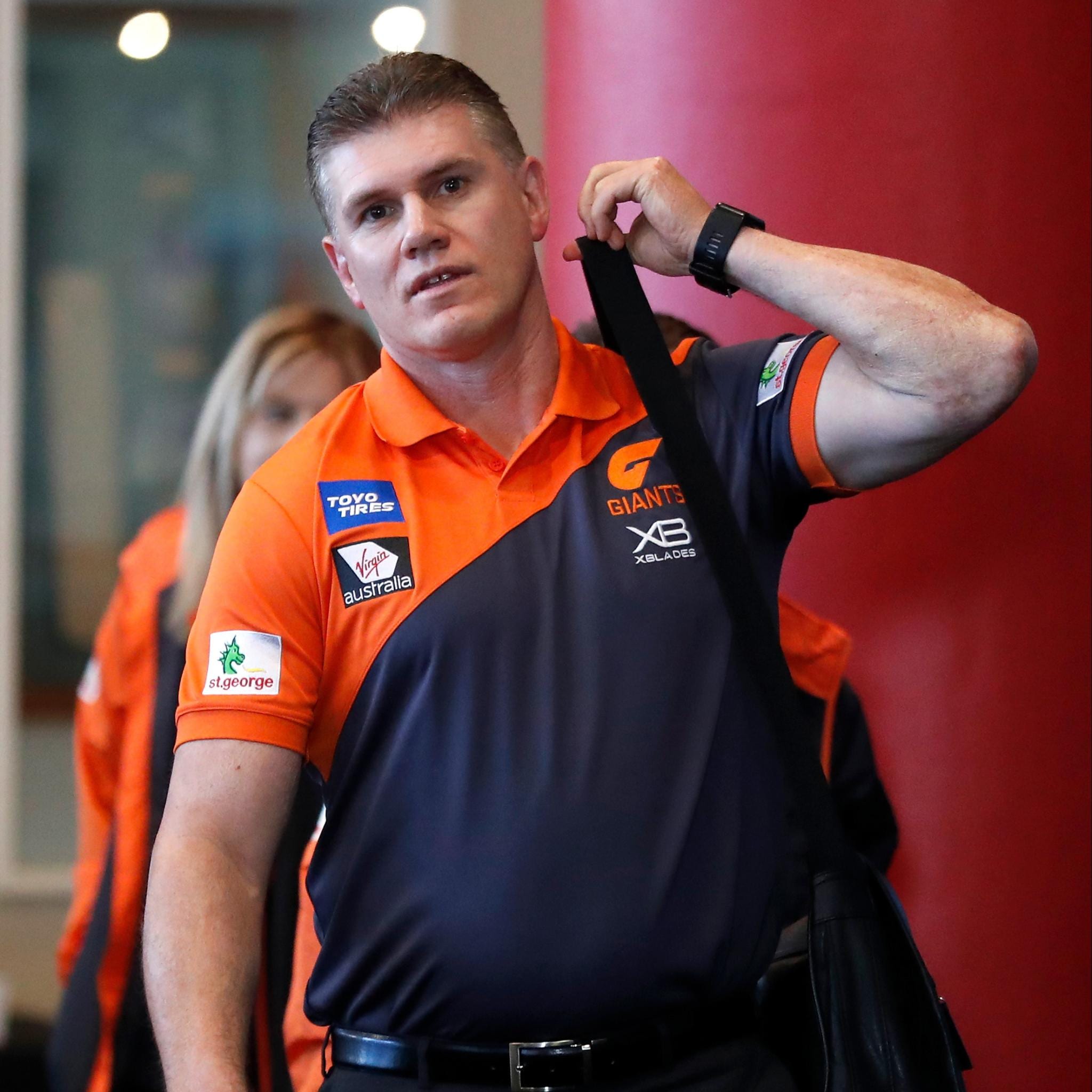 As the 60-strong media contingent started to fill the Legends Bar at Marvel Stadium, where they would be set up for the deadline day coverage, McCartney and Campbell headed out for a breather.
Around 4pm, they walked the streets of Docklands comfortable in their position that they'd wrested back the upper hand in negotiations with the Bombers.
The Giants returned to position in suite six, and although at least one more call came from Blues list boss Stephen Silvagni around 6pm, they continue to forge ahead, planning on a deal with the Bombers.
By 7pm, everyone is getting restless: Shiel, the clubs, the agents, the media and the AFL officials hovering over the finalised deal screen.
The preceding trade sending Jackson Thurlow from Geelong to Sydney was ticked off over three-and-a-half hours earlier.
INDICATIVE DRAFT ORDER Your club's picks
As Shiel continues to send texts and the clock approaches 8pm, the Giants and Bombers meet again.
While Dodoro had been seen as the face of the Shiel acquisition, he's left pacing the corridors as Richardson, less than one year into his job at the club, sits down with the Giants.
Dodoro had been involved in the initial pitch and spoke to Shiel regularly through the whole process. He was the man Shiel called to confirm he wanted to be a Bomber. Now, he was watching on with less than half an hour remaining.
In McCartney's previous life at the Western Bulldogs, he had jostled with Dodoro over Jake Stringer and Stewart Crameri's switches and even tried to wrench Michael Hurley out of the red and black.
The Essendon official responsible for bringing Devon Smith, Jake Stringer and Adam Saad to the club a year prior had relinquished the reins to Richardson, who was tasked with doing the last-minute heavy lifting.
After what seems like an eternity in deep discussion, Richardson leaves the room shortly after 8pm, shaking hands with Campbell. A deal is in place.
The Bombers had continued to negotiate over the Giants' demands of two first-round picks, but they eventually delivered.
Shiel was bound for Essendon, a move heralded by club legend Matthew Lloyd as the key midfield acquisition five or six years in the making.
Jason McCartney (far left) and Adrian Dodoro (far right) were all business as the Shiel deal was signed off.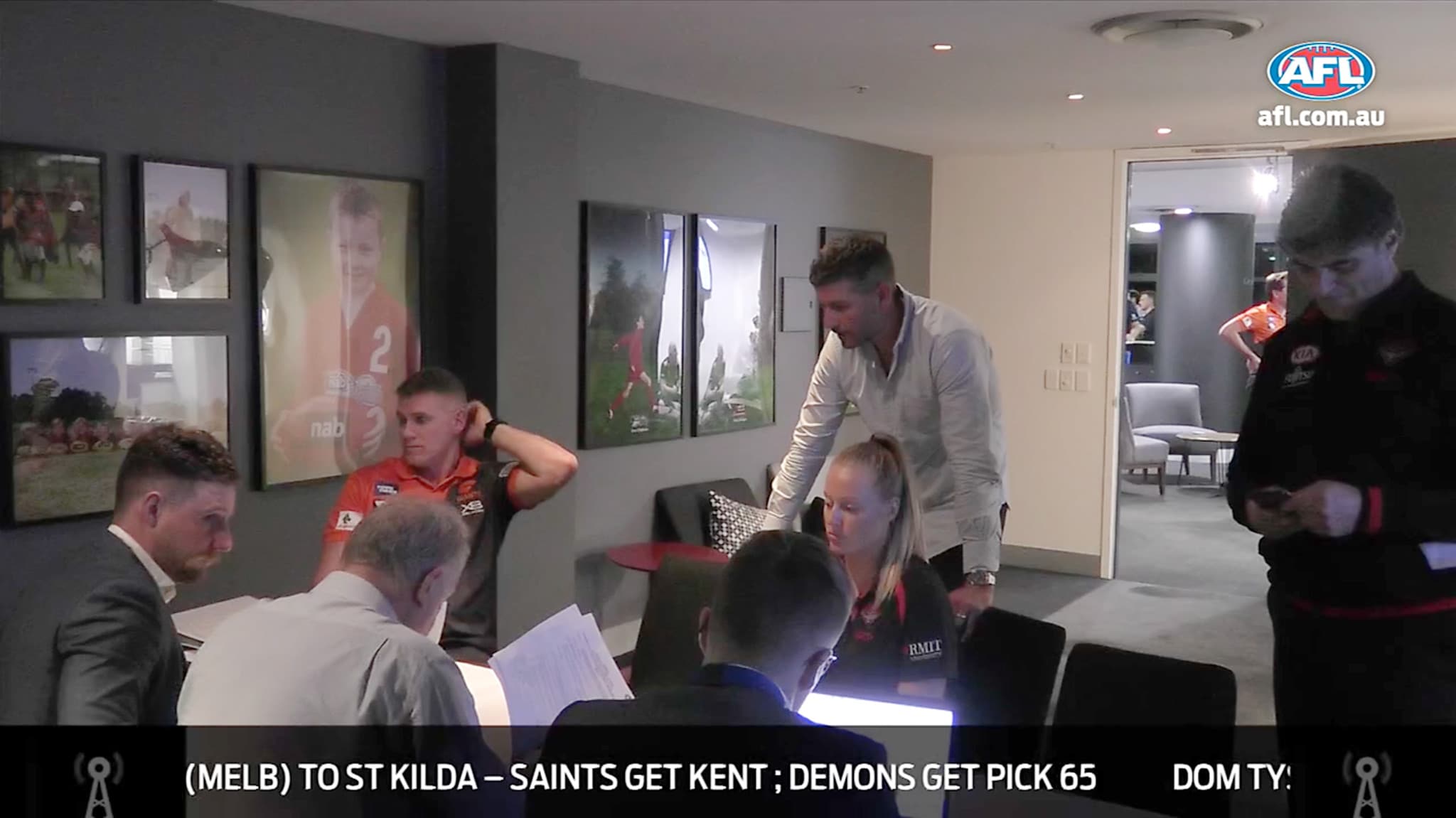 At 8.15pm, an exhausted Dodoro follows McCartney and Bombers list and recruiting administrator Georgia Harvey into Ken Wood's office, where Wood was seated alongside his AFL colleague Simon Murphy.
As Wood and Murphy finalise paperwork, Dodoro is given a high-five by Connors, with D'Orazio reaching out to McCartney.
Dodoro watches on as Harvey oversees the documents, taking off his jacket while looking at his phone, which is about to go into meltdown.
From there Dodoro leaves the area, speaks to the media and off to celebrate.
The Giants, happy with their haul, head across the road to popular bar Platform 28 for a quiet refreshment and to mingle with other clubs.
The first call a relieved Shiel takes is from Essendon chief executive Xavier Campbell, a man seen by many as the most influential cog in delivering his signature.
Shiel then drives across town to Connors' house where he completes a TV interview from the lounge room – the same place eight days earlier he had chosen the Bombers.
Dylan Shiel models his new colours at Tullamarine on Thursday. Picture: essendonfc.com.au