A SHEEPISH Lance Franklin has spoken briefly about Wednesday night's car accident in Rose Bay that saw four parked cars damaged.

Arriving at Sydney Swans' club headquarters on Thursday morning, Franklin admitted the car crash was "not the best look".

"I'm not too bad this morning. Obviously [I'm] a little bit upset with what happened last night," Franklin said.

"(It's) lucky that no-one was injured and myself, not injured. To come out unscathed, I'm happy with that."

When asked for details of the accident, Franklin said "(I) just got a little bit too close to the car that was parked on lane one and that was pretty much it. From there the airbags went off and that's all I can say."

Franklin was not injured in the crash and police said alcohol was not
a factor.
Four parked cars were damaged when a Jeep the Swans forward was driving crashed into them just after 7pm.
"Inquires are continuing after a car hit a number of parked vehicles in Rose Bay tonight," a New South Wales police spokesman told AFL.com.au.
"Residents reported hearing a car crash near the intersection of New South Head Road and Cranbrook Road.
"A Jeep that was travelling west on New South Head road hit four parked vehicles, all four vehicles were damaged as a result of the crash.
"The driver of the Jeep was a 27-year-old Bondi man and he was not injured in the crash.
"He underwent a roadside breath test that was negative.
"After speaking with police at the scene the 27-year-old man left the area."
Police have interviewed witnesses to the incident, with inquiries likely to continue on Thursday.
The scene in Sydney where Lance Franklin was involved in a car accident. Picture: Craig McDonald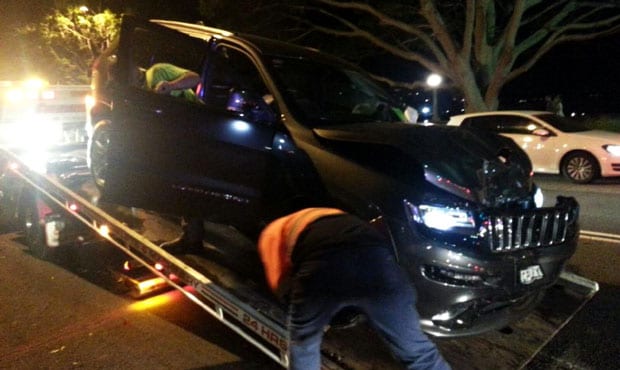 Rose Bay resident Craig McDonald heard the accident and alerted police after checking no one was hurt.
"I heard it and then just looked out the window," McDonald told AFL.com.au on Wednesday night.
"He (Franklin) was out there, he seemed to be all right. He was just kind of a bit stand-offish from everyone once everyone found out it was him.
"He just waited for the police to come and spoke to them for about 20-25 minutes.
"Thank God no one was injured."
In a brief statement late on Wednesday night, the Swans confirmed Franklin's involvement in the crash.
"Franklin was the only person involved in the accident. He was not carrying any passengers and there were no passengers in any of the other vehicles involved," the statement read.
"No one was injured in the accident and Franklin is also unharmed.
"Police attended the scene, where Franklin provided a statement.
"He was breath-tested, returning a zero reading.
"Franklin is licensed and insured."
Damaged cars line the street after Wednesday night's five-car crash. Picture: Craig McDonald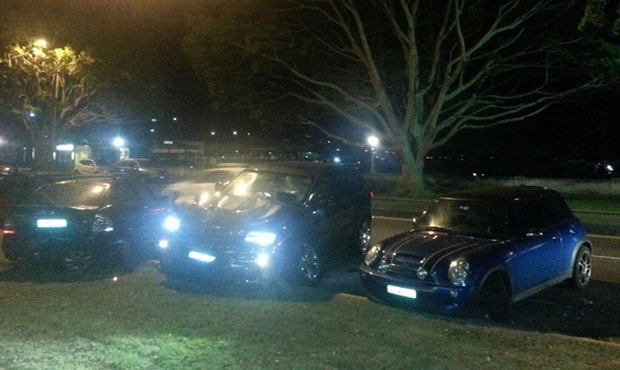 The incident continues a tumultuous start to Franklin's career with the Swans.
The Swans and Franklin started their 2014 campaigns sluggishly, with the club winning just two of its first five matches. However, Franklin has starred in both wins, kicking four goals against Fremantle and Adelaide interspersed with modest returns against Greater Western Sydney, Collingwood, and North Melbourne.
The aftermath of Wednesday night's Rose Bay car crash caused by Swans star Lance Franklin. Picture: Craig McDonald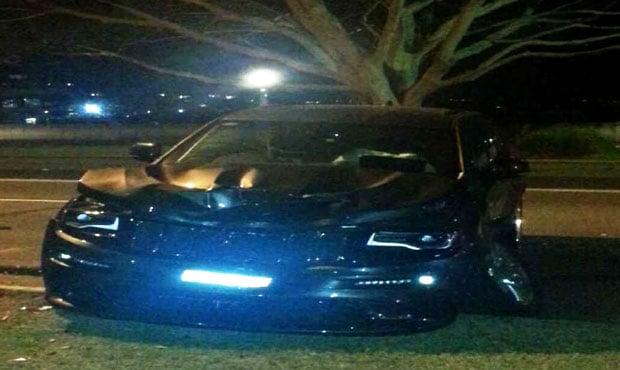 "The Sydney Swans can confirm that Lance Franklin's car was involved in an accident a number of weeks ago," the Swans' statement read.
"Franklin had lent the car to teammate Dan Hannebery. Franklin was not driving nor was he a passenger in the car.
"Contrary to media reports, Franklin's car is insured. No one was injured in the incident."