FOR THE past four days, 85 draft hopefuls, including four from Ireland, have been at Marvel Stadium for the NAB AFL Draft Combine.
They have run, jumped, sprinted, kicked and answered countless questions in interviews with recruiters. But what effect will it have on the draft order next month when names are called?

Here are the answers to some of the Combine's key questions.
INDICATIVE DRAFT ORDER Your club's picks
Who did well?
Clubs were keen to see how Sam Sturt would test and he didn't let them down. They had no data on the half-forward after his late call-up to the Combine and Dandenong Stingrays side – in fact, he hadn't ever run a 20-metre sprint before.
But he ran that in 2.96 seconds, he was top-10 in the agility with a time of 8.396 seconds and he won the running vertical jump (off his right foot). His endurance wasn't at the same high levels, but clubs would have liked what he showed.
Half-back Tom McKenzie won the 20-metre sprint with pace that isn't often on show in his game but clubs will now know what he's capable of, while Vic Metro skipper Xavier O'Halloran was very impressive across the week – he was in the top-10 for standing vertical jump, the sprint, agility, and YoYo tests. He proved he has the raw athleticism to match his power as a ball-winning midfielder.
Half-back Will Hamill has been renowned for his pace and came third in the sprint, but also ranked highly in the agility, vertical jump and YoYo, showing he has a good pace and endurance mix.
There might have been a knock on brute midfielder Ely Smith's running, but he was in the top group of the YoYo test by reaching level 21.4, while Oakleigh midfielder Xavier O'Neill sits further back on the draft board but did his stocks no harm across the week (he was one of the best jumpers, ran 2.957 seconds in the sprint and was a joint winner of the kicking test).
Of the top-end selections, Connor Rozee was a standout. The versatile South Australian was in the top-10 for the standing vertical jump, running vertical jump, sprint and agility tests. All of this comes through in his game with his bounce, high marking and quick movement all key features. He's class and should be in consideration for the very early selections.

Chayce Jones shows the strain in the sprint. Picture: AFL Photos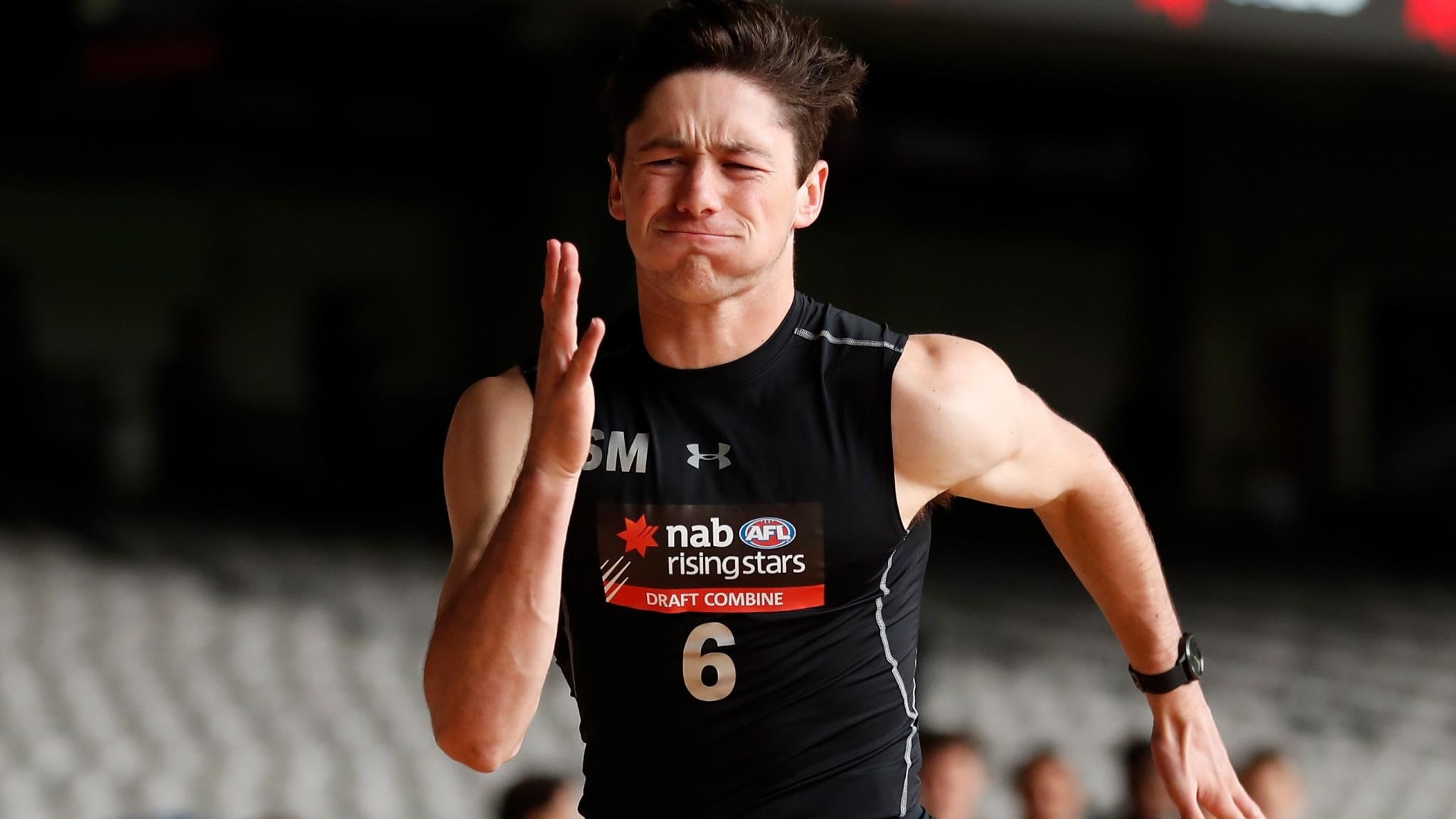 Who was missing?
There was a fairly big group of players who were ruled out due to injury. Nick Blakey is nursing a sore ankle, Curtis Taylor hurt his adductor training for the Combine, Bailey Smith has missed 12 weeks with Achilles issues, and shoulder problems for Zak Butters, Liam Stocker and Ian Hill meant all three of the possible top-20 picks weren't out there.
But there were more. Jack Bytel (back), Luke Valente (knee), Jye Caldwell (hamstring) couldn't impress, Max King and Durak Tucker are still sidelined from their respective knee reconstructions earlier this year and key defender Will Kelly will have ankle surgery next week.
Connor McFadyen (foot), Jacob Koschitzke (hip), Tom Berry (knee), Kieran Briggs (knee), Shane McAdam (calf), Dillon O'Reilly (shin) and Tom Joyce (hip) were others to be unable to test, while Kyle Reid (hamstring), James Rowbottom (thigh) and Riley Grundy (knee) had some restrictions on what they were able to do.
How much does it mean?
Recruiters will say the Combine is a piece of the puzzle they are putting together all season. It's probably the final piece, too, given the Combine will sometimes be the last time the clubs chat to the prospects before they head off to exams and the draft inches closer.

A big part of the Combine is also the medical checks on prospects which are thorough and could shape decisions.
In terms of the athletic testing, it can help, but it rarely hinders. By now, clubs are well aware of a prospect's shortfalls – be it endurance, pace, sideways movement or skills. However, the Combine can provide an answer to clubs that have asked prospects where they feel they have improved across the year. 'Got your running up? The numbers say no'.
But the Combine can also give a good reminder of a prospect's raw traits. Bailey Williams had a good TAC Cup Grand Final and carried that into the Combine, claiming the best running vertical jump (94cm) and running 2.94 seconds for the sprint. Although his season hasn't been super, the testing reflected his potential.
Jacob Kennerley did some good things at the under-18 carnival for SA and exploded in the 2km to set a new record which will remain in the minds of scouts, while Chayce Jones' Combine should also be a healthy look at what he's capable of.

Jacob Kennerley set a new 2km record. Picture: AFL Photos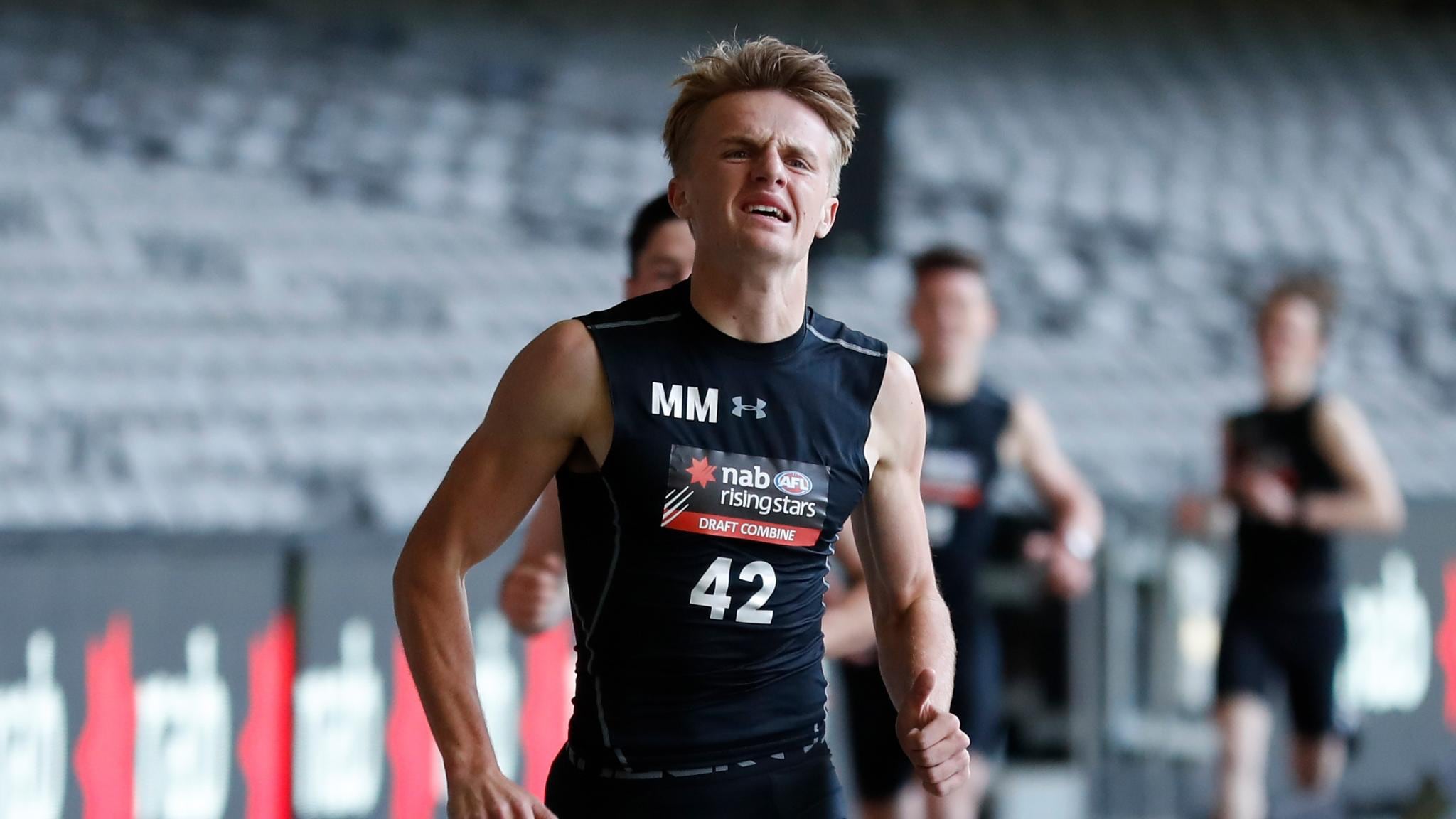 Did it shape the No.1 decision?
Unlikely. The leading candidates did what was probably expected of them.
Sam Walsh is seen by most clubs as the obvious call, given his consistent season, character, leadership and what Carlton probably needs most (if it keeps pick one).
He starred in the aerobic tests – he was second overall in the YoYo test and top-three in the 2km time trial – and was solid in the others, running three seconds flat for the 20-metre sprint. The testing didn't identify any chinks – or highlight any strengths – that everyone wasn't already aware of.
Jack Lukosius' brilliant foot skills were on show on the opening night of testing, when he scored 23 out of 30 in the kicking test and kicked 4.1 in the goalkicking test. He also highlighted his athleticism, running 2.98 seconds for the sprint and reaching level 21.2 in the YoYo.
Izak Rankine is viewed as another No.1 contender and he was solid with his testing, winning the agility and placing in the top-four for the sprint and standing vertical jump, but his aerobic testing was a little further back – he ran 21.2 in the YoYo but was a later finisher in the time trial.
Of the others in the top group who could be considered for first choice, Ben King highlighted his athleticism for a tall target by running 2.97 in the 20-metre sprint, while his brother Max and fellow Dragons prospect Smith sat it out with their injuries.

Sam Walsh is looking like the number one pick in this year's draft. Picture: AFL Photos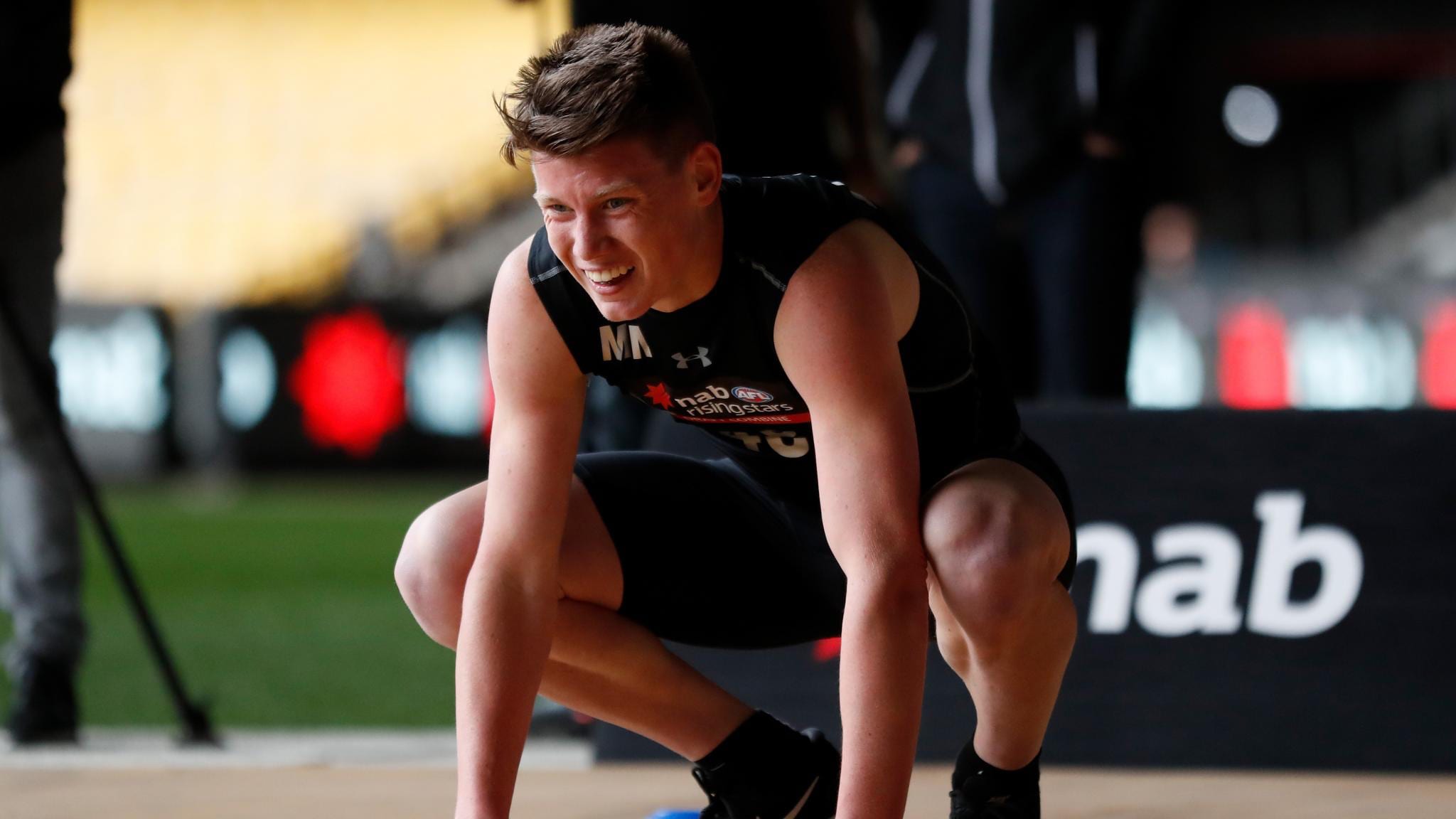 Who is coming with a rush?
Sturt is the one to watch. The talented cricketer – he was on a Victorian cricket camp just last week – played a key role in the Stingrays' TAC Cup premiership and after only a handful of games had the recruiting world buzzing. His testing stood out and he could find a home in the top-20 picks on draft night.
Jordan Clark didn't blow anyone away with his testing, but the West Australian is a natural footballer: a good user off half-back, a deliverer and smart player who was able to perform at senior WAFL level for Claremont in the back stages of the season.
Stocker's end to the season and Morrish Medal win will have him in recruiters' thoughts as a first-round choice, while Riley Collier-Dawkins' finals series for Oakleigh was a good exhibition of his talents as a big-bodied midfielder.
Another Charger, Will Golds, had a last two months of the year that should see him get drafted, while South Adelaide's Tom Sparrow is another to keep an eye on during the lead-up to the draft after impressing clubs through the season with his tough approach.