THE UNIFORMS for the AFL's newest competition have been revealed with leading women players Daisy Pearce, Lauren Arnell and Aasta O'Connor having input into the design.

The jumpers are similar to the men's guernseys but there are slight tweaks to the design, most notably in the Collingwood and Fremantle versions.

Collingwood's women's jumper bares a resemblance to Port Adelaide's famous 'prison bar' guernsey, while a pink chevron has been added to Fremantle's jumper.

Adelaide's jumper has wider panels with a Crow motif in the navy. The Carlton jumper has a white trim on the shoulder.

The shorts for all the clubs (apart from Collingwood) have a smart, coloured piping on the hem.

NAB AFL Women's will kick off next year with a seven-match (plus Grand Final) season.
The uniforms, supplied by Australian company Cotton On Group, were unveiled on Thursday, along with a new pay structure for the players.
League CEO Gillon McLachlan said the players were involved in the design to ensure their uniforms suited their needs.

"We had our elite female athletes go down there and design, with (the Cotton On Group) team, a range that suits them, that is comfortable, high performance and is about acknowledging that women are different and developing a range specifically for them," McLachlan said.

Arnell, who plays for Carlton, agreed her knowledge as a footballer helped create uniforms that suited females.

"When it comes to fashion, I'm not an expert, but when it comes to footy, I hope I have something to offer. With experience, the three of us have played for quite a while now, so we know what we want," Arnell said.

The fixture is yet to be released but Arnell said she would like to play twilight games, considering the season will be played in the typically warmer months of February and March.

"It's going to be a really hot time of the year so you think of a twilight type set-up, but we obviously have to account for broadcasters as well," Arnell said.
Ebony Marinoff, Jasmine Anderson and Rachael Killian pose in the Crows' onfield and training gear

Brisbane Lion Tayla Harris in her new outfit. Picture: AFL Photos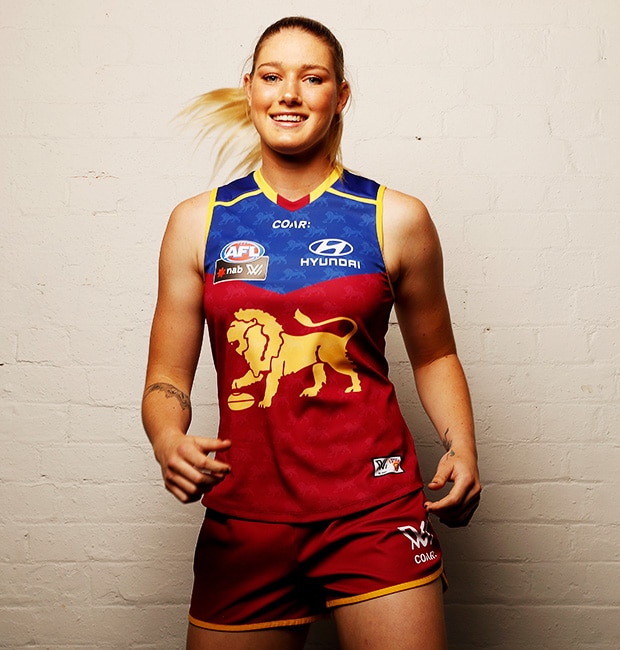 Darcy Vescio models the Carlton jumper during the AFL Women's Apparel launch. Picture: AFL Photos

Moana Hope is Collingwood's marquee player for next year. Picture: AFL Photos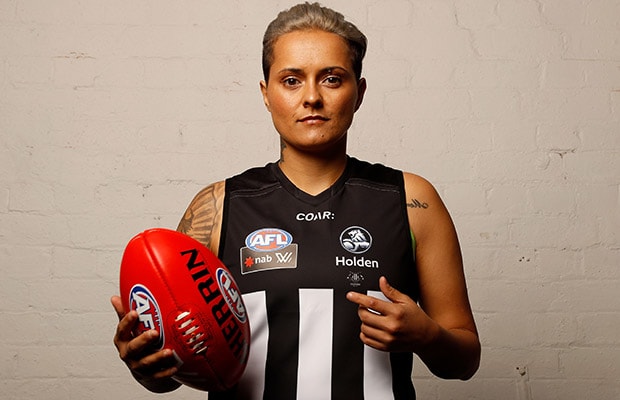 Fremantle's Kiara Bowers, Ebony Antonia and Kara Donnellan. Picture: AFL Photos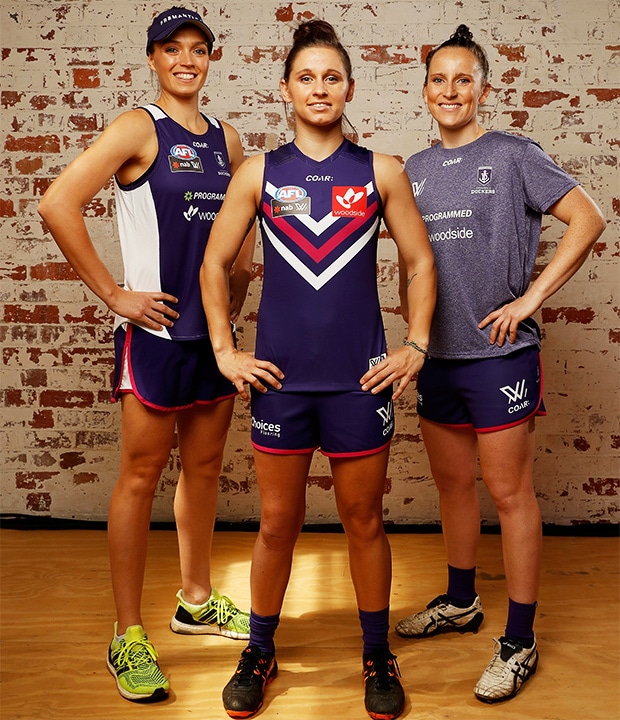 Nicola Barr models the Greater Western Sydney jumper. Picture: AFL Photos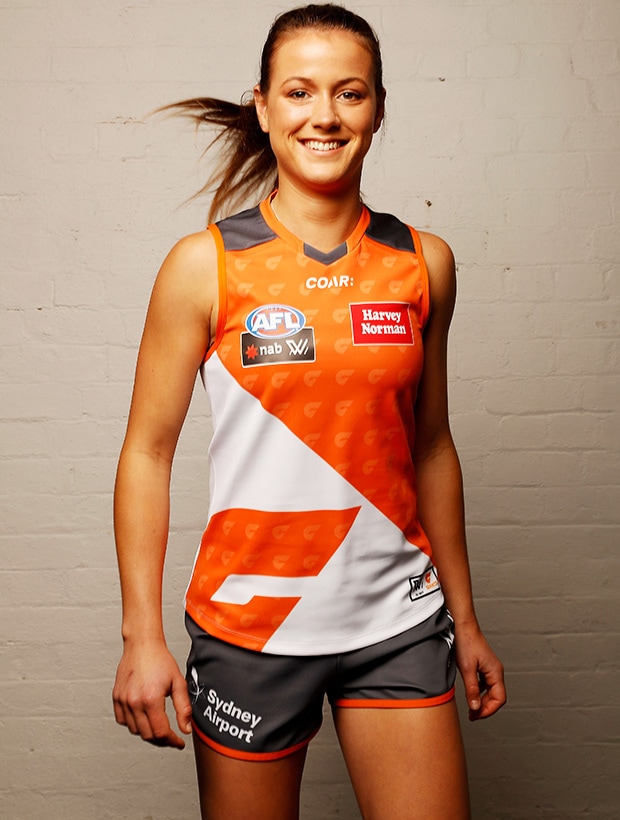 Daisy Pearce shows off Melbourne's women's jumper. Picture: AFL Photos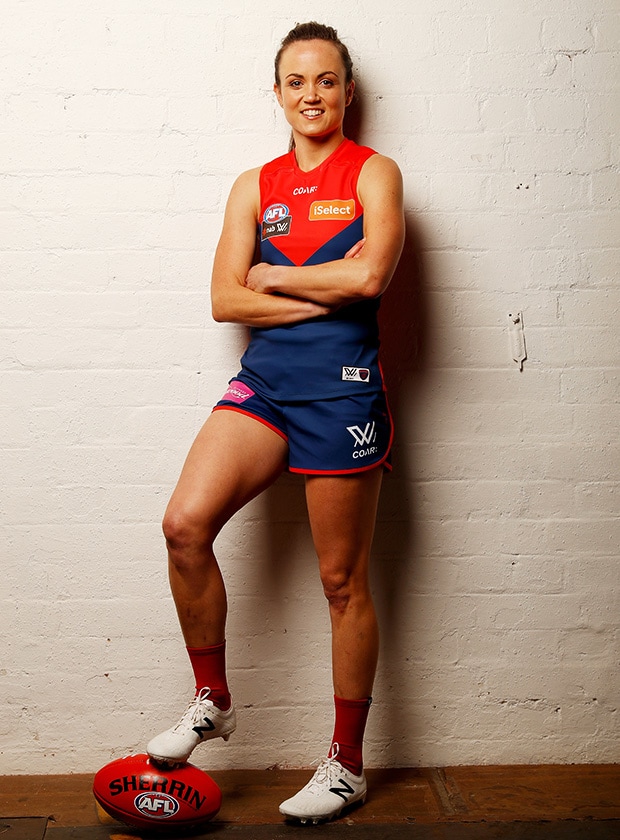 Bulldogs Asta O'Connor, Katie Brennan and Brooke Lochland in the new onfield and training gear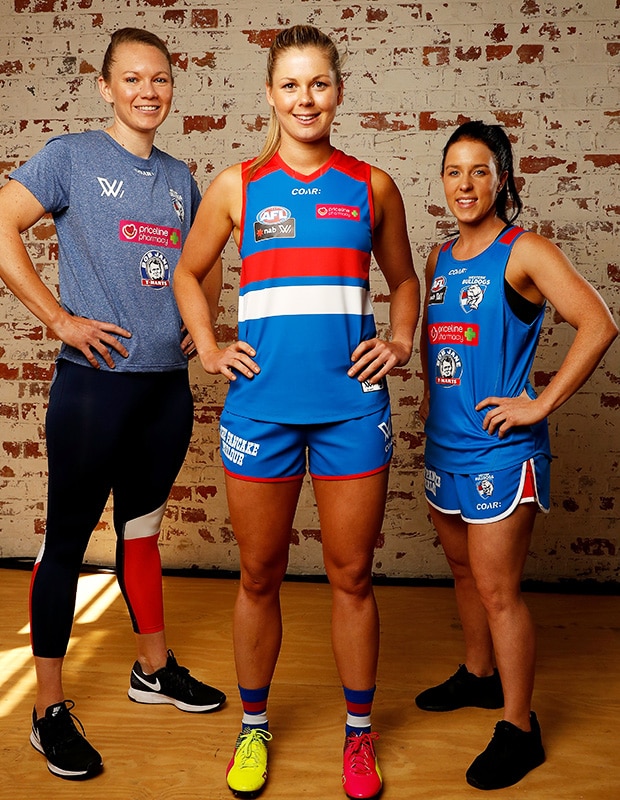 Full kit (left to right): Ebony Marinoff (Adelaide), Tayla Harris (Brisbane), Darcy Vescio (Carlton), Moana Hope (Collingwood), Kara Donnellan (Fremantle), Emma Swanson (Giants), Daisy Pearce (Melbourne), Katie Brennan (Bulldogs)