A MEMORIAL service for Adelaide Crows coach Phil Walsh has wound up at Adelaide Oval, with guests describing it as an opportunity to pay tribute to a wonderful man who lived his life as a football person.
The service was for invited guests only with family, friends and members of the football community among those attending.
Former Port Adelaide football manger Rob Snowdon finished the final eulogy at the memorial by thanking Adelaide board member Mark Ricciuto.
It had been a life's goal of Walsh to coach a side in his own right – but nobody had ever asked him.
That is until Ricciuto offered Walsh the position of senior coach at West Lakes late last year.
"He's had an extraordinary life, we know it's too short … a very fulfilled life," Snowdon said.
"He really wanted to be a senior coach, we'd talk about it; he was passionate, he wanted to do it, he wanted to be a senior coach but no one ever asked him.
"I don't know if Mark Ricciuto's here, but 'Roo' thanks for asking him. He can tick that box."
Walsh's close family and friends and members from around the AFL including League CEO Gillon McLachlan, senior coaches and players both past and present filled the Magarey Room at Adelaide Oval on Wednesday afternoon to celebrate a "great life".
At the front of the room stood six items chosen by Phil's daughter Quinn, that reflected her father: a bag of chocolates, a guide book on Japan, a bottle of red wine, a glass of mineral water, a box of green tea and a surfboard – gifted to the late coach by Power skipper Travis Boak.
The entire playing and coaching groups of both the Crows and Power were in attendance and formed a guard of honour at the service's conclusion through which the family walked.
No family spoke, but the almost 1000 people in attendance were gifted insight into Walsh's family life by close friend Sharon Watt.
She spoke of a caring man whose love for his family was paramount and unconditional, but how football was ever-present.
She told the story of Phil and Meredith's wedding day; they wed at a simple ceremony with no reception and went out for lunch before Phil left for training with the Brisbane Bears.
Eddie McGuire and Nathan Buckley leave the service. Picture: Getty Images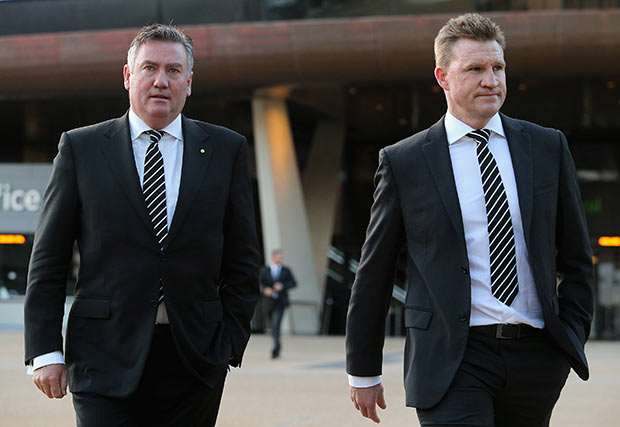 Young men attending Wednesday's memorial were light-heartedly warned against following Phil's lead.
Walsh's competitive streak – and his ability to draw it from others – was a common theme.
From a child throwing tennis racquets at his victorious sisters to Port's forward coach secretly pitting Warren Tredrea and Power teammate Chad Cornes against each other – Walsh despised losing and understood how to pull others into the same mindset.
Mark Williams described him as a football genius.
Williams wasn't at the service in person, but in a video said Walsh was light-years ahead of his time.
"A lot of people talked about how smart you were and I knew you from a very early day but I think you were a dead-set genius," he said.
"Goals scored from stoppage, mid turnovers, defensive transition, kick-in's – you were the one that brought that up.
"The things you innovated and brought into football will remain forever.
"There's so many players that played in the (2004) premiership team, I think there's 10 that are now at different clubs [as] assistant coaches and about four or five others became senior coaches.
"They've got all that information, they've got all your methods and I'm sure it's dissipated all the way through the AFL and we can trace it all the way back to you."
"You'd come back and tell me how close your cousins were getting towards you."
As well as thanking Ricciuto for allowing his mate to fulfill his dream, Snowdon urged against grieving Walsh's death for too long.
He said Walsh would be embarrassed by the attention currently afforded to him and that he'd want those hurting to move on and continue living their lives.
"He doesn't want people dwelling on this – I would know that," he said.
AFL CEO Gillon McLachlan arrives at the service. Picture: Getty Images