FOUR-TIME premiership star Jordan Lewis will play his final AFL game on Saturday against North Melbourne at Blundstone Arena.
Lewis played 264 games for Hawthorn in a golden era for the club that included playing in the 2008, 2013, 2014 and 2015 flags.
He won the Hawks' club champion award and was an All Australian in 2014, before crossing to Melbourne in a stunning 2016 NAB AFL Trade Period that also saw ex-teammate Sam Mitchell join West Coast.
Jordan Lewis with premiership medal and baby after the 2015 Grand Final. Picture: AFL Photos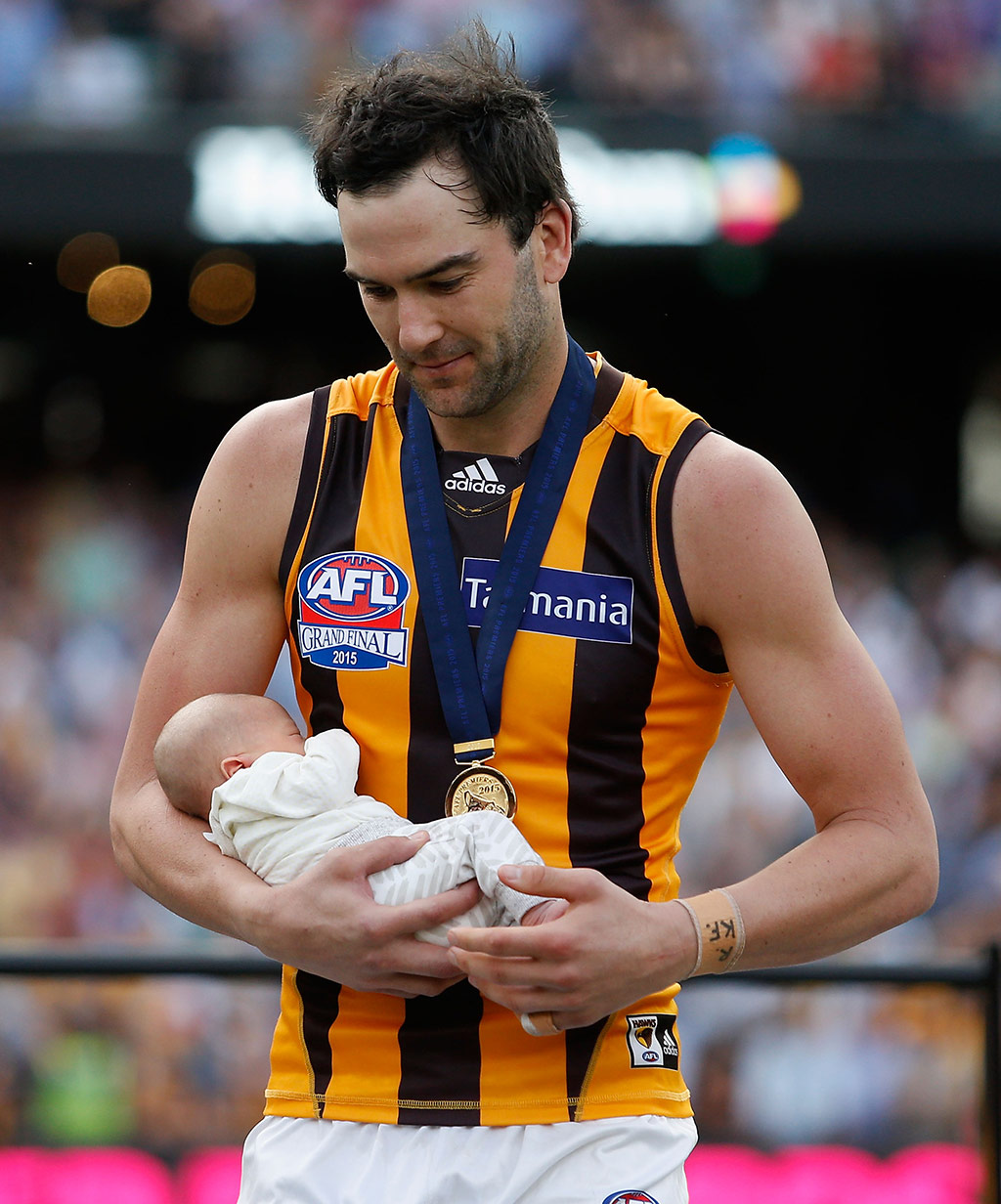 The 33-year-old has played 54 matches for the Demons so far, giving him 318 in total, and established a reputation as one of the game's true hardmen.
The one-time gun midfielder helped Melbourne end its finals drought last year and reach a preliminary final, but spent time in the VFL this season before returning as a forward.
Lewis announced his retirement to his Melbourne teammates on Tuesday morning, before fronting a press conference at the MCG flanked by the only two men to have coached him in the AFL, Simon Goodwin (Demons) and Alastair Clarkson (Hawks).
What appeared to be the entire Melbourne playing and coaching staff were in attendance, while Lewis' three sons played with a red and blue football on the floor.
Jordan Lewis! What a finish! #AFLDeesTigers pic.twitter.com/0kX08j5FTJ

— AFL (@AFL) August 3, 2019
The unusual joint presser was instigated by the Dees, with both coaches reflecting on the impact Lewis had in his time at their respective clubs.
"We had the opportunity to bring Jordan to the Melbourne footy club, you heard what a great person he was, but it wasn't until he came through the door you realised the quality of the person and the family," Goodwin said.
WHO'S HANGING UP THE BOOTS? Your club's retirements and delistings
"He was a winner, he was a competitor and he wanted to come because he wanted to bring leadership and he wanted to continue to win.
"From the moment he made his mind up that this was going to be his last year, the legacy that he was prepared to leave at the Melbourne footy club was pretty significant.
"He played every position on the ground except for ruck. He went into our midfield group when we weren't functioning there and got them to really buy into the team, he went into our forward line to help shape them in a really difficult season for us. And he's been an on-field leader and coach for us this season."

Clarkson spoke on a similar theme, albeit with a few anecdotes Lewis may have preferred to have kept under wraps.
"I can remember Shane (Lewis' father) pulling me aside when we were down in Warrnambool and saying to me, 'Listen, if young Jordy ever gives you the shits, just give him a good swift kick up the arse,'," Clarkson said.
"We had guys like (Luke) Hodge and (Sam) Mitchell, (Brad) Sewell and (Shaun) Burgoyne, these types of guys, who were high-quality midfielders. 'Tas' (Lewis) was always the sacrificial one, we knew that he could play other positions, so we'd quite often push him out onto the wing.
Lewis with his wife Lucy and sons Ollie, Hughie and Freddie at the MCG. Picture: AFL Photos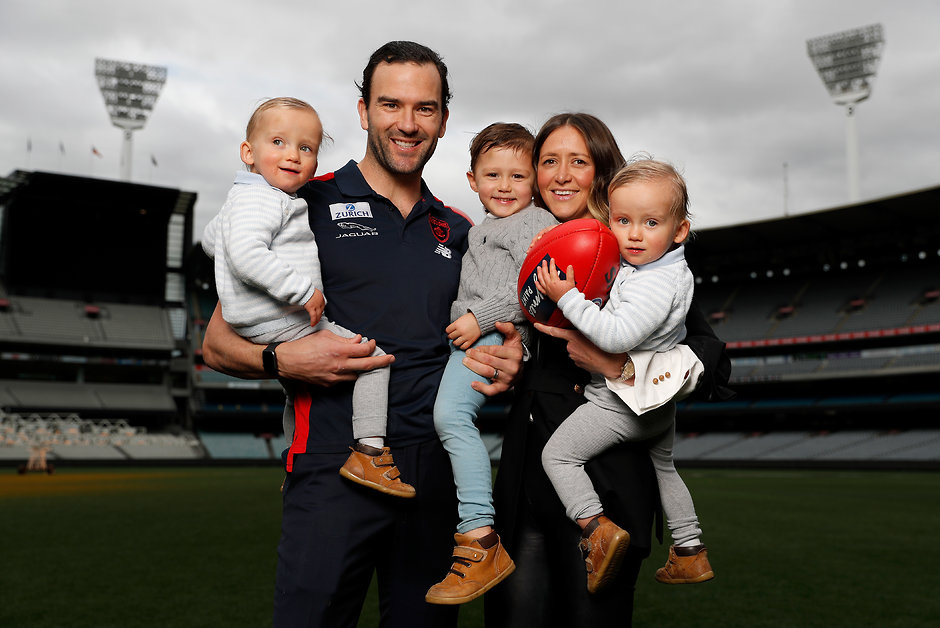 "I remember one day we played Collingwood and Heath Shaw was right at the height of his career, and 'Tas' played on him and kicked five on the half-forward flank in a defensive role.
"He was a real in and under ferocious competitor at ground level, then that slide under rule got changed and it took away 10 per cent of his game.
"Then, bugger me, he was really good at second-man up in the ruck contests, then they changed that rule as well. He always had to adapt."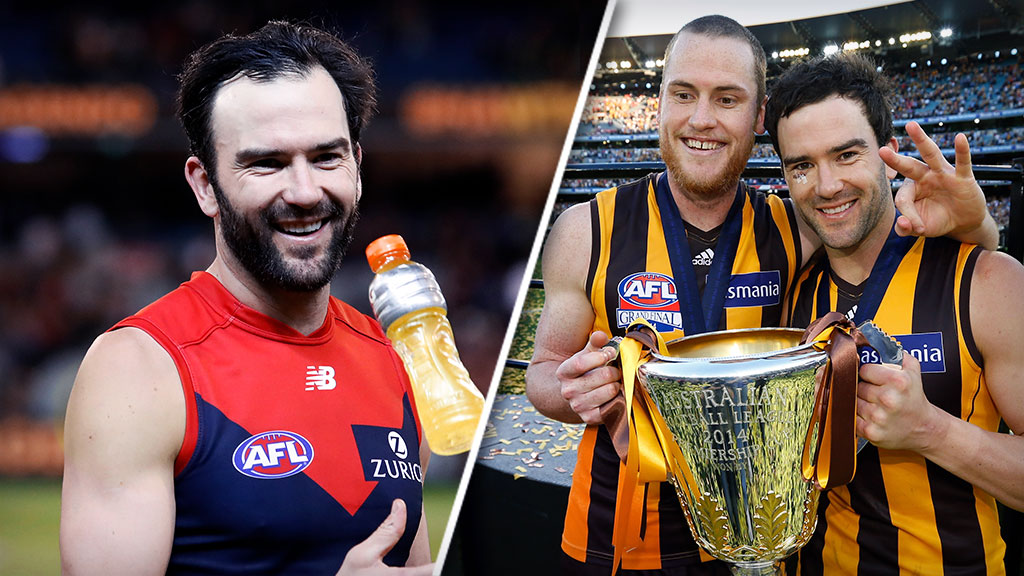 THE RUN HOME Is another Clarko miracle on the cards?
Lewis himself said while he felt he could physically play another year, he wasn't prepared for the mental workload associated with a 16th pre-season.
"I've really enjoyed my time at this (Melbourne) football club, and as Clarko touched on, you meet so many new people you may not have necessarily met," Lewis said.
Find Road to the Draft on Apple Podcasts, Google Podcasts and Spotify.
"I may have made a few more fans who probably hated me for a long period of time, so that's always a nice feeling.
"This year has been a tough year, not only for the football club but for me as well. But the transparency Simon and I have had along the way makes it a lot easier to come to this position and this decision."
Lewis left the door ajar to continue to work in football in some capacity, particularly media, saying it would be a waste of 15 years' worth of knowledge and experience if he was to walk away completely.
"I've been pretty fortunate to be exposed over the last six years to TV and radio.
"That probably excites me a lot, to try and convey to the people who might not necessarily get access to the changeroom talk or philosophies, or the way the game is played, and try to articulate that to them.
"But if there are any jobs out there, email them through."