STEPHEN Coniglio has likened aspects of his drawn-out contract saga to being 'like cheating on a girlfriend' but remains content with the way he handled the biggest decision of his footy life.
Coniglio was 2019's most talked about free agent until he signed a new seven-year, multi-million-dollar deal with Greater Western Sydney this week.
In doing so, the GWS vice-captain rejected more lucrative offers from powerful Victorian clubs Carlton and Hawthorn.
Everyone thought Heath Shaw was announcing something very different... instead he broke the news of Stephen Coniglio's re-signing!

'Cogs' signed a massive for seven-year deal with the @GWSGIANTS: https://t.co/LSDIofjpX7 pic.twitter.com/EaWj329mrv

— AFL (@AFL) August 28, 2019
The 25-year-old Giant was always adamant that he wouldn't rush the call on his future but there were times throughout the season that the process did take a toll.
Less than a fortnight ago, Hawks coach Alastair Clarkson went public with the fact that he'd spoken to Coniglio about switching clubs.
Coniglio told AFL.com.au that his chat with the four-time premiership coach left him with an uneasy feeling.
Alastair Clarkson tried his best to lure Coniglio to the Hawks. Picture: AFL Photos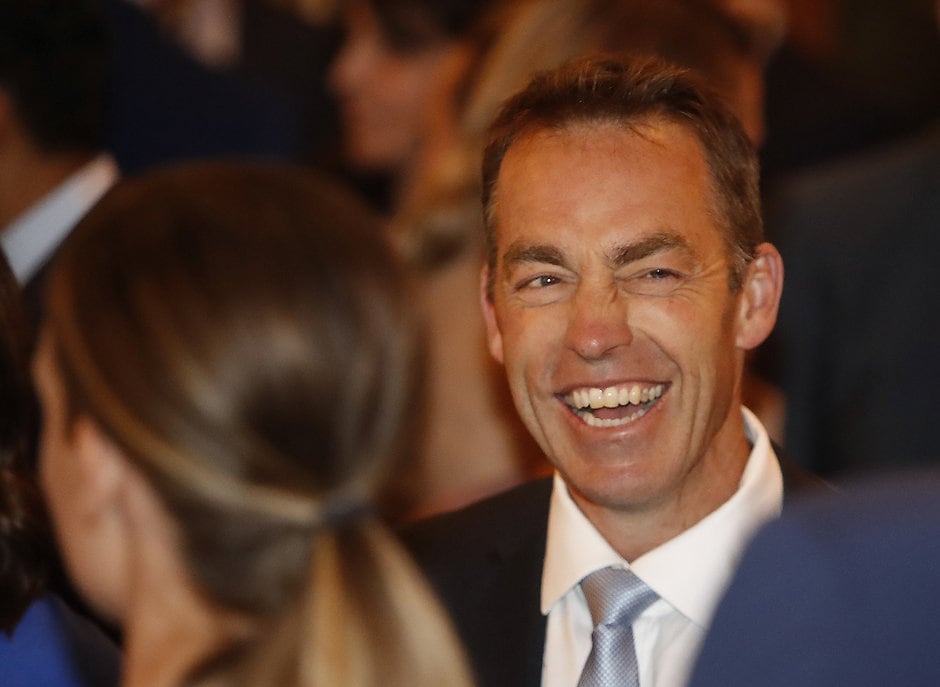 "I remember the first time he called me, I felt like I was cheating on a girlfriend," he said with a laugh.
"I don't have a girlfriend, but that's the only sort of comparison I can make.
"But I understood that that's free agency, and I feel like I went about it in a respectful and honest way.
"I think it's where the AFL is heading, guys should have the right to speak to other clubs if there's other options they're entertaining."
Coniglio put more than a smile on the face of everyone at the Giants when he revealed his new deal to remain in Sydney early this week.
He said the indecision that plagued him this year was one of the toughest things he's had to handle.
"I'd wake up one day and think, 'I'm staying at the Giants', then the next day I was going to Hawthorn or Carlton," he said.
"The next minute I would think 'It would be cool to play for West Coast', the team I grew up barracking for.
"There were definitely times this year when I thought that maybe my time at the Giants was up.
"It was a rollercoaster of emotions, but for the last 10 days or so I've woken up and had a really good feeling about staying at this footy club."
Hawthorn star Jaeger O'Meara's name was mentioned almost as much as Coniglio's in media reports throughout the season.
The pair have been great mates since their time as underaged stars in Western Australia, and Coniglio makes no secret of the fact that reuniting with the Hawthorn star had plenty of appeal.
Stephen Coniglio would have loved to have played with Jaeger O'Meara. Picture: AFL Photos

"I'd call him all the time, but he never tried to over-sell Hawthorn," Coniglio said.
"When we were 16, we joked that he would go to the Suns and I would go to the Giants, and we'd meet up one day and finish our careers somewhere together.
"We had a laugh recently about the fact that it might actually happen.
"But he told me he couldn't give me the answer and to follow my heart, and the way my heart took me would be the right decision.
"He was a really supportive mate."
Find AFL Exchange on Apple Podcasts, Google Podcasts and Spotify.
With Coniglio's future not decided until after the end of the home and away season, another difficult aspect of the process was the barrage of questions directed at other members of GWS.
It also led to reports questioning his happiness at the Giants.
Earlier this month, it was reported that Coniglio had 'a non-existent relationship' with GWS footy manager Wayne Campbell.
"I read that one because it got sent to me by about 10 people before 9am," Coniglio said.
"You can't believe everything you read, and it was an article that was just false, I don't know exactly where the journalist got that from.
I went and saw 'Cambo' because I just wanted to make sure he was feeling OK.
"In terms of our relationship I speak to him every day.
"I had to do a university assignment this year and he helped me out with it, so it (the relationship) is about more than football.
"That was a real tipping point.
"I knew then that it might be a distraction because the boys were talking about it around the footy club."
FULL INJURY LIST Who's ruled out and who's a test?
Coniglio's knee injury will likely keep him off the field until deep into the finals, should GWS get that far, with the club kicking things off in next Saturday's elimination final clash with the Western Bulldogs.
He then plans to spend his summer planning the next phase of his time at the Giants, with his work with multicultural groups in western Sydney high on his list of his off-field priorities.