ADELAIDE marquee player Kellie Gibson is a free agent after failing to come to terms with the Crows.
Gibson, 20, is said to be interested in returning to Western Australia, and could sign with Fremantle during the free agency period starting Monday.
Here are the lists of the eight AFLW clubs at the end of the trade and signing period.
Adelaide
Sarah Allan
Georgia Bevan
Dayna Cox
Courtney Cramey
Angela Foley
Anne Hatchard
Abbey Holmes
Rachael Killian
Ebony Marinoff
Jenna Mccormick
Rhiannon Metcalfe
Justine Mules
Sarah Perkins
Erin Phillips
Talia Radan
Chelsea Randall
Sally Riley
Jessica Sedunary
Stevie-Lee Thompson
Deni Varnhagen

AFLW best and fairest winner Erin Phillips has re-signed with the premiers. Picture: AFL Photos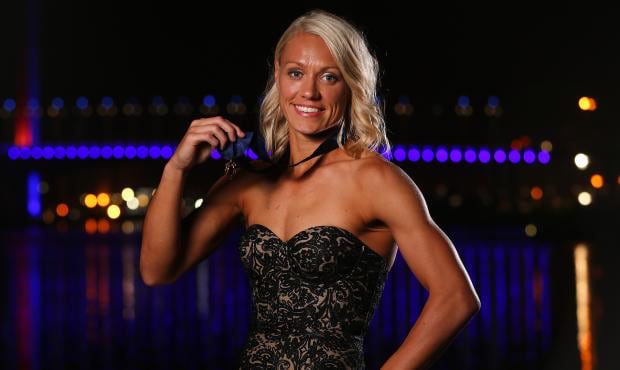 Brisbane Lions
Alexandra Anderson
Kaitlyn Ashmore
Isabella Ayre
Emily Bates
Shannon Campbell
Nat Exon
Sabrina Frederick-Traub
Brittany Gibson
Nicole Hildebrand
Megan Hunt
Leah Kaslar
Breanna Koenen
Kate Lutkins
Kate McCarthy
Tahlia Randall
Jamie Stanton
Samantha Virgo
Sharni Webb
Jessica Wuetschner
Emma Zielke

Powerhouse Sabrina Frederick Traub will hope to take the Lions one step further. Picture: AFL Photos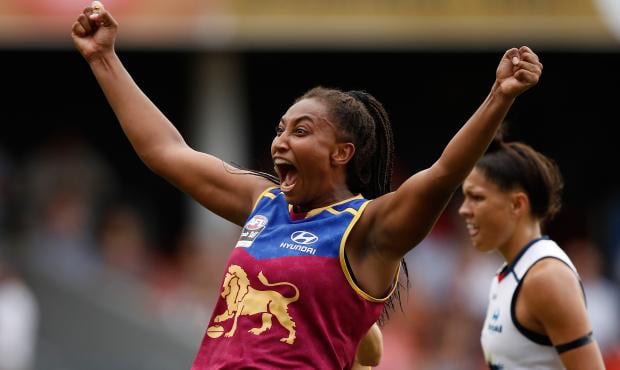 Carlton
Lauren Arnell
Laura Attard
Shae Audley
Lauren Brazzale
Briana Davey
Alison Downie
Katherine Gillespie-Jones
Danielle Hardiman
Tayla Harris
Jess Hosking
Sarah Hosking
Madeline Keryk
Sarah Last
Katie Loynes
Tilly Lucas-Rodd
Breann Moody
Natalie Plane
Gabriella Pound
Kate Shierlaw
Nicola Stevens
Darcy Vescio

Lauren Arnell and Darcy Vescio are important players for the Blues. Picture: AFL Photos



Collingwood
Amelia Barden
Christina Bernardi
Brittany Bonnici
Sophie Case
Stephanie Chiocci
Sarah D'Arcy
Jessica Duffin
Caitlyn Edwards
Jasmine Garner
Emma Grant
Moana Hope
Meg Hutchins
Emma King
Melissa Kuys
Jaimee Lambert
Stacey Livingstone
Cecilia McIntosh
Tara Morgan
Ruby Schleicher
Lauren Tesoriero
Bree White

Star forward Moana Hope will strive for a better season in 2018. Picture: AFL Photos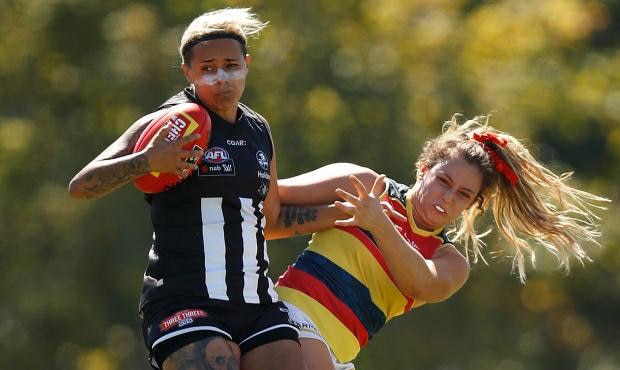 Fremantle
Ebony Antonio
Stacey Barr
Kirby Bentley
Kiara Bowers
Tayla Bresland
Melissa Caulfield
Cassie Davidson
Kara Donnellan
Lara Filocamo
Brianna Green
Tiah Haynes
Dana Hooker
Gemma Houghton
Amy Lavell
Hayley Miller
Gabby O'Sullivan
Ashley Sharp
Belinda Smith

Ebony Antonio is a local star for the Dockers. Picture: AFL Photos



GWS Giants
Madeleine Boyd
Alicia Eva
Pepa Randall
Jacinda Barclay
Nicola Barr
Rebecca Beeson
Ellie Brush
Maddy Collier
Jess Dal Pos
Amanda Farrugia
Renee Forth
Erin Mckinnon
Phoebe McWilliams
Alexandra Saundry
Aimee Schmidt
Louise Stephenson
Emma Swanson
Renee Tomkins
Britt Tully

Jacinda Barclay will be aiming to lift the Giants in 2018. Picture: AFL Photos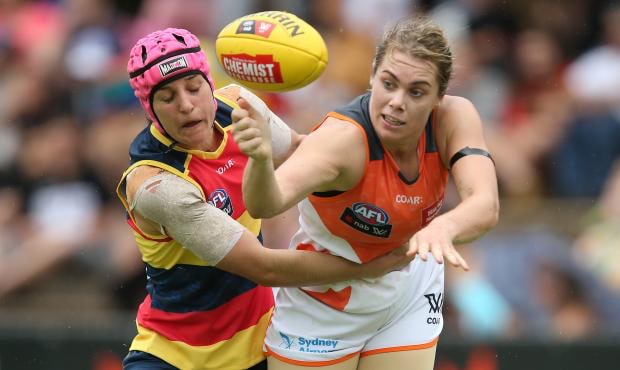 Melbourne
Richelle Cranston
Meg Downie
Laura Duryea
Jasmine Grierson
Ashleigh Guest
Mel Hickey
Emma Humphries
Bianca Jakobsson
Ainslie Kemp
Sarah Lampard
Alyssa Mifsud
Lily Mithen
Aliesha Newman
Elise O'Dea
Brooke Patterson
Karen Paxman
Daisy Pearce
Lauren Pearce
Catherine Phillips
Shelley Scott
Katherine Smith

The Demons will be looking to players like Alyssa Mifsud to take them higher: AFL Photos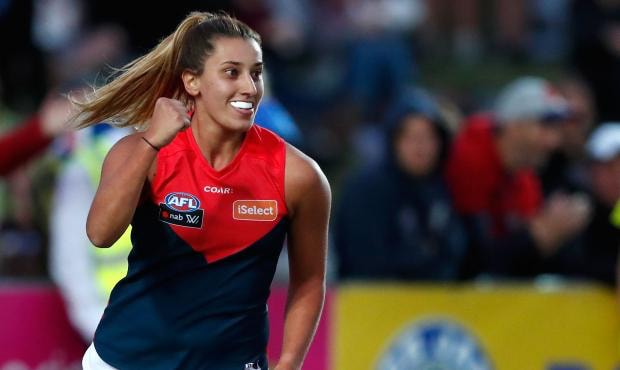 Western Bulldogs
Laura Bailey
Deanna Berry
Libby Birch
Ellie Blackburn
Katie Brennan
Nicole Callinan
Kimberley Ebb
Tiarna Ernst
Ellyse Gamble
Angelica Gogos
Bailey Hunt
Emma Kearney
Kirsty Lamb
Brooke Lochland
Kirsten McLeod
Aasta O'Connor
Hannah Scott
Lauren Spark
Hayley Wildes

Bulldog Katie Brennan is a star of the AFLW competition. Picture: AFL Photos