Hayden Ballantyne – 6
Provided his usual combination of spark and aggression. Tackled hard inside 50 and gave Nick Smith and Dane Rampe no respite at the fall of the ball. He had four tackles up until half-time and was his usual industrious self. His only blotch was missing a nervous set shot early. Ballantyne ran up and back to create an option and then pressure defenders inside 50. Had a mini-battle late in the game with Dan Hannebery. Kicked a great snap goal in the final two minutes to put the icing the cake.
Michael Barlow – 6
Barlow was relatively quiet in the first half after starting on the interchange bench working hard to be a link man rather than winning the ball in tight. Had 11 disposals in the first half but just kept grinding away and was instrumental late in the third quarter in the Dockers hitting the scoreboard. A last quarter banana goal showed he had as much class as any player alongside him.
Zac Clarke – 4
Set the scene early intercepting the ball in the air but he did not have a big impact. Was solid in the ruck contests but did not get his loping run going at any stage.
Ryan Crowley – 8
Another big performance from the game's best stopper who quelled All Australian Kieren Jack, restricting him to just 11 disposals (his lowest possession tally in four years) and stopping his ability to break the lines. He also kicked a big goal in the second quarter and was able to both win the ball and worry Jack out of it. At half-time he had 14 disposals to Jack's six, setting the tone.
Zac Dawson – 6
Did not have to do a great deal as the ball was hardly in defence during the first half when the Sydney Swans managed just 13 inside 50s. Looked after resting ruckmen in Mike Pyke and Shane Mumford and was not outmarked inside 50.
Matt de Boer – 4
In his 100th game he struggled to have an impact and was subbed off midway through the third quarter. De Boer provided pressure and chase downs but he did not manage a kick. Had seven handballs but was not able to find space.
Paul Duffield – 8
Combined brilliantly with Luke McPharlin across defence mopping up the ball continually. Read the play exceptionally well, was good in his use of ball when switching play and occasionally broke the lines to put the ball inside 50. Kicked a long goal to underline a calm and complete performance.
Nathan Fyfe – 9
Despite missing selection in the All Australian team on Monday, Fyfe was in All Australian form. He got the first touch of the game, tapping it on to David Mundy to kick. His marking in the second quarter was exceptional, drifting across packs in defence and then outmuscling Ryan O'Keefe to mark and goal inside 50. He kicked the sealer late in the third quarter when he won possession in a centre clearance, gave it to Michael Barlow then followed up to gather the bouncing ball and kick a running goal. Had 27 disposals and 15 contested possessions and was one of the game's standout performers.
Stephen Hill – 7
Did not get on the outside to use his pace very often but is a much more complete player now. Hill did all the hard work inside, tackled well and when he got the ball used it brilliantly by foot. Ended the game with 21 disposals but was relatively unobtrusive. Had the courage to switch the ball inside and create attacking moves. He always attracts a defensive midfielder and allows his teammates to run free.
Michael Johnson – 6
Johnson returned from injury and played as a defensive loose man early. Johnson kept taking marks in the first half, but he also created run and kept putting the football into dangerous positions inside 50 and blocked all the outlets for the Sydney Swans. Johnson was quarantined after half-time and had less of an impact as the club nursed his calf through the last quarter.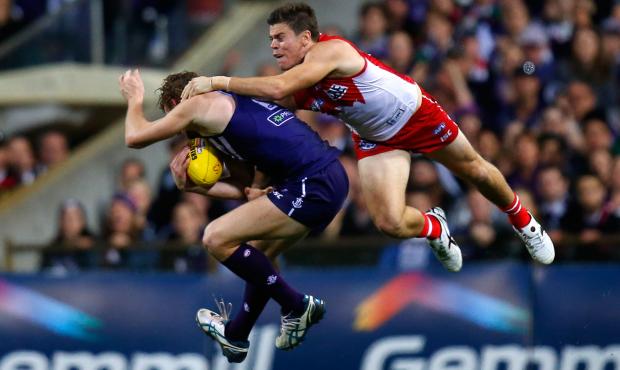 David Mundy is tackled by Craig Bird on Saturday night. Picture: AFL Media.
Chris Mayne – 7
Hard working performance that set the standard for forward 50 pressure. Mayne did not kick a goal but had an amazing 11 tackles with seven coming in an intense first half. He did not stop working from start to finish and just kept presenting. He made some mistakes too, missing two set shots in the first half and then dropped a chest mark in the third quarter when alone in the goalsquare to mess up a certain goal. However his work ethic defines what Fremantle is all about.
Luke McPharlin – 6
Once again the general in defence used his ability to read the play to take marks. He took nine marks (he averages eight a game this season) and just knows when to press up and when to drop off. Once again he found uncontested ball and got enough game time to attack the Grand Final with confidence. Occasionally beaten by fast leading forwards and he made one shocking kicking error but he was solid for most of the game.
David Mundy – 9
Set the tone with the first kick of the game and 13 disposals in the first quarter. He was the only midfielder early who was able to find space among the chaos and he used the ball beautifully going inside 50. His work rate was exceptional and he had 20 disposals by half-time. He finished with 29 disposals, with 16 uncontested and 13 contested possessions and seven inside 50s. The big-bodied midfield burnt the Sydney Swans with his two-way running to be one of the best players on the ground. Constantly broke tackles and found time in a game that was frenetic.
Tendai Mzungu – 7
Mzungu quelled Swans dangerman Daniel Hannebery early and then took up the running with Lewis Jetta when he began to look threatening. Mzungu gathered 18 disposals and used the ball well. He is the classic utility and can be trusted with whatever job is needed. Mzungu also laid five tackles swarming all over the Sydney Swans in the first half.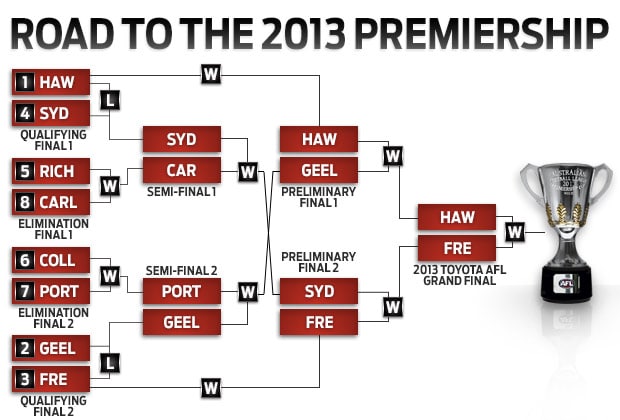 Lachie Neale – 5
Started as the substitute and came on late in the third quarter. He had an impact, kicking a critical goal just before three-quarter time when he swooped on a loose ball, evaded a couple of opponents and kicked from 40 metres out to snuff out any prospect of a Sydney Swans' comeback. Had 11 disposals in a quarter and half.
Matthew Pavlich – 7
The champion was very good early marking inside 50 but was unable to convert as easily as he would have liked. He kicked one goal in the first quarter but missed two set shots. He snagged another goal in the second quarter and was worrying his opponent Ted Richards. Pavlich was first to the ball and provided a superb target. He went quiet after half-time managing just one disposal in the third quarter and was taken from the ground late in the final quarter as a precaution. Good game.
Danyle Pearce – 6
Was very good in the clinches and had enough confidence to take the game on early, at a time when a few Dockers were playing it safe. Ended the game with 26 disposals, evenly spread between kicks and handballs. He managed to get outside the contest and win the ball in space.
Aaron Sandilands – 6
Five contested marks tells the story of Sandilands' game. He managed to stand tall, often outmarking the Sydney Swans' Shane Mumford on the wing creating an option for defenders under pressure. He pushed forward occasionally but had no real impact inside 50. With 33 hit-outs he was solid in the ruck but did not create goals from stoppages. He has great presence.
Lee Spurr – 4
Tough and combative and played his role. He did not win a great deal of the ball but he used it well when he had it. He will gain confidence from the game.
Nick Suban – 5
He missed a set shot in the first quarter but he was excellent early. Hard, tough and a battering ram, Suban has a beautiful left foot and put it to good effect. He kicked two telling goals and laid four tackles. However he did not stop digging into packs and getting into the face of opposition living the hit and strip motto to the letter.
Cameron Sutcliffe – 6
Sutcliffe was very impressive early, clean in possession and kicking the ball forward. He used the ball well by foot, managing 12 kicks and putting the ball inside 50 three times. He was at his best when the game was at its hottest so will take confidence into the Grand Final.
Michael Walters – 8
He kicked the Dockers' first goal and with three of their first four scores Walters looked dangerous from the first minute. He is electrifying when the ball hits the ground and scares opponents with his lateral movement. Walters took a screamer in the third quarter and kicked three goals to be one of the game's best.