THE BIGGEST shock of the first round of last week's NAB AFL Draft nearly didn't happen.
Carlton surprised many when it traded its first-round pick for next year to Adelaide for the Crows' pick 19 this year and their first-rounder next year, so they could jump up to take midfielder Liam Stocker, who had fallen down the draft board.
The Blues rated Stocker as the sixth best player in the 2018 crop, and wanted another midfielder to bring in alongside their No.1 choice Sam Walsh.
But if Xavier Duursma, the mobile Gippsland Power midfielder, hadn't been taken by Port Adelaide the previous selection, the Crows were set to keep their choice and take Duursma instead of accepting the Carlton deal.
It's just one of a number of 'sliding doors' moments to come out of the early part of last week's national draft.
WHO SMASHED IT? Your club's draft verdict
But let's start with the Blues. They decided a month out from the draft that Walsh, the consistent, tough, unflappable midfielder, was their man for the top choice. He just edged out South Australian star Izak Rankine, who was next on their list.
The Blues didn't give much away in the lead-up, not telling Walsh or other clubs about their decision. They did that knowing there was still a slight chance they could trade the pick.
The Suns had settled on their top three of Walsh, Rankine and Lukosius and were ready to take whoever the Blues didn't choose. They couldn't go wrong with any combination.
Their next pick wasn't as obvious. After seeing the Saints take Max King and the Power grab Connor Rozee, Gold Coast added Ben King to their list. They had Ben the top of their next group, and had taken coach Stuart Dew to King's house the day before the draft for a final chat.
New Suns Jack Lukosius, Izak Rankine and Ben King. Picture: AFL Photos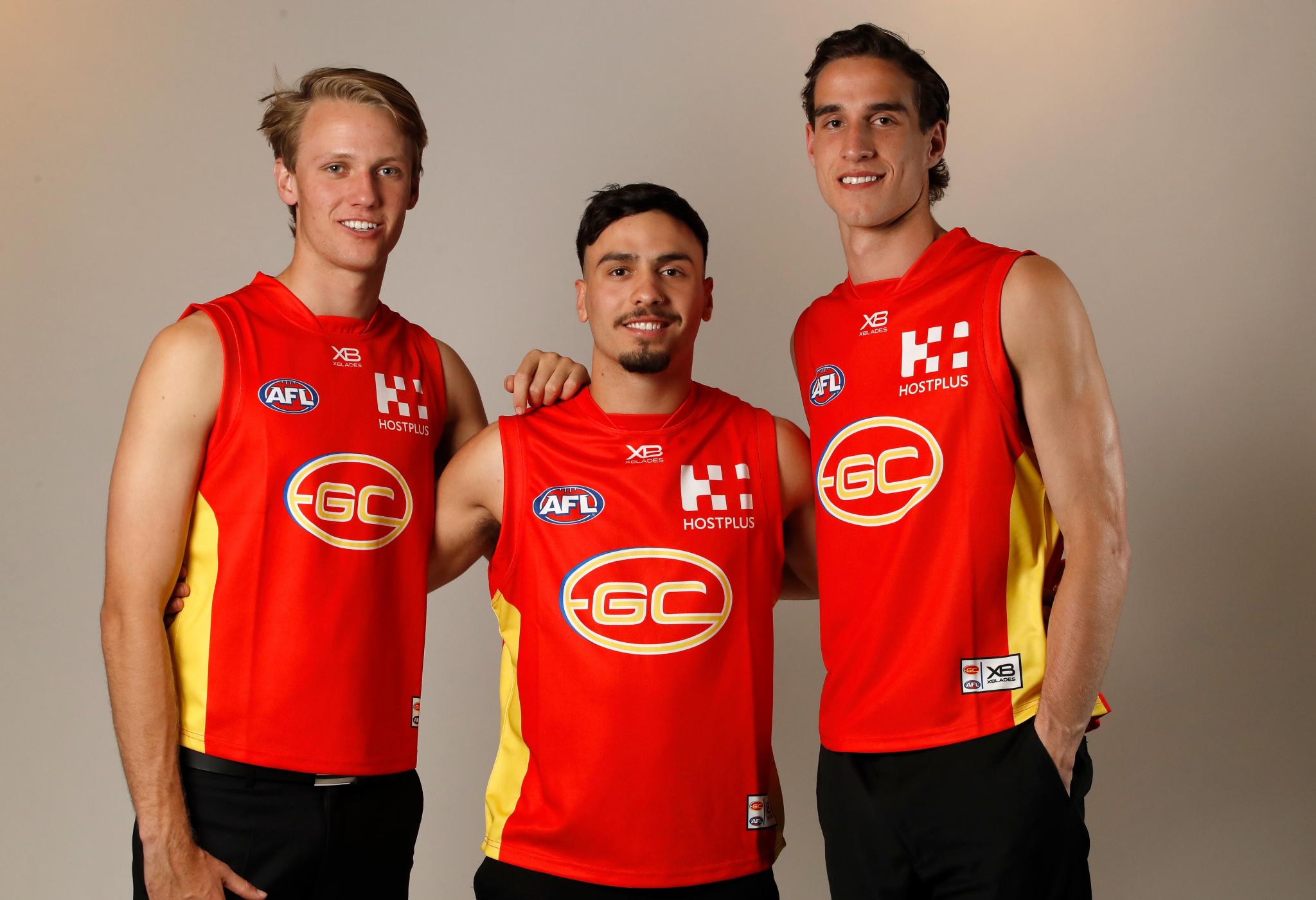 Port's choice was a close one. They had visited the Kings two days before the draft and would have taken Max had he gotten past the Saints. They decided after that visit they would take Rozee, who filled what they had lost in the Trade Period, including star goalkicker Chad Wingard.
They viewed Ben King as a defender and saw that as less of a need.
The Bulldogs' No.7 choice was a draft shaper. They had come down to a decision between midfielders Bailey Smith and Jye Caldwell, but other clubs sensed an opportunity to get up the order. A week before the draft the Crows and Giants approached the Dogs to see if they could move up from pick eight and nine respectively.
DRAFT TRACKER Every pick, bios, highlights and Cal's comments
Clubs knew Smith was keener to stay in Victoria than move interstate, so there was a chance for the Dogs to push back a spot or two and still take him, while also getting a bonus late pick for their trouble.
The only way the Bulldogs would have moved back was if they could have ensured they still picked up Smith, who they had slightly ahead of Caldwell due to his ability to play multiple positions and because of his elite running ability.
If the Dogs had taken Caldwell, Smith would have gotten past Adelaide and the Giants, and Port Adelaide would not have drafted him either.
It's why Richmond, who started the draft back at pick 17, were in touch with Port Adelaide on draft day and were monitoring the situation if Smith became available. A trade offer for Port's second pick was likely if Smith slipped past the Dogs. Geelong, too, was watching things closely.
But Smith didn't drop. Adelaide's call between Chayce Jones and Caldwell was tight, but it worked in the favour of the Giants, who were tempted to move up to pick seven to get Caldwell but on draft day decided they wouldn't do that. They liked him, a lot, and wanted him, a lot, but were going to hold firm.
Jye Caldwell receives his jumper after being drafted by the Giants. Picture: AFL Photos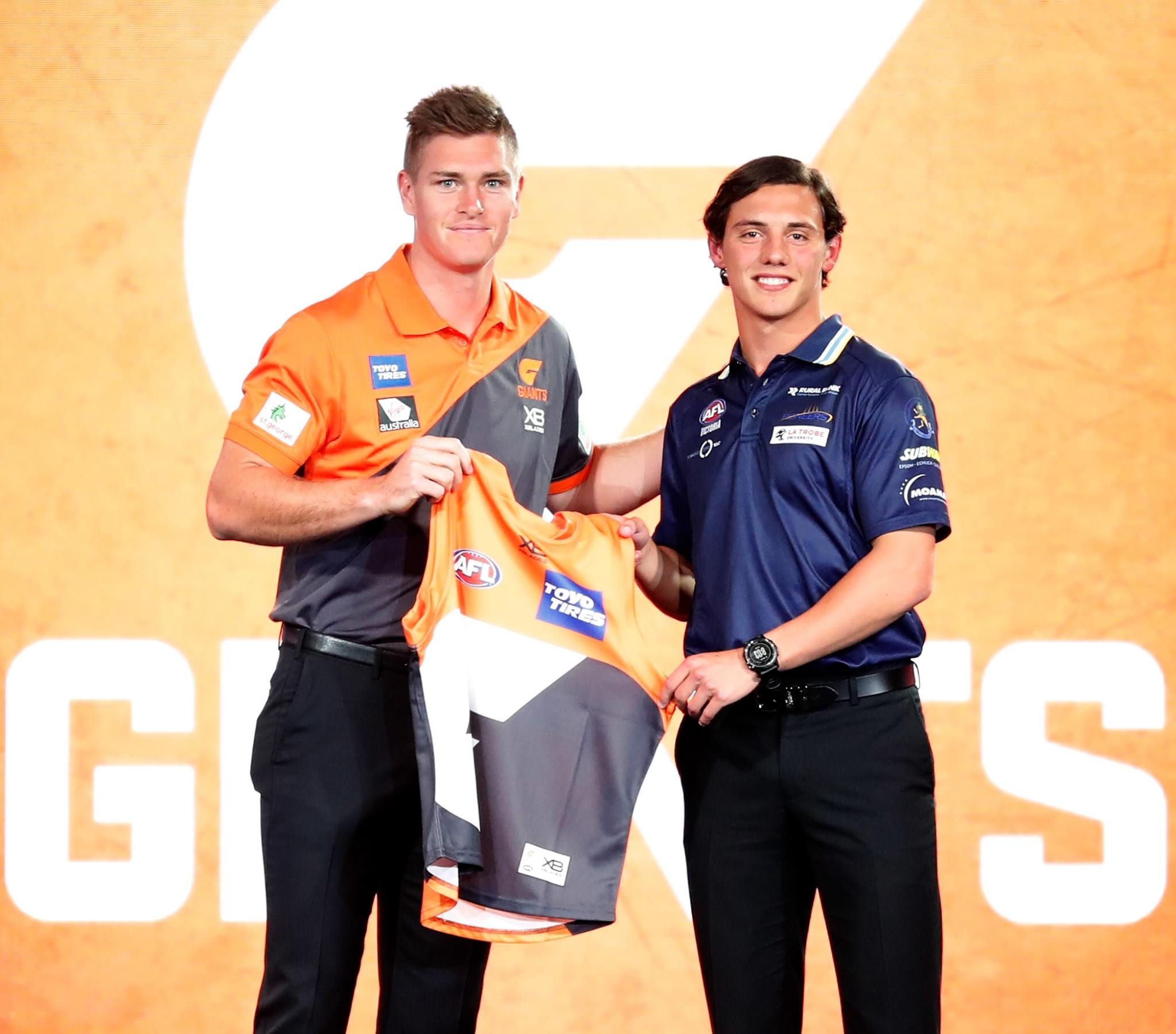 If the Crows had taken Caldwell, the Giants would have chosen small forward Zak Butters (which would have meant they didn't get Ian Hill the next day, but we'll get to that).
This year has been dubbed the 'general consensus' draft: there was an elite group of nine or so prospects at the top, another batch of six or seven players rated similarly after that, and then another six or seven in the back-end of the first round. Most clubs had a very similar group of names in their 20 best prospects.
So it meant that Adelaide, Port Adelaide, Geelong, GWS and Fremantle were all after essentially the same players with their next batch of picks: Butters, Jackson Hately, Jordan Clark, Duursma and Ned McHenry.
Port weighed up Clark with its second choice (No.12) before going with Butters, but that selection had implications. Geelong (No.15) chose between Clark and Riley Collier-Dawkins, having called Clark five times during his flight from Perth to Melbourne on Thursday. They wanted to triple-check he was fine about relocating, but after he gave his assurances, chose him that night ahead of Victorian Collier-Dawkins.
Had Port picked Clark, Geelong would likely have chosen Collier-Dawkins and Richmond, back at their No.20 pick, would have had a much different night given they were relieved Collier-Dawkins was still available at their spot.
NAB AFL DRAFT HUB Latest news, video and more
Adelaide (No.16) wanted McHenry for a long time and weighed up trying to slide him through to their third pick. However, Port would have taken the small forward with the following selection, and the Tigers loomed large too, so the Crows pounced.
Butters was in the Dockers' sights, and others' too (even Melbourne was keen to move up the order to snare the small forward) but bolter Sam Sturt also fitted what Fremantle was after and they like his scope for improvement. '
Fremantle coach Ross Lyon talks with draftee Sam Sturt at training. Picture: AFL Photos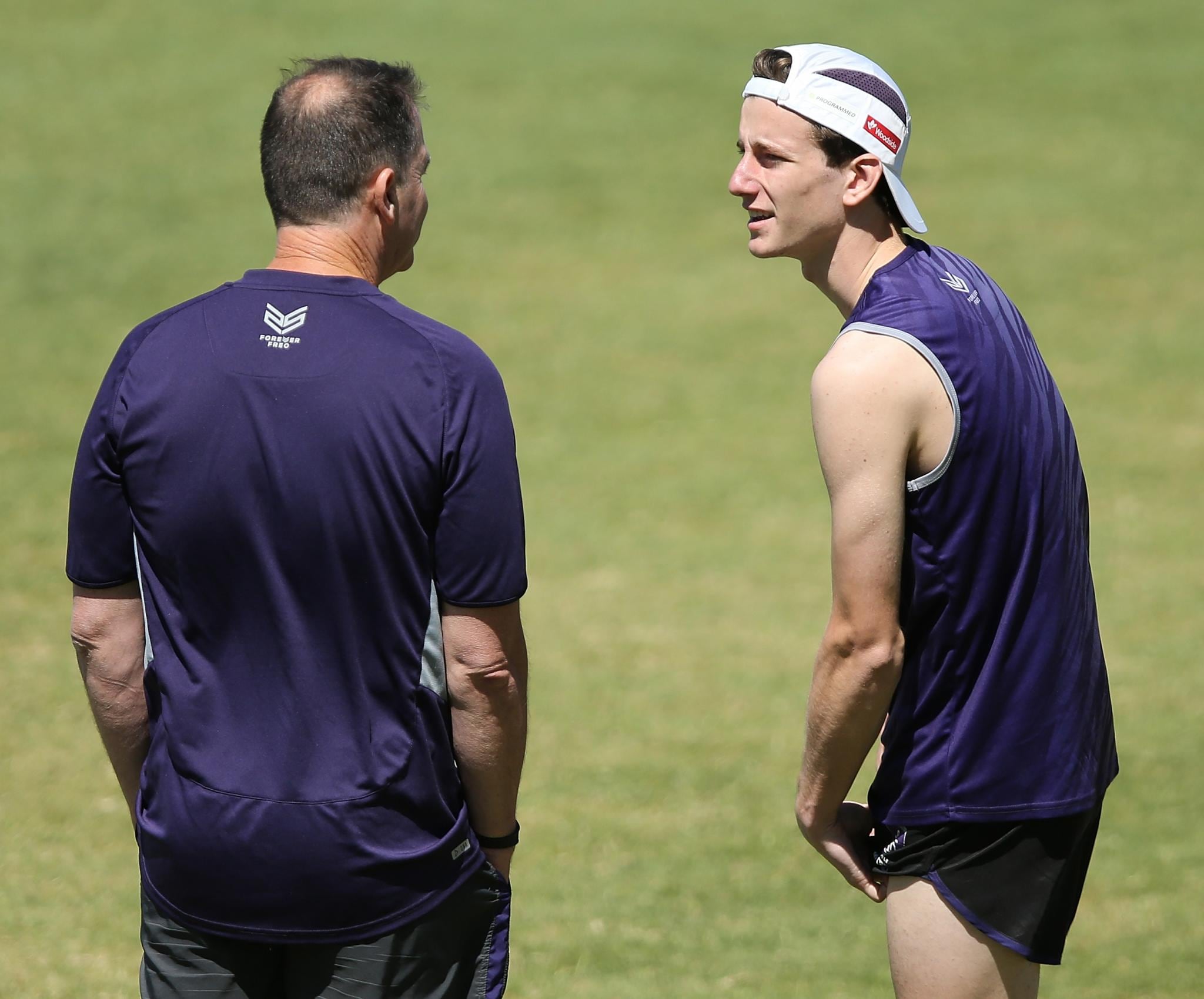 Collier-Dawkins was at this point falling down the order, which made other clubs jump to attention. St Kilda was particularly active in trying to get back into the first round, with Collier-Dawkins believed to be on their radar. They offered the Crows a similar trade to Carlton for that pick 19, including the Saints' top pick next year, but Adelaide knocked it back.
He wasn't in the minds of Port with their third pick (No.18), and neither was Stocker, with the club believing it had enough bigger-bodied midfielders. Duursma offered something a little different, which was why a couple of clubs, including Brisbane, were eyeing him off with possible deals as the night unfolded.
Carlton's trade with Adelaide for Stocker wouldn't have been a surprise to the Giants. The Blues discussed the same deal with the Giants pre-draft for their third pick (which started the night at 19 and finished at 22) but the Giants were keen to stick with their hand at this year's pool instead of buy in to next year's crop.
Richmond spoke to Collier-Dawkins in the days before the draft but had he not gotten through to them, the Tigers would likely have chosen Hill of the remaining players, his talent too hard to pass up despite the Tigers not necessarily being desperate for another small forward. The Tigers had more calls for that selection but held it and added to their midfield.
OUT OF THE ORDINARY Collier-Dawkins on his strong family ties
Brisbane was set on Ely Smith with its choice (No.21), and wouldn't have taken Stocker ahead of Smith had he gotten through.
A couple of days before the draft they notified the AFL it was worth inviting Smith to attend the night at Marvel Stadium, but they had been eyeing off a young first-hands midfielder for a while. Had they not traded pick five in the Lachie Neale deal, it's likely Caldwell would've become a Lion.
Ely Smith was always in the Lions' sights with their No.21 pick. Picture: AFL Photos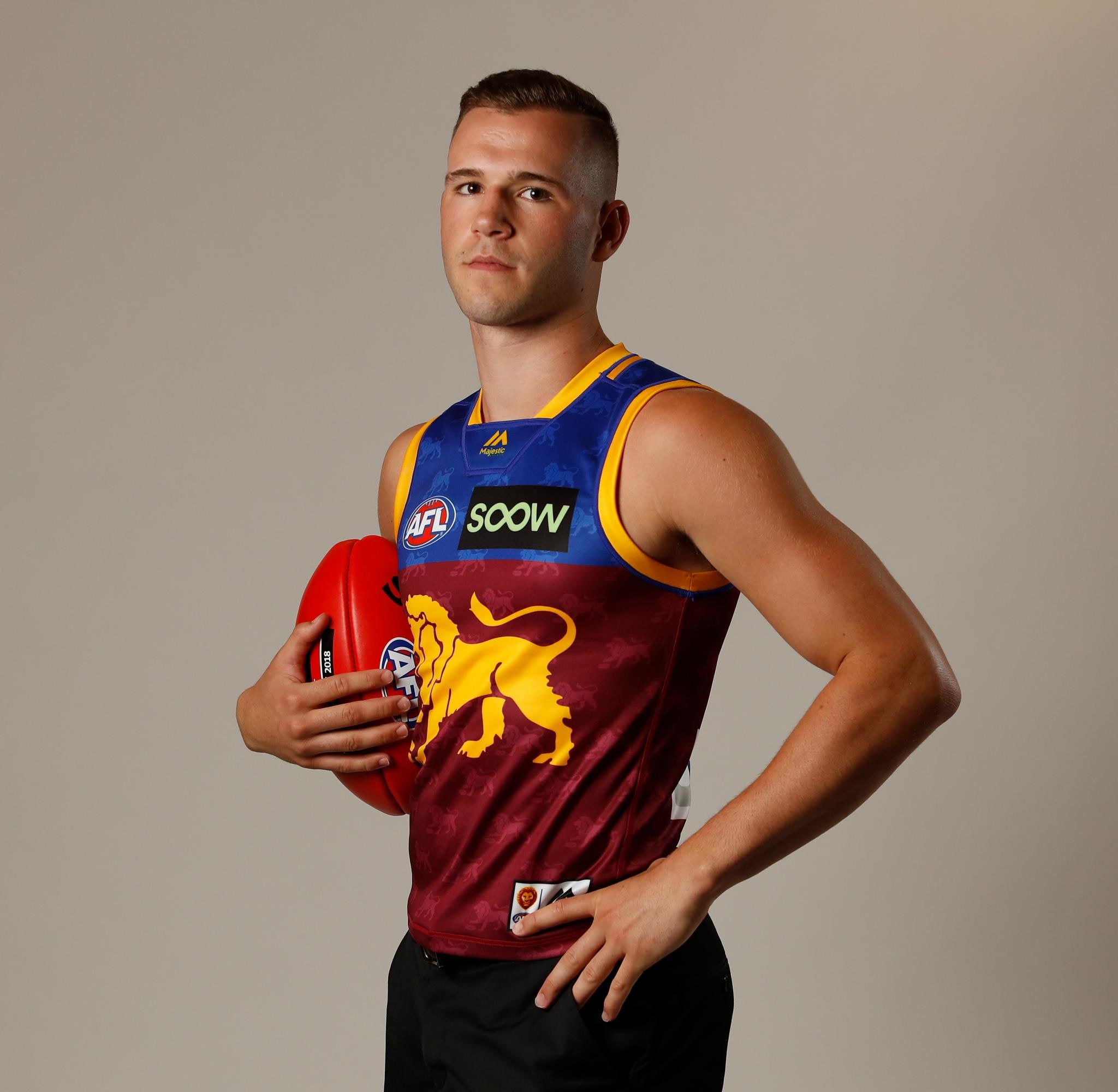 The overnight break between the first round of the draft and the rest the following day gives clubs time to take stock, but also forge ahead. The Suns welcomed their three top-10 draftees and their families at Docklands restaurant 90 Secondi, but were back meeting until past midnight on Thursday trying to creep up the order once the draft reopened the following day.
West Coast's pick 23 became a prized possession. A handful of clubs inquired about it, including the Giants, but their offer of pick 28 and Carlton's future second-rounder was trumped by the Suns' offer of 27 and 32 for 23 and a future fifth-round pick because the Eagles still wanted a solid presence in this year's intake.
The Suns had SA defender Jez McLennan in the gun, and knew the Swans were keen on him at pick 25, so had to get in first. McLennan has family in Queensland and had previously told the club they were his preferred destination.
SA PICK'S SUNS DREAM Why Jez wanted to go to Gold Coast
GWS had another crack. There was a level of transparency among the clubs early in the second round about the players on their radar, and they knew the Suns weren't moving up to grab Hill, who had been overlooked by local clubs Fremantle and the Eagles.
Hill's size and lack of running strength was a factor against him, and the Eagles were prioritising running midfielders at the draft.
But there was more to the Giants' play for 'Bobby'. They were worried the Crows would use pick 24 to bid for Academy ruckman Kieren Briggs, so wanted to eliminate that possibility.
That's why they perhaps gave up overs to move four spots up the order (they traded pick 28 and a future second-round pick to the Crows for pick 24 and a future fifth-round pick) but it allowed them to select Hill, and then comfortably match a Briggs bid in the 30s.
New Giants Kieren Briggs and Ian Hill's selections were linked. Picture: AFL Photos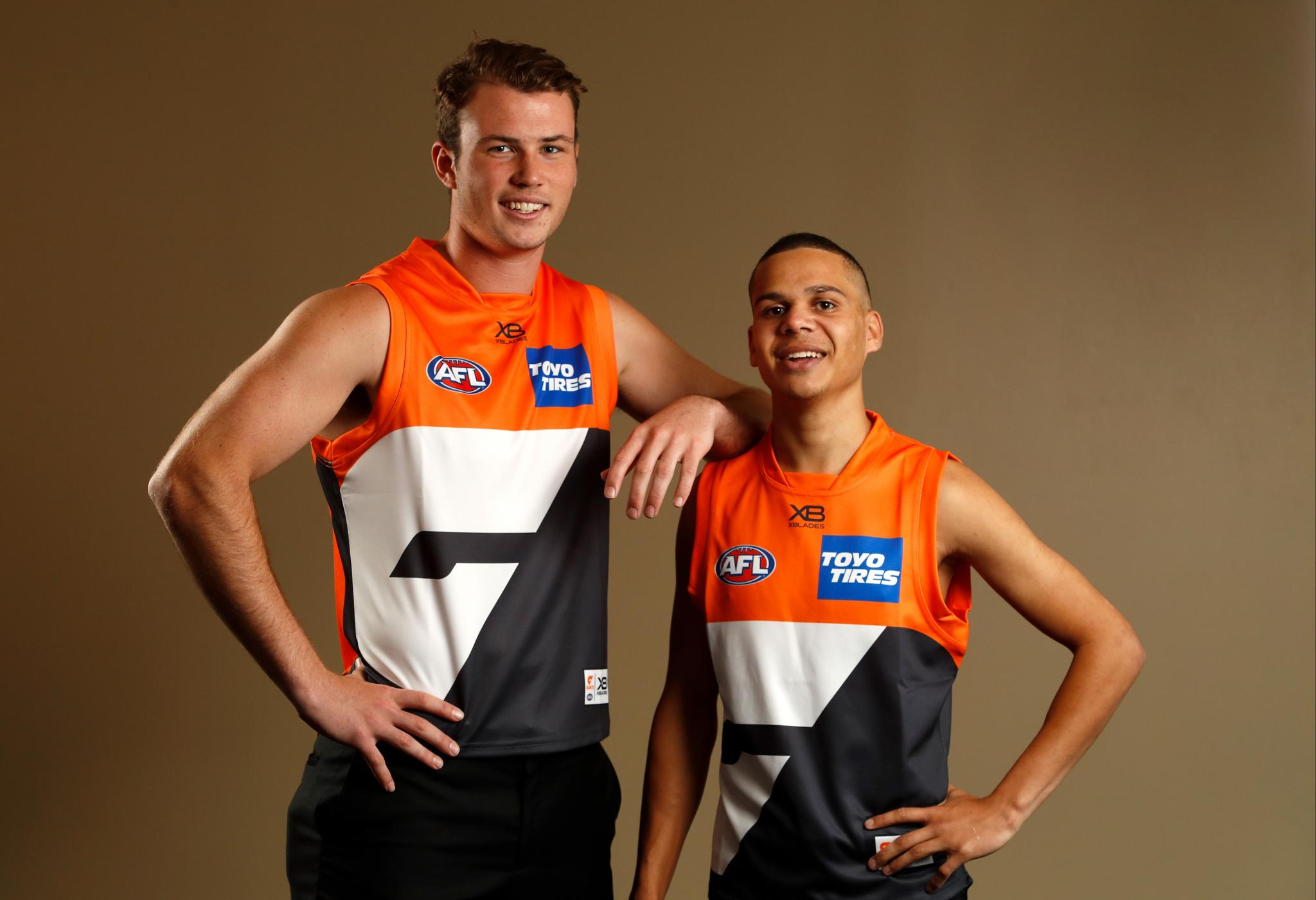 Because pick 28 was going to be wiped out by a Briggs bid, the Giants effectively gave away a future second-round pick for Hill.
It was a smart move and had a double pay-off, but it wouldn't even had been considered if Adelaide picked Caldwell instead of Jones at pick nine, because GWS would then have picked Butters with its first pick and then not required another small forward.
Further proof that, in the early stages of the draft at least, every pick has an implication for the next, and the next and the next.