DESPITE wearing a plaster cast after a recent wrist operation, Mark Blicavs has dominated the opening day of Geelong's pre-season.
The mobile ruckman and former steeplechaser demolished his first- to fourth-year teammates in a 2km time-trial held at the Landy Field athletics track on Monday morning.
Blicavs cantered home around 30 seconds clear of fellow big man Josh Walker.
Onballers Josh Caddy and Mitch Duncan finished third and fourth.
"I think (Blicavs) has been running with a few of his mates," fourth-year midfielder George Horlin-Smith said.
"He showed in the time-trial that he hasn't lost it, which is good."
After completing the time-trial, the Cats returned to Simonds Stadium where most players took part in a skill session.
Ruckman Hamish McIntosh, who failed to play a game last season after struggling with ankle and Achilles injuries, did some of the ball work, then completed a number of 200m sprints under the watchful eye of the fitness staff.
"I know he (McIntosh) is really excited about training with the boys and being around the guys out on match-day, which is where you grow those really strong bonds with players," Horlin-Smith said.
Two other players who have struggled to overcome injuries in recent seasons, small forward Lincoln McCarthy and midfielder Josh Cowan, completed the entire session.
McCarthy is fit again after overcoming a foot stress fracture, while Cowan has shaken off his Achilles and hamstring problems.
Only a handful of Geelong's young players are confined to the rehab group at this stage.
Hamish McIntosh completes sprint work at Geelong's first day of pre-season training. Picture: AFL Media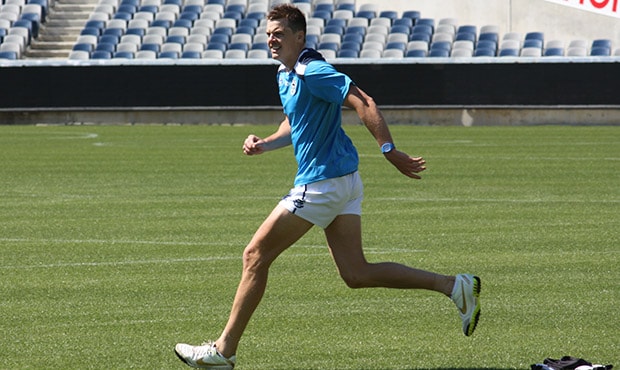 Midfielder Allen Christensen and defender Jackson Thurlow are both recovering after having hip operations performed by a renowned surgeon in Tasmania.
"We're a bit like twins at the moment," Christensen explained. "We had our operations on the same day.
"It was just a little clean-out on our right hips. Nothing too serious. It will just delay our pre-season a little bit.
"I think I'll be back on the park in two or three weeks. We got it done pretty early, so rehab has gone well so far and we'll be out there soon, hopefully."
Forward Shane Kersten is also on a restricted program after having a minor knee operation.
Geelong's fifth-year and older players will return to training on Monday, December 2, although most of them have been completing unofficial sessions in the Simonds Stadium and out on the park.
The entire squad will hold a pre-season camp in Coffs Harbour in northern New South Wales between December 12-20.
Twitter: @AFL_AdamMcNicol