WESTERN Bulldogs president Peter Gordon believes the AFL needs a 'bespoke' stadium to cater for smaller-drawing games in Melbourne.
Gordon - who also revealed his club made more money out of its round 15 clash against Gold Coast in Cairns than all of its home games combined this year - said a smaller stadium was needed to maximise profits from games that drew between 25,000-30,000 fans.
"I think Melbourne needs a new bespoke stadium which maxes out at 25-30,000 (fans)," he told SEN on Wednesday afternoon.
"The … crowd that you normally get when you (have) the Demons playing the Giants or the Bulldogs playing Freo or whatever, is 25-30,000.
"You can make really good money with a crowd of 25-30,000 people - you just need the right infrastructure."
Gordon was adamant the club's deal with Etihad Stadium was holding the club back financially. It was a reason why the Dogs chose to play a 'home' game against Gold Coast two weeks ago in Cairns, which attracted 9,449 fans.
"We just know it's a bad deal (at Etihad)," Gordon said.
"We made more money out of playing one game in front of less than 10,000 people in Cairns a couple of weeks ago than all our other home games (this year) put together."
Gordon suggested the construction of a 'clean' stadium could boost the Bulldogs' revenue by "$2-4m a year."
Gordon also said midfielder Tom Liberatore, who was recently sanctioned for excessive partying, was a key plank of the Dogs' future.
This week, Liberatore - who suffered a season-ending ACL injury during the NAB Challenge - returned to Melbourne from Thailand.
He was due to head to Europe for a holiday but the Dogs intervened after he missed compulsory club appointments, a result of excessive socialising.
Instead, he was diverted to Thailand, a country the club felt could better accommodate his rehabilitation for the knee injury.
"Tom has had some issues which we've been concerned about (but it's not) in his or the club's best interests to go into any detail about that," Gordon said.
Gordon was then asked if those issues had now been resolved. He answered: "Well, I hope so."
Bob Murphy leads the Dogs out at a packed Whitten Oval during the NAB Challenge. Picture: AFL Media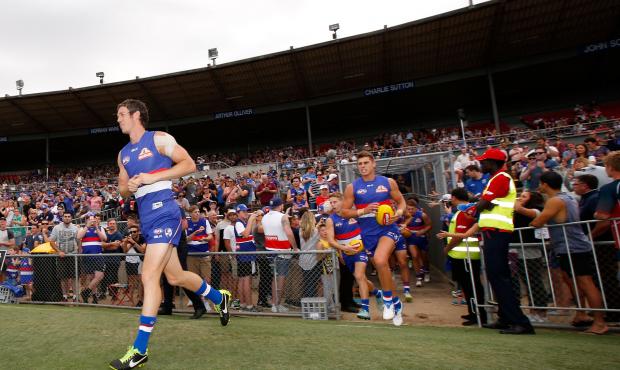 He went on to say the club couldn't wait to have Liberatore back on the field.
"When we get (fellow injured Bulldog) Clay Smith and Tom Liberatore back into that midfield next year, we're going to have a team to be reckoned with," he said.
"We're really looking forward to him coming back. He's had some difficulties, he's working through them, we're working with him, we love him, we want him back."