• Judd's cruel exit creates opportunity
• Tributes flow for modern legend
• ACL rupture confirmed
• The day I played on Juddy
CHRIS Judd joined Carlton because he was excited about being "part of something from the ground up".
Regrettably for the AFL, icon construction never amounted to much at Princes Park.
Judd played 145 games at Carlton and 134 at West Coast, making the 2007 trade close enough to the midpoint of his decorated career.
The on-baller's arrival came at the expense of draft picks No.3 and No.20, plus emerging key forward Josh Kennedy.
Was it a good decision by Carlton and West Coast?
Was it the right call by Judd?
West Coast chief executive Trevor Nisbett and former Carlton boss Greg Swann have both described it as a win-win trade in the past.
It's hard to argue with.
Chris Judd in full flight for West Coast during his first season in 2002. Picture: AFL Media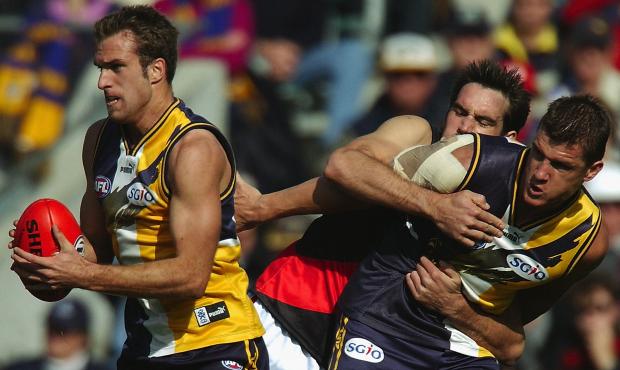 Kennedy is 27, the Coleman Medal favourite and will be one of the key figures in West Coast's premiership push in the next few years.
His value has skyrocketed, while No.3 pick Chris Masten is in career-best form and would be a walk-up starter in the Blues' midfield.
Given the Eagles accepted Judd was out the door regardless of what they did, it's a reasonable return.
Judd has lived up to, if not enhanced, his reputation.
He won the best and fairest in each of his first three years at Carlton, plus a Brownlow Medal in 2010.
His captaincy was hard to fault - current skipper Marc Murphy is among many Blues to marvel at the way Judd helped them improve.
What more could Carlton have expected?
The Judd file: Career facts and figures
Yet the club has failed to deliver Judd the success he craved so dearly.
Two coaches have been sacked.
Adelaide duo Sam Jacobs and Eddie Betts headline the talent that has left in recent years, while most draft picks have failed to kick on.
The club's management has had few wins in Judd's time.
The 31-year-old is not the sort to contemplate 'what if?'
But it would have been hard not to do so in 2010.
For the second season in a row, Carlton had lost in week one of the finals.
Four weeks later, Collingwood toppled St Kilda in the grand final replay.
Judd had met with Melbourne, Essendon, Collingwood and Carlton three years earlier, having informed the Eagles he wanted to return to Victoria.
He narrowed it down to Carlton or Collingwood.
"Chris's head said the Pies and his heart said the Blues," Judd's manager Paul Connors told Carlton's website.
If he knew the pain that was to come, would Judd have chosen differently?
THE JUDD TRADE IN 2007
* Carlton gave up Josh Kennedy and draft picks No.3 (Chris Masten) and No.20 (Tony Notte)
* West Coast traded Judd and pick No.46 (Dennis Armfield).