THE RETIREMENT Class of 2017 versus the Retirement Class of 2007.
Luke Hodge, Nick Riewoldt, Sam Mitchell, Steve Johnson, Jobe Watson, Matt Priddis, Josh Gibson and Bob Murphy versus Nathan Buckley, James Hird, Mark Ricciuto, Anthony Koutoufides, Glenn Archer, Chris Grant, Chris Scott and Luke Darcy.
Determining the better group is an inexact science. There can be no right or wrong answer. But it's a fun project.
When the older set retired, it was thought that season 2007 would never be topped when it came to collective clout and class exiting the game.
Season 2014 also saw some of the all-time greats retire, including Jonathan Brown, Lenny Hayes and Dean Cox. But not until this year has a group of exiting champions challenged the 2007 bunch on status.
Retirements prompt all sorts of reactions and emotions. Initially, it is often disappointment which takes hold the moment a player announces he's done. Then there's reflection as the memories kick in.
Riewoldt's near-suicidal mark at the SCG. Hodge's two Norm Smith Medals. Johnson's freakish goals and "cash or credit?" friendly taunting of hapless opponents.
Watson's work rate which elevated him from effectively nowhere to a Bomber great. Mitchell's defiance of being told he was not good enough as a junior. Priddis' courage and toil to add a Brownlow Medal to a Sandover Medal.
Gibson's man-about-town ways and initially underrated football ability which saw him become as crucial as any component in the Hawthorn flag-winning machine of 2013-15. Leigh Matthews won two best and fairests in Hawk premiership years, so too Jason Dunstall, so too Gibson. Nothing morre needs to be said.
Murphy, from his day one in the AFL back in 2000, has always carried himself with class and composure, on and off the field.
It's an ultra high-quality retirement group from this year, with Scott Thompson and Matthew Boyd also part of the departing set, and possibly Leigh Montagna and Drew Petrie to join them.
The game will lose Matt Priddis and Jobe Watson at season's end. Picture: AFL Photos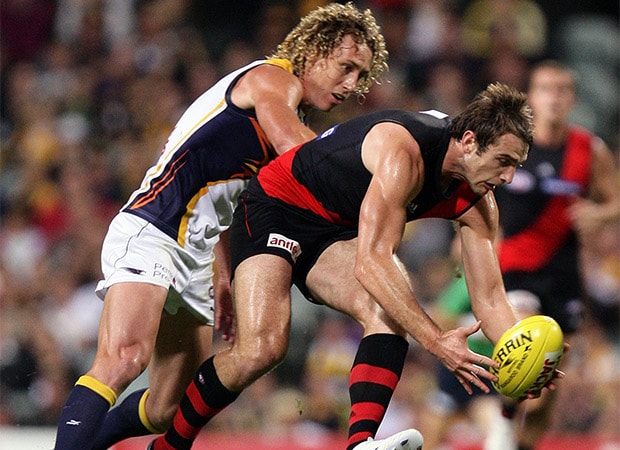 Let's look at some numbers comparing the eight players retiring in 2017 as mentioned in the second paragraph, with the eight mentioned in the same paragraph from 2007.
As of the completion of round 21, 2017, it is 2305 matches for the 2017 lot versus 2216. Goals are 1857, against 2104.
From the 2017 group, there are 136 finals, 22 Grand Finals, 14 premierships. For the 2007 class, those numbers are 121, 14 and eight.
It's two Brownlow Medals against three, but 945 Brownlow votes against 750. Best-and-fairest awards are close, 19 to 20. The older group has a collective eight more Virgin Australia AFL All Australian representations, 29 to 20.
Collective games as captain are 584 (2017 group) versus 576. Riewoldt and Mitchell won NAB AFL Rising Star Awards, so too Buckley and Scott.
James Hird and Nathan Buckley shake hands at the MCG in 2002. Picture: AFL Photos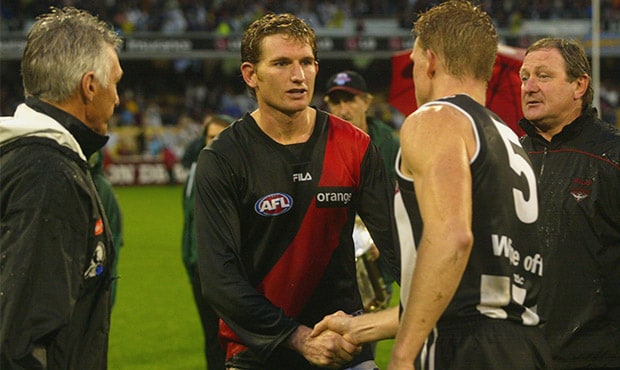 Raw numbers, of course, are only part of the story. Among the exits of 2007 and 2017 are some of the most powerful personalities the game has seen.
Ricciuto, Buckley, Archer, Hird, and Hodge, Johnson, Riewoldt and Mitchell all have, or had, bold personalities which commanded attention on and off the field.
There was the mostly controlled larrikin streaks in Ricciuto and Johnson. Remember the Ramsgate brawl? And the busted ankles from trying to re-enter the Torquay Hotel?
Buckley, Hird and Scott went on to coach, only the latter with success to this point. Mitchell and Johnson will also head down that path, with Hodge to do so possibly after a year off.
So much excitement lies ahead in the AFL's final two home and away rounds and finals series this season.
Johnson's CV might include a fourth premiership by the time it is completed. The Eagles might finally find high-end form and provide finals finishes for Priddis, Mitchell and Petrie. There are still mathematical possibilities for finals for Hodge, Riewoldt, Watson, Murphy, Boyd, Gibson and Montagna. Thompson might even get a call-up to the ladder-leading Crows.
Just as Joel Selwood, Travis Boak, Tom Hawkins and Jack Riewoldt began AFL careers in the same season that Buckley, Ricciuto, Hird, Archer and co. completed theirs, 2017 has seen the debuts of Andrew McGrath, Will Hayward, Sam Petrevski-Seton, Sam Powell-Pepper, Jy Simpkin, Will Hayward, Hugh McCluggage and Ben Ainsworth.
The past is beautiful, the future equally so.
For the record, if you had the 2007 Retirement Class lined up alongside the 2017 set, we'd take the older group.
Twitter: @barrettdamian
2017 retirees

| Player | Current club | Games | Finals | Grand Finals | Flags | Norm Smith | Brownlows | B&Fs | All Aust | Games as captain | Rising star |
| --- | --- | --- | --- | --- | --- | --- | --- | --- | --- | --- | --- |
| Josh Gibson | Hawthorn | 225 | 23 | 4 | 3 | 0 | 0 | 2 | 1 | 0 | 0 |
| Luke Hodge | Hawthorn | 303 | 23 | 5 | 4 | 2 | 0 | 2 | 3 | 125 | 0 |
| Steve Johnson | GWS | 290 | 24 | 4 | 3 | 1 | 0 | 0 | 3 | 0 | 0 |
| Sam Mitchell | West Coast | 325 | 24 | 5 | 4 | 0 | 1 | 5 | 3 | 79 | 1 |
| Robert Murphy | W. Bulldogs | 310 | 10 | 0 | 0 | 0 | 0 | 0 | 2 | 46 | 0 |
| Matt Priddis | West Coast | 236 | 10 | 1 | 0 | 0 | 1 | 1 | 1 | 6 | 0 |
| Nick Riewoldt | St Kilda | 334 | 17 | 3 | 0 | 0 | 0 | 6 | 5 | 220 | 1 |
| Jobe Watson | Essendon | 218 | 5 | 0 | 0 | 0 | 0 | 3 | 2 | 108 | 0 |
| Total | | 2241 | 136 | 22 | 14 | 3 | 2 | 19 | 20 | 584 | 2 |
2007 retirees

| Player | Club | Games | Finals | Grand Finals | Flags | Norm Smith | Brownlows | B&Fs | All Aust | Games as captain | Rising star |
| --- | --- | --- | --- | --- | --- | --- | --- | --- | --- | --- | --- |
| Glenn Archer | Nth Melb | 311 | 24 | 3 | 2 | 1 | 0 | 0 | 3 | 6 | 0 |
| Nathan Buckley | Collingwood | 280 | 10 | 2 | 0 | 1 | 1 | 6 | 7 | 161 | 1 |
| Luke Darcy | W. Bulldogs | 226 | 7 | 0 | 0 | 0 | 0 | 1 | 1 | 6 | 0 |
| Chris Grant | W. Bulldogs | 341 | 15 | 0 | 0 | 0 | 0 | 2 | 3 | 76 | 0 |
| James Hird | Essendon | 253 | 20 | 3 | 2 | 1 | 1 | 5 | 5 | 133 | 0 |
| Anthony Koutoufides | Carlton | 278 | 13 | 2 | 1 | 0 | 0 | 2 | 2 | 52 | 0 |
| Mark Ricciuto | Adelaide | 312 | 16 | 1 | 1 | 0 | 1 | 3 | 8 | 142 | 0 |
| Chris Scott | Brisbane | 215 | 16 | 3 | 2 | 0 | 0 | 1 | 0 | 0 | 1 |
| Total | | 2216 | 121 | 18 | 11 | 3 | 3 | 20 | 29 | 576 | 2 |