BACHAR Houli says Richmond will approach Sunday's do-or-die final against Port Adelaide with a nothing-to-lose attitude but has acknowledged the importance of a fast start to silence the local crowd.
Houli said the Tigers would take confidence from their round 21 win at Adelaide Oval against the Crows, as well as the win over Port in Melbourne in round 17.
"We'll focus on what works well and it's very important to get off to a good start," Houli said on Wednesday, ahead of the Bachar Houli Cup at Punt Road.
"That will kind of put them in the backseat a little bit. "We'll just focus on coming out and starting well.
"For the past nine weeks, every game has been an elimination final for us so in terms of preparation, nothing changes and we'll just be focusing on another game.
"We've got nothing to lose to go out there and show our fans we're capable of being in a position where we can win a final for them after they stuck by us earlier in the year."
Houli said the Tigers had recovered well from Saturday evening's inspiring win over the Sydney Swans and expected they would have a full list of players to pick from, with the exception of Chris Knights and Matt Thomas. Knights (quad) and Thomas (knee) won't play again this year.
While Saturday's three-point win came in emotional circumstances given it was the last hurdle the Tigers needed to cross to shore up their finals spot, Houli said they'd moved on quickly.
"We had a great win on the weekend but our main objective was to recover really well," he said.
"I haven't actually seen many of the boys – recovery has been very individual in the last few days.
"Tomorrow will be our main training session and we'll be training pretty hard to come prepared for another huge game."

Bachar Houli and friends at the launch of the Bachar Houli Cup. Picture: AFL Media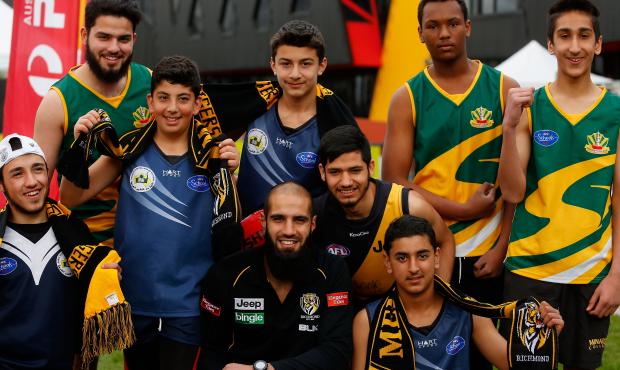 Much has been made about the Tigers' turnaround and nine-game winning streak, which came after the team regained a number of key players from injuries.
But Houli said a better execution of the game plan and some hard conversations between the players also contributed.
"I think it was just making each other accountable," he said.
"Initially at the start of the year we had a very good pre-season but there was a period where we weren't holding each other accountable for our actions.
"It was little things like chasing, tackling … these things were going under our guard a little bit.
"When we started our feedback sessions, that helped us a lot because it's made us accountable for what we're doing and I guess it's lifted the bar for everyone else."
Houli was speaking at the third annual Bachar Houli Cup, which is a program that provides Islamic schools and students the chance to play in an AFL competition.
It encourages students to make the transition from school football into community clubs, with Houli – as the competition's only Muslim player - the role model.
Houli said it was encouraging to see so many young Muslims changing codes from basketball and soccer to take on the game.
"Being at the highest level it gives me a great opportunity as a multicultural ambassador to give back to the community I come from and hopefully we can see more young Muslims entering the game from different cultures," he said.
"Hopefully we can see a few more in the future come through the ranks and play at the highest level."