EASTER Sunday, April 19, 1987. The Brisbane Bears gave birth to a new chapter in the AFL when they hosted Fitzroy in the first game in the expanded national competition to be played on the Gold Coast.
It was a bizarre time as three separate crews of council employees, contractors and volunteers worked around the clock in the lead-up to the round four clash to finalise preparations at the one-time cow paddock, then known simply as Carrara and now Metricon Stadium.
Nothing was easy. Even the goal posts were a problem as horrified workers unloaded a truck only to find what they had been sent were much too short. So, the would-be goalposts were used as behind posts and club officials borrowed four towering rugby posts from Albert Shire Council to use as goal posts.
It didn't get any better on match-day when Bears coach Peter Knights had to postpone his customary pre-match team meeting after a Gold Coast Highway traffic jam meant Bears players living in Brisbane did not arrive at the ground until just before the first bounce.
And during the match, Knights could not see the new $250,000 electronic scoreboard. It was rendered virtually useless from the coach's box by the beaming sun and the non-arrival from the United States of shades that were designed to cut out the reflection. Knights could not even read the time clock and had to rely on the small scoreboard at the opposite end for the scores.
It was almost surprising, then, that the much-maligned fledgling club, which had stunned critics by beating North Melbourne and Geelong in its first two games before losing to St Kilda in game three, got within 15 points of Fitzroy in its first home game.
The Bears might even have won but for seven goals apiece from Fitzroy's Richard Osborne and Doug Barwick, who topped the Brownlow Medal vote card, from Brisbane's Steve Reynoldson and Fitzroy's Paul Roos.
In what seems like something of a tautology, the Bears out-scored the Lions in each of the last three quarters after Barwick and Osborne combined to give the visitors a 7.2 to 1.4 lead at quarter-time on what Fitzroy coach David Parkin described as the best playing surface he had seen.
The crowd was first declared to be 18,009, was later amended to 22,512, and is officially recorded as 17,795. Whatever, it was an encouraging result for Bears chairman and former television personality Paul Cronin, who had taken up temporary residence on the Gold Coast, and club owner Christopher Skase, who would often arrive at Carrara via helicopter to join high-rolling corporate associates dining on food and enjoying flowers that had been flown from Melbourne.
Skase had dreamed of establishing a sports theme park at Carrara, using the Bears as his anchor tenant, and have business heavyweights arrive at the ground by boat via the adjacent Nerang River.
It was not to be, but 26 years on, the AFL dream of a vibrant team on the tourist strip lives on. And this weekend the ground where Brad Hardie holds the record for most games (45) and most goals (98) will host its 100th game when Gold Coast hosts Carlton.
If the ground could talk, it would tell of multitudes of memorable times, which might include the following:
Round one, 1988
Warwick Capper, recruited from the Sydney Swans at the insistence of Cronin and Skase against the wishes of the football hierarchy, played his first game for the Bears. He kicked three goals from five kicks against Collingwood but finished with a measly 71 goals from 34 Bears games before returning to the Swans.
Round six, 1988
The Bears beat Footscray by a point after Dogs full-forward Simon Beasley missed an angled 30m shot five minutes after he had taken a mark moments before the final siren. It was mayhem as the crowd, thinking the game was over, had invaded the ground. As Beasley finally moved in to take his kick, the Bears' Mike Richardson jumped on to the shoulders of teammate Matthew Campbell and waved his arms around madly trying to put the Dogs veteran off. Richardson fell off just before Beasley took his kick, but his antics worked, much to the delight of a crowd that included a 12-year-old Michael Voss.

Round 15, 1989
Geelong beat the Bears by 74 points in the first night match at Carrara. Barry Stoneham kicked five goals as the Cats booted 12 in the final quarter. Coach Knights was sacked three days later and replaced by ex-North Melbourne player turned Bears psychologist Paul Feltham.
Round 20, 1991
Collingwood maestro Peter Daicos, playing on Bears dual club champion John Gastev, put on a rare display of goalkicking wizardry to post a ground-record 13 goals. He was the fourth player to register double-figures at the ground, following Jason Dunstall (11 in 1987), Beasley (10 in 1987) and Gary Ablett snr (11 in 1988).
Round three, 1992
In just his third AFL game, Darryl White kicked the AFL Goal of the Year. The stripling 18-year-old, who had collected three Brownlow Medal votes on debut at Carrara a fortnight earlier, dropped a mark just forward of the wing but picked up the ball and ran away from Fitzroy ruckman Paul Abbott. He eluded two more Lions opponents and attempted to fire a short pass to leading Bears full-forward Roger Merrett. The ball bounced off Merrett's chest and the skipper tapped it towards White. He re-gathered, dodged around two more Fitzroy players, including future premiership teammate Alastair Lynch, and steered home a tired shot at goal from 40m near the boundary line.
Round five, 1992
Bears forward Ray Windsor, a 19-year-old Queenslander in his 10th game, kicked truly from 35m on a 30-degree angle after the siren to close out the only Carrara draw. The home side had trailed West Coast inside the last minute after a Dean Kemp major before Windsor, now the Queensland under-18 coach, marked a David Bain bomb to land what he later described as the only highlight of his 23-game career.
Round seven, 1992
Geelong kicked the highest AFL/VFL score of 37.17 (239) to beat the Bears by 164 points. Gary Ablett snr kicked nine goals and Paul Brown six as the Cats booted 14 in the final quarter. But it was a Billy Brownless behind on the final siren that saw them top the previous highest score of 238 by Fitzroy against Melbourne in 1979.
Round nine, 1992
The smallest recorded attendance in AFL/VFL history of 3092 saw Footscray beat the Bears by 32 points in torrential rain. Tony Liberatore collected 36 possessions and three Brownlow votes after an early-morning flight to the Gold Coast, having stayed in Melbourne the night before for the birth of his first child – now rising Dogs star Tom.
Round 23, 1992
The Bears farewelled Carrara with a 59-point win over the Swans. John Hutton, who had kicked eight goals in the Geelong massacre 16 weeks earlier, kicked another eight as Campbell, the lone survivor from the Bears' foundation playing list, earned three Brownlow votes with 33 possessions. Michael Voss kicked his first two AFL goals.
Round 10, 2011
The Suns played their first game at Metricon against Geelong, with Cats maestro Steve Johnson kicking seven goals and taking Brownlow honours after the crowd had erupted just before half-time when Karmichael Hunt kicked his first AFL goal with a booming roost almost from the centre.
Round 22, 2011
Adelaide's Scott Thompson collected a ground-record 51 possessions against the Suns.
Round 18, 2011
A record Carrara crowd of 23,302 saw Collingwood beat the Suns by 54 points in the first Metricon sell-out.
Round 20, 2012
After 17 consecutive home losses, the Suns claimed their first Metricon win by 30 points over the GWS Giants. Brandon Matera collected three Brownlow votes.
Round 17, 2013
Gary Ablett jnr ensured there could be no Carrara/Metricon reminiscing without him. He collected a majestic 49 possessions to pilot the Suns to a seven-point win over Collingwood. It was their best win and their first victory in 26 matches against a top-eight opponent. It was so good it should have been the 100th game at the ground. And had the home fixture against West Coast in 1988 not been switched to Perth because of flooding it would have been.
Read more in this week's
AFL Record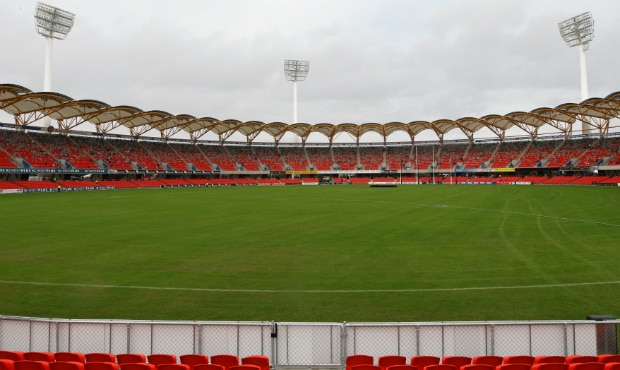 Metricon Stadium as it looks now. Picture: AFL Media