MATTHEW Kreuzer has been much maligned in recent times but three of the game's greatest ruckmen remain confident he will mature into one of the AFL's premier big men.
Kreuzer concedes there is still much scope for improvement in his game but believes consistency will only come with experience.
It's a view shared by Carlton premiership ruckmen John Nicholls, Mike Fitzpatrick and Justin Madden, who believe the finished article will be well worth the wait.
They told AFL.com.au that some allowance needs to be afforded Kreuzer for the various injury problems he has endured, and that it takes ruckmen about 100 games to establish themselves at the highest level.
Kreuzer, 24, has now played 101 games for Carlton.
However, former All Australian ruckman Luke Darcy was one of several experts to suggest the Blues should
consider trading Kreuzer to secure teenage forward prodigy Tom Boyd
.
Melbourne great Garry Lyon also criticised Kreuzer for playing "inoffensive footy" and failing to impose himself on games.
Blues coach Mick Malthouse strongly defended his man,
labelling Kreuzer and fellow No. 1 draft pick Bryce Gibbs "untouchable"
.  Malthouse has also insisted that Kreuzer has had "a very good year" and
will be Carlton's No. 1 ruckman as he long as he is coach
.
For his part, the quietly-spoken Kreuzer said recently he has
laughed off the negative commentary
, and told
AFL.com.au
this week that it hasn't provided him with any extra motivation. However, he has certainly been more prominent in his past two outings, helping the Blues to crucial wins over St Kilda and North Melbourne.
Kreuzer admits he has been "a bit up and down this season, like the team", but hopes he and the Blues can continue their momentum towards a finals berth.
He understands the need to constantly strive for improvement in all areas including - and not limited to - tap work, contested marking, forward play and kicking.
He even sees some merit in calls for him to impose himself more. ("I'm one of the bigger blokes on the field so I could probably work on that," he says).
Kreuzer also hopes to be voted into the Blues' leadership group at some stage "in the next few years" but accepts he needs to become more vocal, particularly off-field, by having more of a say in team meetings and the like.
Kreuzer's big final quarter proved the saviour in last week's one-point win over the Kangaroos.
"It would be nice to play footy like that all the time. It would also be nice to kick the goals you should kick at the end as well," he says.
He is alluding to an uncharacteristic mistake that could have cost the Blues the match. With Carlton one point in front and little more than a minute left, Kreuzer had the chance to kick the sealer, but his set shot from an acute angle 20 metres out sailed out on the full. He quickly made amends by taking a match-saving contested mark at half-back in the dying seconds.
Kreuzer's rucking forefathers are less critical, and more outwardly excited about his prospects.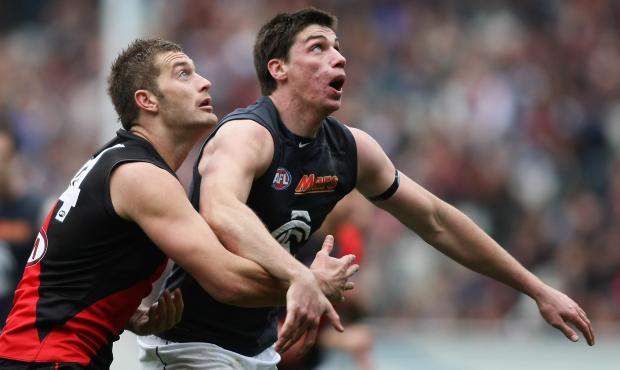 Kreuzer should become one of the game's best ruckmen, say three Blues legends. Picture: AFL Media

The triumvirate of Nicholls, Fitzpatrick and Madden played a combined 810 games, winning eight club best and fairests and eight premierships.

Nicholls – an official AFL Legend and a member of the AFL's Team of the Century – doesn't award compliments lightly, but is effusive in his praise of Kreuzer.

"As a coach, the first thing I wanted was players who were reliable, and Kreuzer is reliable," he said.

"I have complete confidence in his ability, his attitude, his work-rate; and he's got a brilliant brain for a young bloke. He'll be a very good player for Carlton for a long time. If not for injuries, he would probably be a lot better player now and I'm certain no one would be saying anything against him.

"People have said some ridiculous things about him. You won't hear opposing coaches or players talk about him like that.

"You don't trade a talent like him, especially when he hasn't reached his peak. My best years were 26, 27, 28. I'd be surprised if he wasn't one of the best ruckmen around by then.

"He's also cunning enough to be a good resting forward, and he marks with straight arms, which means he takes the ball at its maximum height."

Fitzpatrick, the AFL Commission chairman, believes Kreuzer will become "one of the dominant ruckmen in the competition".

Madden is just as excited by the next phase in Kreuzer's career.

"He's served his apprenticeship and I think in the next 30-40 games he'll really come into his own," he said.  "If he doesn't get more serious injuries he could play another 150-200 games. If that happens, he'll just keep getting better and become not only one of the best ruckmen but one of the best players in the competition."

The greats say Kreuzer's major point of difference is his exceptional ground play.

Fitzpatrick admires his "laser-like focus on winning the ball, getting to the contests and ignoring much of what is going on about him".

Nicholls says Kreuzer's "unusually good follow-up work" has the potential to become a "great weapon".

"He can do things that other ruckmen can't," Madden said. "What's underestimated is his ability to do things after he hits the ball. He doesn't just stand back and let the little fellas fight for the ball; he lays tackles and shepherds and stays in the contest. He certainly imposes himself."

"Players don't always get much credit for that work, but he would get it from his team and people who know their footy."

Ben Collins is a reporter for AFL Media. Follow him on Twitter: @AFL_BenCollins