CARLTON vice-captain Bryce Gibbs is hungry to bounce back from a 2015 season he says was one of the most challenging of his career.
In 2014, after moving into the midfield full-time, Gibbs enjoyed a career-best season, averaging nearly 25 possessions a game and kicking 18 goals to win his first Carlton best and fairest award.
However, the South Australian could not reach those same levels this year, with injury largely to blame.
After playing the first eight rounds, Gibbs missed the next two matches with a lower back/hip injury, only to cop a two-game suspension in his first game back, in round 12 against Port Adelaide, for a sling tackle on Robbie Gray.
The midfielder lasted less than three quarters upon his return against Richmond in round 15, rupturing his left pectoral muscle in an attempted tackle.
The injury required season-ending surgery, restricting Gibbs to just 10 games for the year, in which he averaged 21 possessions and kicked just four goals.
Gibbs told reporters on Wednesday that his pectoral muscle was back to full strength, but he wouldn't resume tackling and some contact drills until after Christmas as the Blues took "a conservative approach" with his rehabilitation.
But having completed all of the Blues' skills and conditioning work since returning for pre-season training last month, Gibbs is confident he can return to his best in 2016.
"(Last season) was one of my more challenging years since I've been at the club, personally and as a team," he said.
"It was the first injury I've ever had that required major surgery, so to spend an extended period on the sidelines was pretty tough for me. It was new to me and I probably didn't handle it quite as well as I thought I would.
"I had a pretty good run up until then, so I was bound to cop some sort of bad injury at some stage, but I'm glad it's all behind me now and I can move on to having a bigger 2016.
"It's hard to watch the team go the way they did last year. Sitting in the stands, all you want to do as one of the more senior players is be out there helping them.

Bryce Gibbs hits the gym in Queensland. Picture: AFL Media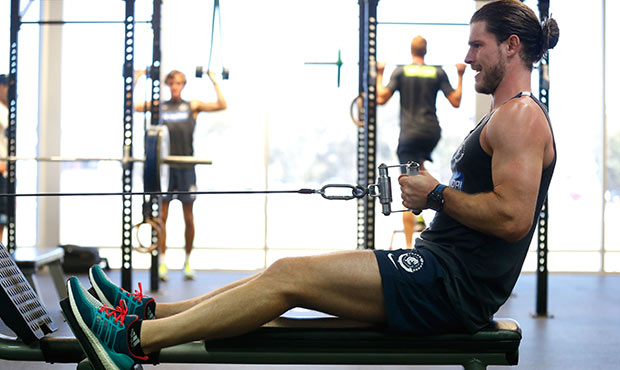 "Not being able to do that it was frustrating and definitely is going to give me some motivation leading into next year."
Speculation has raged in recent weeks that Carlton might look to replace Marc Murphy as its captain next season after new coach Brendon Bolton said he was keeping an open mind on who would fill the role in 2016.
Bolton stressed on Tuesday that Murphy's leadership qualities had impressed him in his short time at the club, but said the Blues would probably delay a decision on its 2016 leader until "a few months" after Christmas.
Gibbs threw his support behind Murphy on Wednesday, but said the Blues' entire playing list had to grow as leaders.
"The way I look at it is 'Murph' is still the captain of the footy club at the moment and he's got my full support," Gibbs said.
"We're working really hard in the leadership area as a whole throughout the club. It's something we all want to grow at, right from Murph down to the first-year draftees.
"So we're going to grow that over these sort of camps and into the New Year. (I'm) looking forward to building that over the next couple of months."

Clem Smith, Bryce Gibbs and Andrew Phillips on the beach. Picture: AFL Media