FRANCIS Watson sat on the bus for 10 hours from Halls Creek to Broome and then caught a flight to Perth, his thoughts his only company on the way to his father's funeral. If he had ever been more nervous, he can't remember it.
Check out our 2014 Indigenous Round hub
It was late in 2012 and Watson was 17, having learned days earlier his dad, Robert Phillips, had passed away. That news came from his sister Caitlin, who found Watson on Facebook and followed up her friend request with a phone call.
He was not close with Phillips - they had lived together for only a few years when he was younger and had intermittent contact since. But it was still a shock that he was gone, and so soon.
The anxiety came from a different place: what would happen when he arrived? There, Watson was to meet two of his siblings – Caitlin and brother Aranda, born of the same father but all different mothers – who he had never seen before. Her phone call was the first time they had spoken.
Watson's dad had told him of their existence many years before, and he had always wanted to meet and find out more about them, and spend time together. But he didn't think it would ever actually happen, and he found it hard getting his head around the fact it was about to.
"We had a family gathering before the funeral at Aranda's mum's house. I was kind of nervous when I first got there. I was pretty scared. It was my first time coming down," Watson told AFL.com.au.
"I got used to them, I got to know a family I didn't know I had and they're really nice people. They're really lovely, but it was a lot to take in."
Taking in what life throws up is something Watson is becoming used to, and this year promises to be no different. The high-leaping defender hopes to be picked in the 2014 NAB AFL Draft.
He played for Western Australia in the recent under-18 championships and stood out for his run, creativity and effort to make things happen. He's in draft consideration for many clubs but getting to this point hasn't been easy.
After living in Broome for a few years, as a six-year-old Watson moved to Balgo Hills, a remote indigenous community of fewer than 500 people in the Kimberley region, about 250 kilometres south of the nearest major town, Halls Creek.
He lived with one of his grandmother's sisters until he was nine, before she passed away, which saw him move in with his grandmother Nancy (from his mum's side).
In 2009, a local in Balgo Hills, Darren Perrett, convinced Watson a secondary education was a good idea, and stressed its benefits. With Perrett's help, Watson applied to attend and board at La Salle College, in the Swan Valley region of Western Australia.
He arrived with seven others from Balgo as a 13-year-old, and was the last one still there, the others returning home. It was also where his football stepped up.
"I was more of a basketballer as a kid," Watson said. "I started playing footy in the under-17s - that was my first year. At La Salle they didn't have a forward so they got me to try out for it, and wanted me to keep playing for the rest of the year."
He stayed for about three-and-a-half years, until the middle of 2012, when he had to return to Balgo for Nancy's funeral.
She was Francis' carer for most of his youth. He has only met his mum, Elizabeth Watson, a handful of times through his life, and lived with Nancy before heading to La Salle. Going back to Balgo changed his course.
He lived with his aunty for a little while after Nancy's passing but hated the idea of wasting what he had started.
"I just wanted to get out of Balgo and live somewhere else," he said.
Francis Watson was a late starter to football but hopes to be drafted. Picture: AFL Media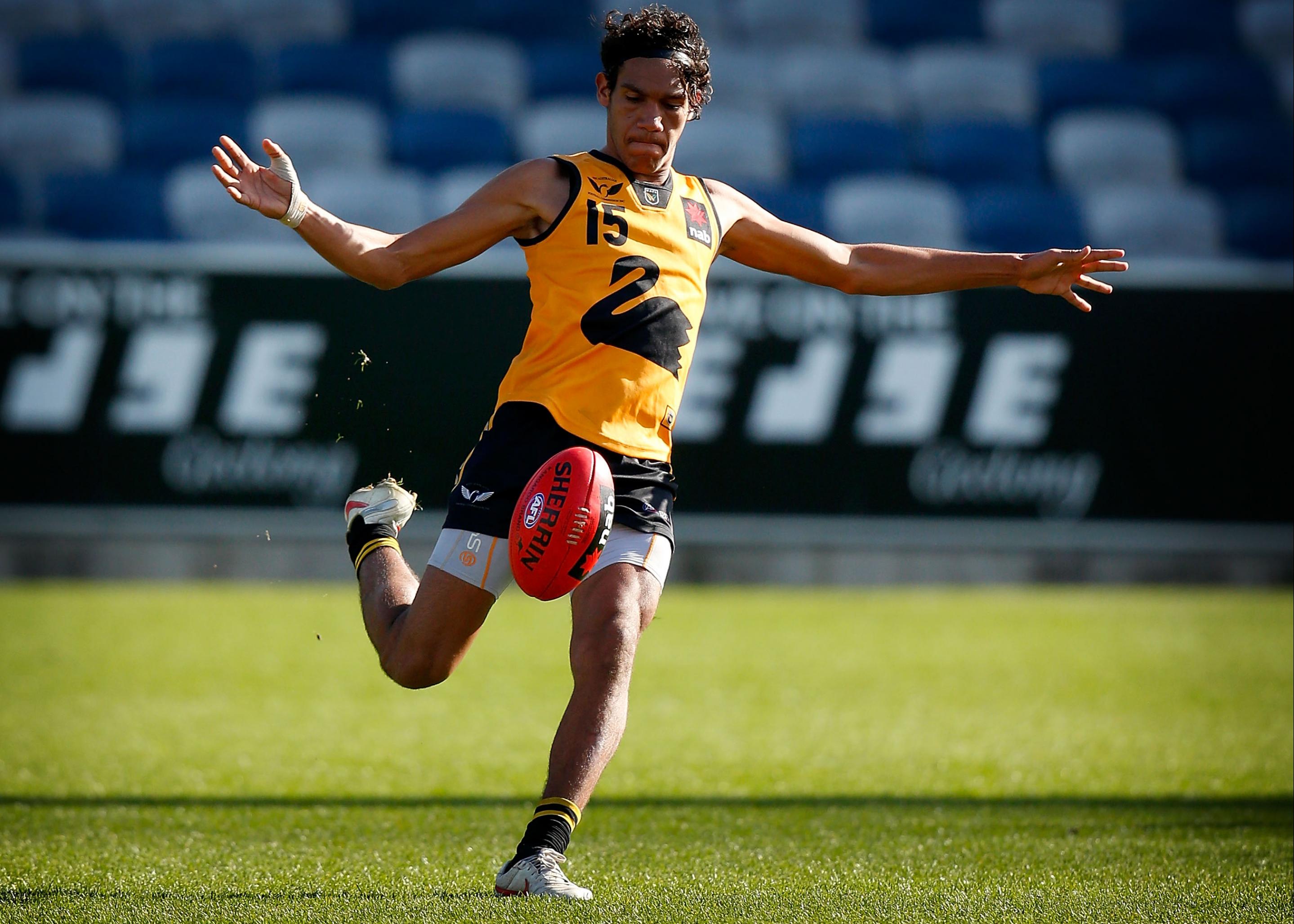 Michael Pepper, who taught Watson at La Salle but had moved to St Mary's College in Broome as principal, encouraged a move up there, and with Perrett's help, Watson made the 10-hour drive northwest of Balgo to a new school.
Again Watson boarded but only for the last two terms of year 11, before setting up a move to Clontarf Indigenous College in Perth to complete year 12 in 2013. That coincided with the death of his father, which veered Watson in another new direction.
Caitlin, seven years older than him, paid for Watson to travel to their dad's funeral, and after the gathering, he moved in with Aranda in Perth, and then spent a few weeks at Caitlin's place.
That wasn't for long, quickly shifting into a house owned by the Claremont Football Club (with some assistance from colts coach Ben Dyer) where Watson was among a group of Halls Creek players trialling for a position on the colts' list.
Watson was the only one to make it, having started a running and fitness program during his short stint at St Mary's. That done, he moved into Clontarf's boarding school at the start of last year.
"I managed to get through it with my sister's help," he said. "We've become really close. She means a lot to me now. She's helped me out a lot. It's pretty easy, it's like we've always known each other."
Some of the assistance has been football-related, like last year, when Caitlin organised for Watson to attend the state draft screening in Perth after he was stranded up north in Western Australia after a mix-up.
"She booked me a bus fare from Broome to Perth, so I caught the bus for two days to get there in time," Watson said. "I arrived the night before it started and was pretty tired."
There has been other things, like supporting Watson in making another move – this time into the Indigenous Youth Mobility Program hostel in Perth, which offers regional and remote indigenous youths work, shelter and transport.
IYMP has a connection to Clontarf, and as soon as Watson graduated he knew it was something he wanted to try. To get in, the indigenous youth must be aged between 16 and 24, supported by their family, and committed to a career pathway.
Watson met the criteria, having pushed to do work experience at Cummins engineering during his year at Clontarf and gradually spending more and more time there. He won a full-time position as a heavy-duty diesel mechanic apprentice and started this year, and has loved living at the centre.
"Life's really good," he said. "I enjoy working. The people, the new learning. I had no idea what a micrometer was, I've learned a few new tool names, I know a lot of engine part names. You learn new things every day - I'm all right at what I do now."
It's a confidence that has transferred into the 18-year-old's football. Those around Western Australia's team have noticed him talking more, to all sorts of people, and believing in himself. He was draft eligible last year but didn't get picked, which hurt, but he feels more prepared this time around.
Last season he played in the forward line, but he has moved back, and at 186cm and 80kg, he is able to use the things he is good at there. In the carnival his best game came against Vic Country in round four with 16 disposals, a goal and plenty of energy in a bad defeat.
"It's different for me this year, but I really get into it down back. I'm still getting used to it. There's different structures, set-ups, meetings, and where you position yourself," Watson said.
"I try to keep my feet, run with my teammates and protect the ball. When it's there to mark I just look at the ball, time where the player is, hopefully get it right and jump on his shoulders. It's the best feeling ever. You have to take the mark, though, or else you come down looking silly."
Watson has always strived for better, and bigger. And along the way, many people have been willing to offer a hand. When they have opened opportunities, he has taken them.
"Nobody has the resilience of Francis," says Darcy Coffey, Claremont football manager.
"He's had to do everything himself. But people are more than prepared to help him, because he's really appreciative, and really genuine. Francis is able to stick at it."
Having his new family by his side has strengthened Watson's resolve, and he also has a brother and sister based in Sydney and Melbourne, who he doesn't know yet but wants to. Watson knows he has come a long way, and when it crosses his mind, it makes him smile.
"It's been pretty hard but I'm actually happy with what I've got, with what I've been through," he said.
"I don't really think about it much, I just go with the flow and look ahead to the next day and don't expect anything from anyone. I've just wanted to keep going and not stop, because I've gotten so far."