When and where
Saturday, November 21
Croke Park, Dublin, Ireland
How can I watch?
The 2015 Virgin Australia International Rules Series will be broadcast live in Australia on Sunday morning, November 22, at the following times:
Sydney 5.30am LIVE on 7mate and the AFL app
Melbourne 5.30am LIVE on 7mate and the AFL app
Brisbane 4.30am LIVE on 7mate and the AFL app
Adelaide 5am LIVE on 7mate and the AFL app
Perth 2.30am LIVE on 7mate and the AFL app
National replay 9.30am on 7mate
Teams
AUSTRALIA
Luke Hodge (c) (Hawthorn), Dustin Fletcher (gk) (Essendon), Hayden Ballantyne (Fremantle), Eddie Betts (Adelaide), Grant Birchall (Hawthorn), Luke Breust (Hawthorn), Patrick Dangerfield (Geelong), Andrew Gaff (West Coast), Brendon Goddard (Essendon), Robbie Gray (Port Adelaide), Dyson Heppell (Essendon), Sam Mitchell (Hawthorn), Leigh Montagna (St Kilda), David Mundy (Fremantle), Robert Murphy (Western Bulldogs), Nick Riewoldt (St Kilda), Tom Rockliff (Brisbane Lions), Jarryd Roughead (Hawthorn), Nick Smith (Sydney Swans), Jake Stringer (Western Bulldogs), Harry Taylor (Geelong), Easton Wood (Western Bulldogs)
Coach: Alastair Clarkson (Hawthorn)
IRELAND
Bernard Brogan (c) (Dublin), Lee Keegan (vc) (Mayo), Niall Morgan (gk) (Tyrone), Colm Begley (Laois), Gary Brennan (Clare), Eoin Cadogan (Cork), Mattie Donnelly (Tyrone), Eoin Doyle (Kildare), Peter Harte (Tyrone), Darren Hughes (Monaghan), Paul Kerrigan (Cork), Jack McCaffrey (Dublin), Ciaran McDonald (Tipperary), Phillip McMahon (Dublin), Conor McManus (Monaghan), Rory O'Carroll (Dublin), John O'Loughlin (Laois), Aidan O'Shea (Mayo), Michael Quinn (Longford), Donnchadh Walsh (Kerry), Diarmuid Connolly (Dublin), Paul Cribbin (Kildare), Paddy McBrearty (Donegal)
Coach: Joe Kernan (Armagh)
IRS broadcast guide: Live times and replays on AFL app, 7mate and Fox Footy
Ireland's Colm Boyle evades Australia's Chad Wingard in 2014. Picture: AFL Media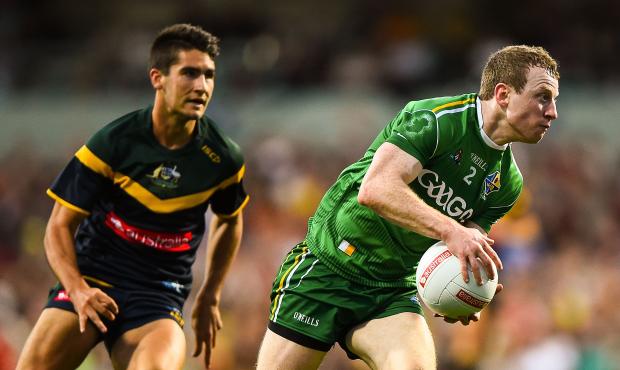 How each country picks its team
AUSTRALIA
Hawthorn's four-time premiership coach Alastair Clarkson takes charge of the Aussies for the second straight time following last year's convincing win in Perth. Australia has retained the selection policy that helped it win last year's Test, selecting only players who have received All Australian honours during their careers. Dustin Fletcher passed a fitness test in September to contest in his fifth IR series, while 14 members of the successful 2014 team are back again. Chad Wingard was a late withdrawal with a knee injury, replaced by Hayden Ballantyne.
IRELAND
After the traditional two-year stint for former manager Paul Earley, the GAA opted for All-Ireland winning Armagh manager Joe Kernan to lead the Irish. Kernan spoke of his desire to emphasise the skills component when announcing the team on November 11. A total of 12 counties from all four provinces are represented in the team, led by three-time All-Ireland winning forward Bernard Brogan. For the first time since 2005 though, Ireland has decided to not select AFL players, meaning the likes of Brisbane Lion Pearce Hanley and Carlton's Zach Tuohy will be watching from afar.

The game in a nutshell
The International Rules game is 15-a-side with eight interchange players. It is played in four 18-minute quarters. A soccer-style goal is set up at either end, each manned by a goalkeeper, with goal posts on top and behind posts to each side. A goal (worth six points) is scored when the ball is kicked or knocked into the net. Sending the ball over the crossbar and between the goalposts is an 'over', worth three points, while a behind is just like Australian football – worth one point and kicked between the goal and point posts. Here's a snapshot of the rules:
• If the ball hits a post and bounces back into play, it's play on.
• When the ball goes out of the rectangular field (145m x 90m), there are no boundary throw-ins. A free kick is awarded against the team that last touched the ball.
• You can't pick up the ball or drag it in when you're on your knees
• The ball must be bounced every 10m on a solo run – with a two-bounce maximum.
• Tackles can only be between the thighs and shoulders, while shirtfronts and shepherds are outlawed.
• AFL-style handpasses are permitted, but only four in succession before a player must kick.
• The referee is also permitted to give yellow cards (10 minutes off the ground) or red cards (sent off for the rest of the game) depending on the extent of a misdemeanour.
Joel Selwood and Alastair Clarkson with the Cormac Macanallen Trophy. Picture: AFL Media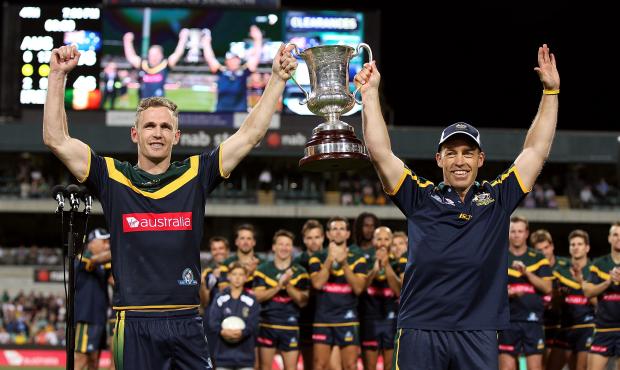 History
Since the concept first began in 1984, the countries can barely be split. The overall tally stands at nine series wins apiece, but Ireland has won 20 Tests to 17 with two draws. At Croke Park, the Aussies have their noses in front, winning nine Tests to six, with a draw in 2002.
Odds
CrownBet has Australia as firm favourites, listing it at $1.40 head-to-head against Ireland's $3. If you're looking for a little more value, you can have 8.5 points at the line, paying $1.85 each.
From New York to Ireland: The International Rules diaries

Three talking points
WHO WILL HANDLE THE ROUND BALL BETTER?
For years the Irish had a leg-up here, having used the round ball their entire lives. However, in the past two series, the Aussies have shown themselves to be quite adept at kicking in the 'around-the-corner' style, hitting targets and kicking accurately around goal. With so many players back for another series, you'd expect them to improve again. But the Irish know they've been poor here in recent years, with this team picked specifically for its skills.
WILL IRELAND LEARN FROM LAST YEAR?
In the one-off match at Patersons Stadium, the Australians were prepared to sit back and let Ireland come at them. Once the Irish moved the ball from their back half, Australia would quickly flood back and pressure any ball coming into the forward line, creating a plethora of turnovers through their urgency. Ireland kicked the ball straight into the Aussies' net – something they'll need to avoid to have sustained success.
CAN AUSTRALIA'S SMALL FORWARDS CAUSE HAVOC?
Last year it was the elite midfielders in Luke Hodge, Sam Mitchell and Jobe Watson who ran rings around their opponents. This year there's Eddie Betts and Hayden Ballantyne to join Port Adelaide returnee Robbie Gray in attack. These fleet-footed, pressuring ball-winners seem made for the hybrid game and if they can adapt to the round ball, they could create havoc for their Irish counterparts.