INJURY-PLAGUED Magpie Ben Reid has suffered another setback that is likely to end his season and potentially also his career.
The veteran key-position player, who is out of contract at season's end, had been closing in on a return after missing three games with a calf issue when he sustained a hamstring injury at the weekend.
With just five rounds left before the finals, the 30-year-old faces a race against time to play again this season.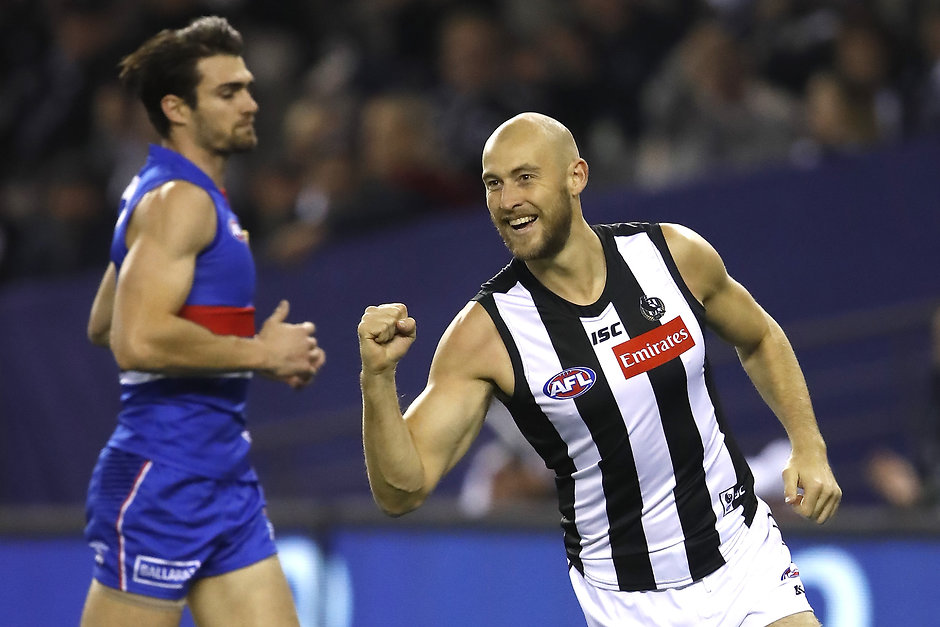 On Tuesday, Collingwood coach Nathan Buckley confirmed a "desperate" Reid had "nicked" a hamstring, which he lamented was "terrible news" for the big left-footer.
A premiership player in 2010 and the All Australian centre half-back the next year, Reid has played 149 games in 13 seasons in a career cruelled by soft-tissue problems.
Buckley expected his latest mishap would "really knock him around".
BARRETT Get ready for the biggest game of the year
"He's actually been able to do more work this year and through this pre-season than he has for a number of years," Buckley told SEN radio.
"'Reidy' was desperate. He got some really good looks and some good opportunities at senior level and showed he still had the capacity.
"He loves the game and he loves being a part of it, so to have been as chronically injured as he has over a number of years and then to have this occur, it's not tragic in that there's far worse things that can happen in life, but I really feel for Reidy.
"He invests a lot into his profession and he cares a lot for it, we care a lot for him. So this one's going to really knock him around.
MATCH PREVIEW Collingwood v Richmond
"We'll have to sit down and assess what that means for the rest of this year. Whether he's got the time to come back. I think he'll look to do that, clearly, but we'll need to go a fair way for that to happen …
"We'll look after Reidy."
Find In the Game on Apple Podcasts, Google Podcasts or Spotify
This latest disappointment comes after Collingwood announced on Monday that defender Tom Langdon would likely miss the rest of the season after undergoing knee surgery. James Aish (shoulder) has also been sidelined, adding to a casualty list that also includes fellow backmen Levi Greenwood (hamstring), Darcy Moore (hamstring) and John Noble (calf).
In better news, small forward Jamie Elliott (soreness) and runner Chris Mayne (knee) remain in the frame to face Richmond in the battle for fourth spot at the MCG on Friday night.
Buckley said veteran midfielder Daniel Wells (knee) hadn't given up hope of making a late-season return.
"He has good sessions and he has sessions that aren't quite what we hoped for. He's still battling away. You're not going to give up a potential opportunity for a fairytale," he said.
The Magpies have lost three of their past four games and, most concerningly, were belted by both North Melbourne (44 points) and Greater Western Sydney (47 points).
Asked if he was alarmed by his team's slump, Buckley replied: "No, not at all. We're two games off top."
FANTASY FORM WATCH Is there a new Pig in the pen?
The Collingwood coach also leapt to the defence of suspended Pies youngster Jaidyn Stephenson, who has been criticised for posting photos on social media of a family holiday in Queensland.

"How dare he be human," Buckley mused, before explaining Stephenson's break had been approved by the club as the 20-year-old served a 12-week betting-related ban that will expire at the end of the minor rounds.
"He has had a really strong four-week block where pretty much he is the best trainer on the track because he's tipping in to the club's endeavours the best way that he possibly can, given the circumstances.
"(The plan) was to spend a week away with his family to recharge and then to come back for another month of a heavy training block to prepare him for whatever is beyond that.
"The young fella has been exemplary in the way that he has handled himself. I don't know how many times I have to say that."