RICHMOND life member Maureen Hafey – the widow of four-time Richmond premiership coach and Tiger Immortal Tom Hafey – will present the premiership cup to the Tigers at the MCG on Saturday if they win the club's second premiership in three years.
Should GWS claim its maiden premiership, the club's inaugural coach, Kevin Sheedy, will hand over the premiership cup to the Giants.
Maureen Hafey on Tuesday in front of the Tigers' Team of the Century portrait, featuring her late husband Tom. Picture: AFL Photos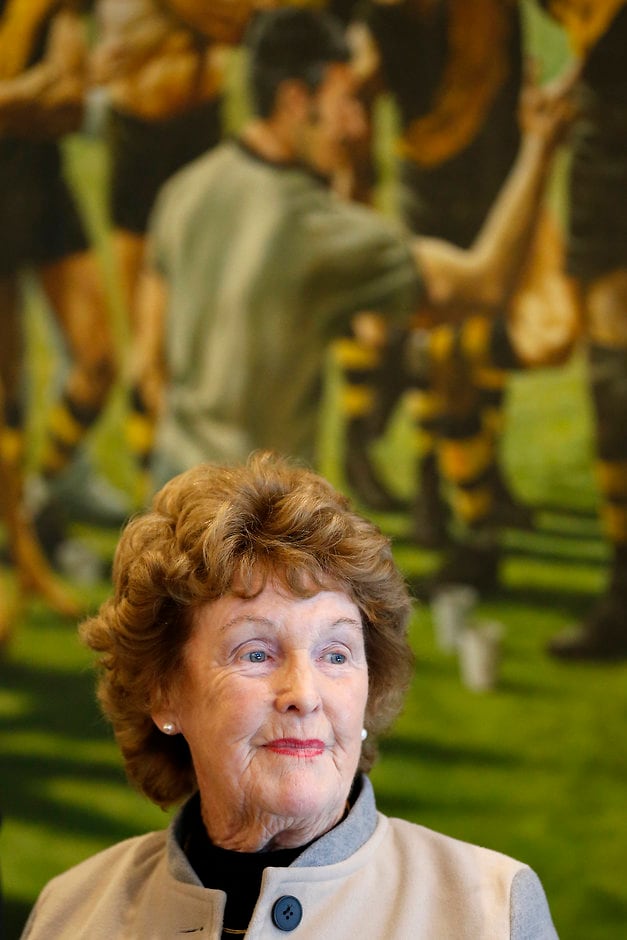 Hafey was awarded life membership of the Tigers in 2015 for the wonderful contribution she had made to the club over many decades.
She was a pillar of support to numerous Richmond families, players, coaches, officials and staff.
Her extensive volunteer work included her involvement in organising Richmond's first women's supporter group, 'Hafey's Ambush'.
During her life membership acceptance speech in 2015, Hafey outlined why the Richmond Football Club meant so much to her.
"The football club's been a very special part of my life . . . I was 21 and Tommy was 23 when we came here and, wow, what a journey we had," Hafey said.
"I still call all those players who played under Tommy, my boys.
"We became a family – a football family, I always used to say.
"Richmond Football Club, this great club, has been a big part of my life.
"It has been a great journey and a great love."
Sheedy has been involved with the Giants from their infancy, accepting a three-year contract in November 2009 for what was then known as Team GWS.
The Essendon and Richmond great then coached the Giants in their first two seasons in the AFL in 2012-13 before handing over the reins to Leon Cameron for the 2014 season.
Sheedy has worked tirelessly as a football pioneer and has always seen the benefits of spreading the game into new territories.