THE BRASHNESS Clayton Oliver plays with has been a trademark of what has been an incredible breakout second season at AFL level for Melbourne.
However, the fiery personality that serves the emerging midfielder so well out in the middle of the MCG, has sometimes spilled over into into his off-field world.
There was the social media scorn when Oliver was accused of staging after an on-field clash with Eagle Will Schofield in round 14, with the 20-year-old biting back to comments from fans via his Twitter account.
That led to the run-in with former Australian cricketer Damien Martyn on Twitter, who asked whether he was "watching soccer" as if to insinuate Oliver took a dive. The Demon midfielder tweeted Martyn back with a YouTube clip of him being dismissed against South Africa in 1994.
Then there was the verbal stoush and the alleged threat he delivered to a Carlton fan hanging over the fence during the clubs' clash at the MCG in round 16, leading to Oliver issuing a public apology.
But how much has the commentary affected him?
"I deleted most of my social media so I don't have to worry about it too much now," Oliver told AFL.com.au.
"Things don't get to me too easily. I just want to move on. There's no point dwelling on it or anything.
"I just go out there and play like I usually do and let my actions do the talking."
Knowing the time and place to produce that aggressive demenaour has been a learning experience for the 20-year-old and Melbourne continues to work with Oliver on educating him about how he carries himself on and off the field.
"It comes with a level of maturity, understanding and time in the spotlight," midfield coach Ben Mathews said.
"We want 'Clarry' to understand that you don't really need to put extra pressure on yourself. There's no point in giving people fodder or ammunition to have a go at you.
"Over time we've got no doubt he'll learn the balance of when to stand up for himself and when to maintain a level attitude."
Eagles defender Will Schofield has been reported for this incident involving Clayton Oliver. #AFLEaglesDees pic.twitter.com/vpDFZHbAFJ

— AFL (@AFL) June 24, 2017
The public criticism aside, Mathews said Oliver had exceeded all expectations of the club's coaching staff in just his second season in the League.
The No.4 pick in the 2015 NAB AFL Draft has won 30 disposals in a game 10 times, he's ranked first in the AFL for groundball gets (12.8 per game), first for total handballs (438), second for total contested possessions (316) and fifth for total clearances (134).
They are numbers that have the red-haired clearance king in contention for this year's Virgin Australia All Australian Team and a possible first best and fairest award with the Dees.
"I've been blown away by his consistency of impact, no doubt," Mathews said.
"What most teams find is that young players have drop-offs in games and certain sections of the season, but to his credit Clayton hasn't experienced that at all.
"We're really proud of his consistency and that comes back to him in how he prepares and goes about his football."
Clayton Oliver wraps up Jack Silvagni in a strong tackle. Picture: AFL Photos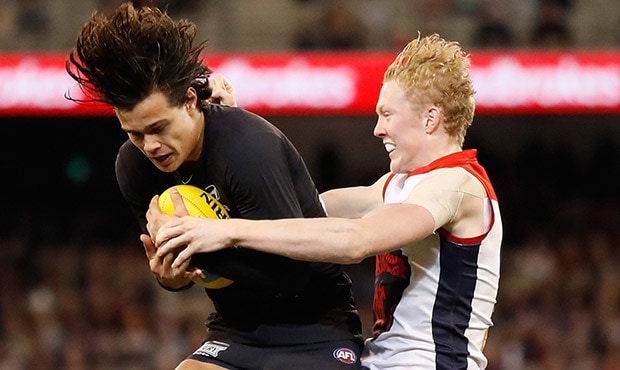 After a wake-up call in the pre-season where he turned up out of shape, Oliver has made a quantum leap and improved his diet and work habits significantly, so much so that he has become one of the most professional players at the Demons.
"It's an everyday thing now," Oliver said of his new-found professionalism.
Mathews said Oliver often approached him on a Monday or Tuesday asking to go over his individual video edits from the weekend's game, as well as taking more responsibility for how the team structures up at stoppages.
That "want to get better" and an uncanny knack for finding the football makes Oliver one of the AFL's most prodigious talents, according to Mathews.
"His cleanness in the contest under pressure and his ability to get his hands free and give a handball off is almost unseen in a young player," Mathews said.
There have been some commentators that have been critical of the midfielder's kick-to-handball ratio, with Oliver racking up 161 kicks and 438 handballs across the season.
Mathews said that skewed ratio does not tell the full story, but he admitted there were times where the Demons urged Oliver to get his ball to boot more rather than over-possess the footy.
With Melbourne on the cusp of its first finals appearance in 11 years, Oliver said he understood the importance of closing out the home and away season on a high note.
Melbourne can book its spot in September with wins over the Brisbane Lions at the MCG on Sunday and Collingwood in the final round.
"There's players who have been around for a long time like Nathan Jones and even Gawny (Max Gawn) has been around for a while, who haven't experienced that success," Oliver said.
"Nathan played finals footy in his first year, but hasn't played any since. It would be good for Nathan, the rest of the older boys and especially for the fans as well if we were to play finals. It would be an unreal experience."