WHEN a player reaches the ripe old age of 30, he inevitably comes under scrutiny from fans and from his club's list manager. Is he still contributing enough justify his spot on the list?
AFL.com.au reporters take a look at every club and every player who will be over 30 at the start of next season, and make the call on whether he should stay or go.
The premiership window is well and truly open for the Crows, so expect them to keep their veterans on the list for as long as possible to get them over the line. Adelaide could be in the market for mature recruits to bolster its already high-quality list.
Eddie Betts
The electric small forward, who turns 30 in November, has another year to run on the four-year deal he signed with the Crows at the end of 2013. Betts is in terrific form, having kicked 41 goals in the opening 15 games of the season, and shows no sign of slowing down. STAY
Scott Thompson
The 33-year-old inside midfielder continues to front up each and every week ahead of his 300th game this weekend against Collingwood. Thompson has indicated he wants to play on next season, but no deal has been finalised yet. STAY
Nathan van Berlo
The former captain has played just three games in the seniors this season through a combination of selection and injury. The 30-year-old has fallen down the pecking order behind some of his younger teammates and he's unlikely to be offered a new contract. GO - Lee Gaskin
The club's mantra has been about getting younger, rebuilding and letting the kids come through. Already the youngest list in the competition, the Lions have only seven players aged 27 or older, so there's not many decisions to make in the 30-plus bracket.
Stefan Martin
The athletic ruckman has played every game this season, but reached nowhere near the heights of his 2014-15 form. He turns 30 in November and, in the first year of a four-year deal, will be around for a long time yet. STAY
Daniel Merrett
The 12th season for the veteran full-back should be his last. Has played 13 games, but regularly leaked bags of goals to his opponents – not always his own fault. Is due to play his 200th game in round 22 against Geelong at the Gabba, which would be a fitting farewell for one of the most popular Lions, who turns 32 in December. GO - Michael Whiting
The Blues made wholesale changes to their list at the end of last year and there is more to come this year, despite making some progress early in the season. Coach Brendon Bolton has signalled the Blues will put their faith in youngsters.
Dennis Armfield
The fan favourite, who turns 30 in December and becomes an unrestricted free agent this year, has performed consistently as a small forward who has improved his conversion. STAY
Michael Jamison
Jamison, 30, was struggling for form before becoming ill almost two months ago. Reached the 150-game milestone in round eight and is contracted until the end of next season, but much depends on his state of mind. GO
Kade Simpson
The vice-captain, who becomes an unrestricted free agent this year, should play on. Simpson, 32, has been a mainstay of the Carlton defence and shown great leadership. STAY
Andrew Walker
In a similar situation to Jamison, being contracted until the end of next season. Walker, 30, reached a career milestone (200 games) in round 15 but has struggled for form recently and fitness with an ongoing knee problem. GO - Howard Kotton
Andrew Walker and Kade Simpson are two of Carlton's older brigade. Picture: AFL Media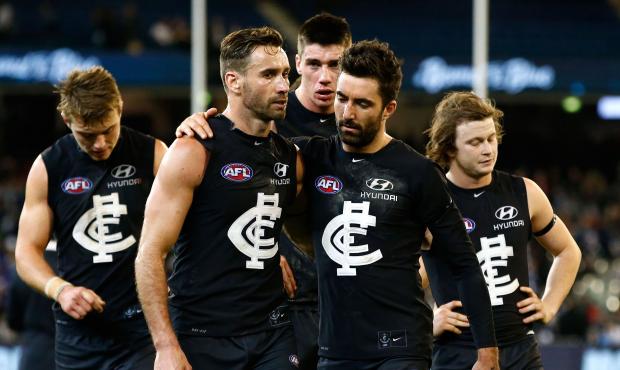 The Magpies boast just one over-30 player – injured champion Dane Swan, whose future remains up in the air – but a handful of 2010 premiership players in their late 20s also appear vulnerable. Travis Cloke, Tyson Goldsack and Alan Toovey are all 29, while Brent Macaffer, 28, and Nathan Brown, 27, could also be moved on, possibly creating one of the AFL's youngest lists.
Dane Swan
The Pies want him to play on next year, or attempt to, but a few factors are weighing against that happening, namely the magnitude of his season-ending foot injury, the fact he'll be 33 before the 2017 season even starts, and the club being seemingly well off premiership pace. GO - Ben Collins
The Bombers face some different list management decisions to other clubs in regards to their senior players given there is still some doubt about whether all of their suspended players will return. The vast majority of their listed top-up players aged 30 and above will retire, while Adam Cooney and Brendon Goddard remain unsigned for next season.
Adam Cooney
The Brownlow medallist is coming to the end of a two-year deal with Essendon after crossing from the Western Bulldogs. He has improved his form markedly since last season, but has said he will wait until the end of the year before making a call on whether to go on. Cooney turns 31 in October. GO
Brendon Goddard
Essendon's stand-in captain this season continues to be an important member of the Bombers' line-up. The 31-year-old is in contract talks to play on at the club beyond this season, with his 300th AFL game in sight next season. STAY
James Gwilt
Gwilt, who turns 30 in August, has been serviceable in his two seasons at Essendon since crossing to the Bombers at the end of 2014. The former Saints defender has added valuable experience, particularly this season, to the Bombers' backline and it will be interesting to see if he is offered another contract once his one-year deal expires at the end of this season. GO
Brent Stanton
Stanton, 30, is one of six suspended Bombers who are yet to make their intentions clear for 2017 once the WADA bans end. The midfielder has a contract offer from the club, but is still weighing up whether to return to football after the mental strain of the past four years. STAY
Jobe Watson
Watson is working overseas and still deciding whether he returns to football next season once his anti-doping suspension ends. The captain, 31, is contracted but has admitted the past four seasons has drained his enthusiasm for the game at stages. If he wants to come back, it will be a major boost for the club. STAY - Callum Twomey
The Dockers have declared their hand. They are going to the draft with a significant rebuild in mind. But the majority of the 30-plus players appear likely to stay to help integrate the youth in the short-term.
Zac Dawson
Ross Lyon's trusted key defender is contracted until the end of 2017. The Dockers are developing Sam Collins and Alex Pearce, and given where they want to go it would seem strange to keep the 30-year-old, but they may need insurance given the brittleness of Pearce's body. STAY
Jon Griffin
The 30-year-old signed a contract extension last year until the end of 2017. He's had an indifferent year after fighting his way back into the side late last year but he has to remain given Zac Clarke and Jack Hannath have really struggled to develop. STAY
Michael Johnson
The All Australian defender missed nine games last year with a significant hamstring injury and has only played four this season following another hamstring/knee injury in round five. The 31-year-old is contracted for next year and the Dockers are tailoring his recovery towards next season. STAY
David Mundy
The skipper is still one of the Dockers' most important players and remains a vital cog in the midfield. He will turn 31 this month and should pass 250 games this year. But he could play 300 on current form. STAY
Tendai Mzungu
The mature-age recruit reached the highly coveted 100-game milestone earlier this year but he is unlikely to play too many more for Fremantle. Mzungu, 30, has been a loyal servant but he has slogged away in the WAFL for most of the year before suffering a hamstring injury just recently. GO
Matthew Pavlich
The Dockers' greatest player is set to reach the 350-game milestone soon and should also pass 700 goals. He will retire at the end of the year at 34 and is a lock for the Australian Football Hall of Fame. GO
Danyle Pearce
He signed a two-year contract extension to remain at Fremantle until the end of 2018 when the Dockers were 0-7. The Dockers clearly see the 30-year-old's experience as very important during their rebuild. STAY
Aaron Sandilands
He suffered a serious rib and lung injury in round three. At 33, there were concerns about his future, but he is racing to get back this year and signed a one-year extension during the recovery process. STAY - Alex Malcolm
Geelong has made the hard calls in recent years with several of its premiership stars playing on elsewhere after being delisted by the Cats. However, the current crop have held their spots on merit and without elite defenders pushing through quickly, the Cats would be better served allowing the remaining players over 30 to make their own decisions on whether they play on.
Jimmy Bartel
Was in strong form in the middle of the season, either drifting down back or finding space on the wing. Still hard and tough, the 32-year-old is able to stand up in big moments. Although he sometimes runs his own race on the field, the Cats should offer him the chance to go on. STAY
Corey Enright
Everyone expected this would be the 34-year-old champion's last season but he has defied age by being among the Cats' best all season. The club will talk to him about 2017 this month as he becomes the club's games record holder but he will be allowed to make the call. Otherwise he's a potential coach. STAY
Tom Lonergan
With no obvious replacement and still able to do big jobs on good players (e.g. Lance Franklin) the Cats should be in no rush to move the 32-year-old on. Out of contract at year's end, he is understood to want to play on and will be a good role model for promising defender Ryan Gardner. STAY
Andrew Mackie
Has another year on his contract to run and still fills his role as he has for close to 10 years. The 31-year-old will be a good mentor for Jackson Thurlow when he returns next season, and has not lost his touch. STAY
Harry Taylor
The youngest of the veterans has just passed 30 but he was in good form in the first half of the season after an indifferent 2015. He is a strong intercept mark who relies on a good midfield to be at his best. He is contracted until the end of 2018. STAY - Peter Ryan
Defender Harry Taylor has two years remaining on his contract. Picture: AFL Media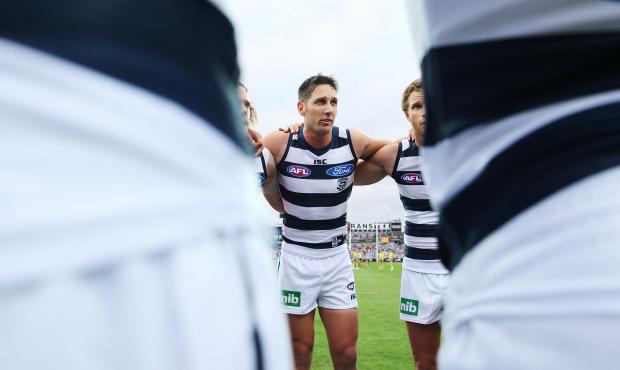 Generally a young team, but the Suns have added a smattering of experience over recent seasons. Still among their most influential players, the older guys are crucial if the Suns are to jump up the ladder in 2017.
Gary Ablett
Now 32, the Suns champion was in the midst of an excellent season before Saturday's shoulder injury. Still has two years on his contract and plenty of good football ahead. STAY
Nick Malceski
After a disappointing first season in Suns colours, Malceski has approached something closer to his best in 15 games this season. About to turn 32, he is comfortably holding his half-back spot and has another year to run on his contract. STAY
Michael Rischitelli
Shattering news at the weekend with the 30-year-old rupturing his ACL. The heart and soul of the club, Rischitelli is contracted for 2017 and will be determined to make it back on the field. STAY
Matt Rosa
Recruited to help the Suns' leadership, Rosa has been excellent in his 10 games on the wing. Two hamstring injuries have stifled his continuity, but Rosa – who turns 30 in November – fills a spot in which the Suns lack depth. STAY - Michael Whiting
Salary cap pressure and securing enough points for the academy draft picks will force the Giants to make some tough decisions at the end of the season, but most of their veterans won't be affected.
Ryan Griffen
Back and hamstring injuries have limited Griffen to eight games this season, but his contested ball-winning ability and experience is still vital in the GWS midfield. Turns 30 in July, and is contracted until the end of 2018. STAY
Steve Johnson
The three-time premiership Cat, 33 in July, is already in talks about extending his playing career in Sydney to a second season, and has been a brilliant recruit for GWS, booting 29 goals from 14 games this year. STAY
Shane Mumford
Shrugged off concerns over his surgically repaired ankle with great form this year and recently signed a new deal tying him to the club until the end of 2018. Mumford, 30 in July, is still one of the club's most important players thanks to his competitiveness and physicality in the ruck. STAY
Joel Patfull
The veteran defender, 31, has been solid in 13 games this season but will struggle to hold his place once youngsters Aidan Corr and Caleb Marchbank return from injury before the finals. Out of contract at the end of the season. GO
Heath Shaw
The reigning best and fairest, 30, will go close to winning a second successive Kevin Sheedy Medal after another outstanding year in defence, and his leadership and drive has been fantastic for GWS. Contracted until the end of 2018. STAY - Adam Curley
As long as the over-30s are contributing at Hawthorn, the club will continue to dole out the one-year contracts. The genius of Alastair Clarkson is that he continues to coax great football out of his veterans while injecting fresh young talent into the side.
Sam Mitchell
Already locked in. Mitchell has been given another one-year contract for next season, and why not? He turns 34 after the season but is still averaging 29.5 disposals and 5.7 clearances a game. STAY
Shaun Burgoyne
Burgoyne is still Hawthorn's 'break glass in case of emergency' player', there for the key clearance, crunching tackle or steadying goal. He also turns 34 in the off-season and his future depends on how he and the team finish off the season. So far, so good. STAY
Josh Gibson
An integral part of the Hawthorn's 'team' defence with his spoiling and releasing, Gibson has missed just the one game so far this year. His preparation and professionalism is legendary at Hawthorn and he seems good to go again, despite turning 33 ahead of round one, 2017. STAY
Luke Hodge
The inspirational skipper has had his injury concerns this year – but both the wrist and the knee injuries were sustained through contact, not wear and tear. Has been outstanding in his two games since returning. Hodge, who turned 32 in June, will make the call when he's ready but he appears set to continue. STAY
Jordan Lewis
Was almost dropped after the GWS debacle in round six, but the proverbial kick up the backside that followed had the desired effect and the 30-year-old has been among the Hawks' best nearly every week since. He leads the club in clearances and stoppages. Is contracted through 2017. STAY
Coach-in-waiting Simon Goodwin is inheriting a deeply talented and much improved list that has been pruned significantly during Paul Roos' three-year reign at the club. With a strong nucleus of young players, the Demons appear on track to push for finals from 2017.
Bernie Vince
Vince is the oldest player on Melbourne's list, turning 31 at the start of October. The reigning best and fairest winner's future is already secure, having signed with the Demons until the end of 2017. With the footy he is producing, there should be no reason why he can't keep playing beyond that. STAY
Heritier Lumumba
Lumumba has had a difficult season dealing with the effects of two concussions, which have restricted him to just five games. The defender, who turns 30 in November, signed a three-year deal when he joined the Demons at the start of last season, meaning he has another year to run on his contract. STAY - Ben Guthrie
How deep the Kangaroos push into finals could be decisive when the time comes to make some tough calls on champion players. If the Roos believe they'll be a flag chance in 2017, they could extend one-year deals to Drew Petrie and Nick Dal Santo, but an early finals exit might lead to several retirements.
Nick Dal Santo
The former Saint has been an outstanding servant in his three years at Arden Street and deserves to go out on his terms. The out-of-contract 32-year-old's skills are as sharp as ever but his body appears to be slowing down. GO
Michael Firrito
Still playing solid footy after signing a one-year deal for this season but it feels like the right time to hang them up after one last crack at finals. The 32-year-old defender has long been the subject of retirement talk and won't have left anything in the tank. GO
Sam Gibson
Notched 100 consecutive games since his debut last Sunday against the Eagles and his run is crucial for the Roos' midfield. Only just turned 30 and will still be in the best 22 next season. STAY
Brent Harvey
Remains one of North's most dangerous players as he edges towards the all-time games record. Harvey, who turns 39 next May, still breaks the lines, make good decisions and hits the scoreboard (25 goals this season) like few other Roos can. STAY
Drew Petrie
Wants to play on but his form has tailed off after an impressive 2015. With the next generation of Roos key forwards pushing up, it appears to be the right time for North to look to the future, with Petrie turning 34 in October. GO
Drew Petrie wants to go again, but the time may be right to look to youth. Picture: AFL Media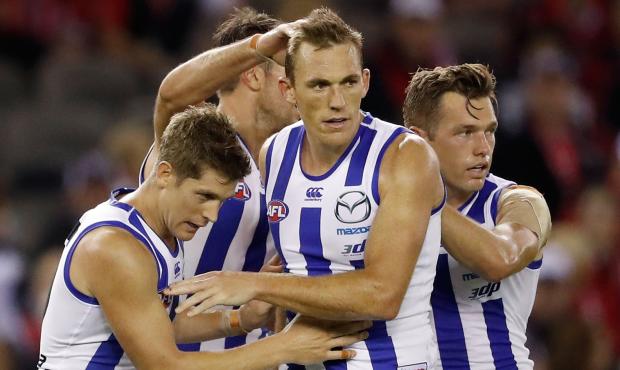 Farren Ray
Was worth a punt in the rookie draft and has been handy when called upon, however the Roos have some promising midfielders in the VFL and it's difficult to see Ray, 30, receiving as many opportunities next year. GO
Scott Thompson
Still takes one of the opposition's most dangerous forwards – tall or small – and his intercept marking is valuable. Only turned 30 recently and has plenty more to offer, not least experience, to North's backline. STAY
Jarrad Waite
Was pushing into All Australian contention before succumbing to a lingering hip issue. Hasn't lost his athleticism or vice-like marking and, although he's turning 34 in February, will surely be offered a new deal for next season. STAY
Daniel Wells
Sunday's loss to West Coast highlighted just how much the Roos miss the fragile 30-year-old's class and poise. Among the Roos' top handful of players and will most likely push for a two-year contract extension. STAY - Travis King
With a number of players locked away on long-term deals, it's difficult for the Power to radically change its list too much without going crazy at the trade table. Instead, they will keep faith with those who they have, along with getting the suspended Patrick Ryder and Angus Monfries back next season.
Jay Schulz
The 31-year-old forward looks to be on the outer, having kicked three goals in as many games after missing the start of the season with back surgery. Schulz rejected a two-year contract last year before being forced to sign a one-year deal. GO
Justin Westhoff
Turning 30 in October, Westhoff has another year to run on his contract. He provides great versatility in either attack or defence. His experience is vital to an otherwise youthful Power back six. STAY - Lee Gaskin
The Tigers clearly have their eyes on the future after conceding they can't play finals and that spells danger for the over-30s. Richmond has been happy to keep much of its list out-of-contract well into the second half of the season, and some popular Tigers are set to make way for fresh blood.
Troy Chaplin
The key defender is coming to the end of a four-year deal in which he has given great service, but the 30-year-old's output has dropped this season, playing eight games (the most recent in round 11). The Tigers have their eyes on the future down back. GO
Ivan Maric
A workhorse ruckman, the 30-year-old has put his body through a lot in 11 seasons and it has caught up with him in 2016, managing just three games and only one since round six. The vice-captain has mostly found himself in the VFL when not injured. GO - Nathan Schmook
The Saints have done well to lessen their reliance on the older players but the over-30s continue to perform at a high level. Their leadership and experience is vital in helping to guide the younger players.
Sean Dempster
Knee surgery forced him out for three matches but the 32-year-old remains a crucial part of the back six. Out of contract at season's end but barring any further missed games, the club will likely seek to secure his services for another year. STAY
Sam Fisher
The 34-year-old has performed well as an undersized key defender when he has been on the park, but a persistent hamstring injury has kept him on the sidelines in recent times. With Jake Carlisle available next year, Fisher will likely be pushed out. GO
Sam Gilbert
Contracted for 2017, Gilbert turns 30 in August and his versatility has been crucial for Alan Richardson. He's been forced to line up on tall forwards due to injuries in defence, but the midfield is where Gilbert can contribute most to the team. STAY
Leigh Montagna
Signed on for 2017, the 32-year-old has added run and kicking skills to St Kilda's half-back line. Still one of his team's best. STAY
Nick Riewoldt
The 33-year-old is contracted for next season and a move to the wing sees him in All Australian contention. Seems likely to drop the captaincy though. STAY - Dinny Navaratnam
The Swans have a wealth of young players on their list already having an impact at senior level, and there's plenty more in the reserves waiting for their opportunity. Just like they did last year, expect at least a couple of the club's veterans to exit the game.
Heath Grundy
The key defender, 30, has had another fantastic season after finishing fourth in the best fairest last year, and should be in All Australian contention. Contracted until the end of 2017. STAY
Ben McGlynn
The midfielder was dropped last week and has struggled for consistency after a horror 2015. Out of contract at the end of the season, turns 31 in August, and will battle to keep younger players at bay. GO
Jarrad McVeigh
The co-captain, 31, has overcome a delayed start to the year after off-season knee surgery and has been exceptional across half-back over the past month. Deal expires at the end of 2017. STAY
Ted Richards
A pre-season calf problem, plus a broken cheekbone and concussion have limited the veteran to seven games this year, and he's no longer an automatic selection. Richards, 33, is out of contract at season's end and will likely move onto a career in finance. GO - Adam Curley
The Eagles are right in contention for a premiership and they have a list profile that is full of experience without being particularly old. They only have three over-30s and all three are still important contributors.
Sam Butler
The 30-year-old has played on one-year contracts for the last couple of seasons, but his often-troubled body is in the best shape of his career. He played 17 games last year, a career-high, and has missed just two games this year. He wants to keep going and insiders think he has more to give. STAY
Mark LeCras
He turns 30 in August and the injury issues of 2012-2014 are in the rear-view mirror. He has been down on form this season but he is held to a very high standard. He has another year to run on his four-year deal and remains a key to the Eagles' premiership chances. STAY
Matthew Priddis
The Brownlow medallist is the oldest player at the club but he is still one of the best. He signed a one-year extension in March and is still setting the standard in the Eagles' midfield. He has plenty of good football ahead of him. STAY - Alex Malcolm
With the Dogs having the AFL's fifth youngest list, they shouldn't be in any hurry to move on too many of their ageing warriors. Boyd and Morris have been brilliant down back and Murphy was in All Australian form before his season-ending knee injury.
Jed Adcock
The former Brisbane Lions skipper is only taking up a rookie spot and was a handy replacement during the club's injury predicament earlier in the season. The 30-year-old says he still has plenty to offer and isn't considering retirement yet. STAY
Matthew Boyd
It was a masterstroke by Luke Beveridge to transform the once-prolific midfielder into a defensive playmaker at the start of last season. The 33-year-old still finds plenty of footy, has improved his disposal efficiency and is a much-needed general of the backline. STAY
Robert Murphy
Before he ruptured his ACL in the dying moments of round three, the 33-year-old was still in the same form that saw him named the 2015 All Australian captain. He hasn't lost any of his trademark speed, agility or skills and recently declared he'd play on in 2017. STAY
Dale Morris
Where would the Bulldogs be without the ever-reliable stopper? The versatile 33-year-old's stellar form this season has kept Eddie Betts goalless before curbing the influence of Melbourne behemoth Jesse Hogan. He wouldn't look out of place in this year's All Australian team. STAY
Will Minson
The Bulldogs' fan favourite has been largely out of favour under Luke Beveridge's regime of versatility. It's been a sad end to the 2013 All Australian's time at Whitten Oval and the 31-year-old looks destined retire just a few games short of the 200-game mark. GO - Ryan Davidson