NICK Kommer played 19 games in his debut season in 2013, kicked 10 goals and added a frenzied attack on the ball to Essendon's forward line.

It was more than he expected. He had entered the system as a 22-year-old fourth-round draft pick who was selected out of the WAFL and unsure how he would go at the top level.

"If someone had told me I was going to come in and play nearly a full season in my first year I wouldn't have believed it," Kommer told AFL.com.au this week.

"But if they then said I'd miss the next two years with injury I'd have also said 'That won't happen'. It's been an interesting ride so far."

Kommer's return to Essendon's senior side last week in the Bombers' win over Carlton in the NAB Challenge went relatively unnoticed by most, aside from everyone at the club.

The tenacious small forward last played for the Bombers in round 22, 2013, days before Essendon was kicked out of the finals, coach James Hird banned for 12 months and the club hit with the biggest penalty in football history for its part in the supplements saga.

Kommer's 2014 and 2015 campaigns were ruined by knee tendinitis in his left leg, which required three separate surgeries to correct.

Although he had a modest impact, Kommer was pleased to just be back out there.
"I was probably more nervous than in my first AFL game because I wasn't sure how my body would hold up," Kommer said. "I've felt pretty good since the game. At the moment we're still monitoring how I'm feeling but I'm backing up this week against Geelong so we'll see how I go."

Kommer's injury troubles started a month before the 2014 season began when he complained of knee soreness. It was diagnosed as patella tendinitis and he spent a few weeks off the track to ease his training load.

He had a patella arthroscope and the surgeon cleaned out the back of his kneecap, but on return from that operation he developed further bone-on-bone pain.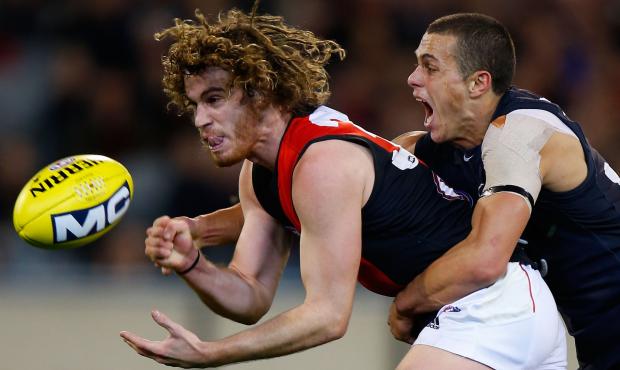 Nick Kommer's last regular season game was in 2013 against Carlton. Picture: AFL Media

After missing the 2014 season dealing with the problem, he needed another operation after developing a spur in his knee through his rehabilitation program. The frustration continued into 2015, with doctors unable to predict when he would be fit to return to the field.

"The unknown was the hardest thing. Some days in 2014 I'd wake up and it was feeling really good and I'd think that I'd gotten over the hill and was getting better," Kommer said.

"Then two days later I'd limp around and couldn't even run at all. There were a lot of ups and downs."

It's made a difference. Kommer has steadily built up his training levels throughout this pre-season and is confident in his body again. Having watched the Bombers from the stands for the past two seasons, he knows he can bring something to the line-up this year.

"I'm really looking forward to getting back into it. Having a run around on Sunday was awesome and I need to get a few under the belt to get back into the tempo," the 25-year-old said.

"I really want to play every week and consolidate a spot with my forward pressure and can add a bit of value to the team."

Kommer is in a unique position given his AFL career has been played throughout the Bombers' supplement saga. The scandal broke two months into Kommer's stint at the club and remains on-going for a fourth straight season.

He is close with fellow West Australians Travis Colyer, David Myers and Tayte Pears – all among the 12 Bombers suspended for this season – and says their struggles in the past three years has put his injury battle into perspective.

"The way I look at it is there's a lot of worse things out there and some of my good mates aren't playing this year while I've got the opportunity to play. You've got to take things in your stride," Kommer said.

"It's been an interesting journey so far. I say you have to laugh in the face of adversity because it's been unprecedented. Nobody's gone through this except us so we'll live and learn from it.

"Hopefully I can have a bit of a longer career and can get a couple of years just normal (without the saga) and go from there."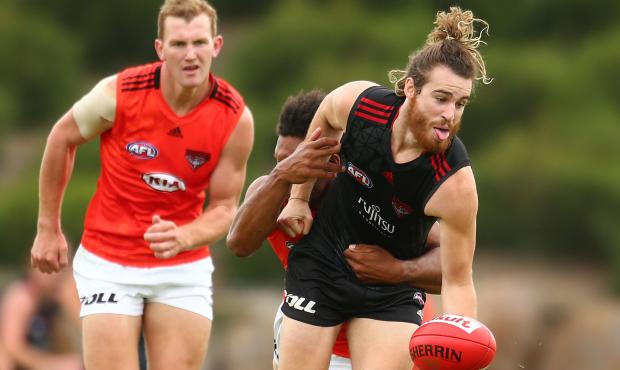 Nick Kommer is confident in his body again after two injury-affected years. Picture: AFL Media