RICHMOND achieved redemption with a second premiership in three seasons, and redemption stories don't get much bigger than that of one-game wonder Marlion Pickett.
The mid-season recruit, who served two years in jail as a teenager in his native Western Australia, became just the sixth player to debut in a Grand Final, the first to do it in 67 years, and the first Tiger in 99 years.
Pickett, 27, then completed one of the most meteoric rises in football history by playing a starring role in an 89-point demolition of Greater Western Sydney, the midfielder gathering 22 possessions, three clearances, a goal and third place in the voting for the Norm Smith Medal after playing just 66 per cent game time.
The way his season started and ended were poles apart.
Pickett, who'd won two of the previous four club champion awards with South Fremantle, missed the opening five rounds in the WAFL with a broken right index finger.
In just his second game back (his 98th overall in the WAFL) he broke the same finger again.
GRAND FINAL MATCH REPORT Orange crushed as Tigers roar again
The timing couldn't have been worse. Richmond and Essendon had shown some interest in him, but Pickett had seen it all before with Gold Coast, Collingwood and St Kilda coming knocking before dropping off.
And now Pickett – a cousin of 2004 Norm Smith medallist Byron Pickett – appeared in danger of being overlooked in the AFL's new mid-season draft, which was probably his best chance of being given a chance at AFL level.
Marlion Pickett began the season in the WAFL and ended with a premiership win on debut.

First he had to get his finger fixed, and he was grateful to have the backing of people who believed in him, including his manager Anthony Van Der Wielen, also a director at South Freo, who paid for surgery on the digit, which included the insertion of a small wire.
Aside from the looming recovery period of six to eight weeks, there was of course another significant issue for clubs to weigh up with Pickett.
As a young man he'd spent time behind bars for multiple offences, including burglary. Just months before he was due for parole, contraband was discovered in his cell and he was then sent to a high-security jail.
If that wasn't enough of a reality jolt, he received another when he bumped into his also-incarcerated older brother Thomas, who sternly rebuked him. It was something of a turning point for the younger sibling.
Where other clubs might have baulked, the Tigers were more interested in Pickett's recent behaviour than what had transpired in the distant past, and their due diligence found him to be a reformed man: a father of four who was desperate to provide for his young family.
Marlion Pickett credits his family for helping turn his life around.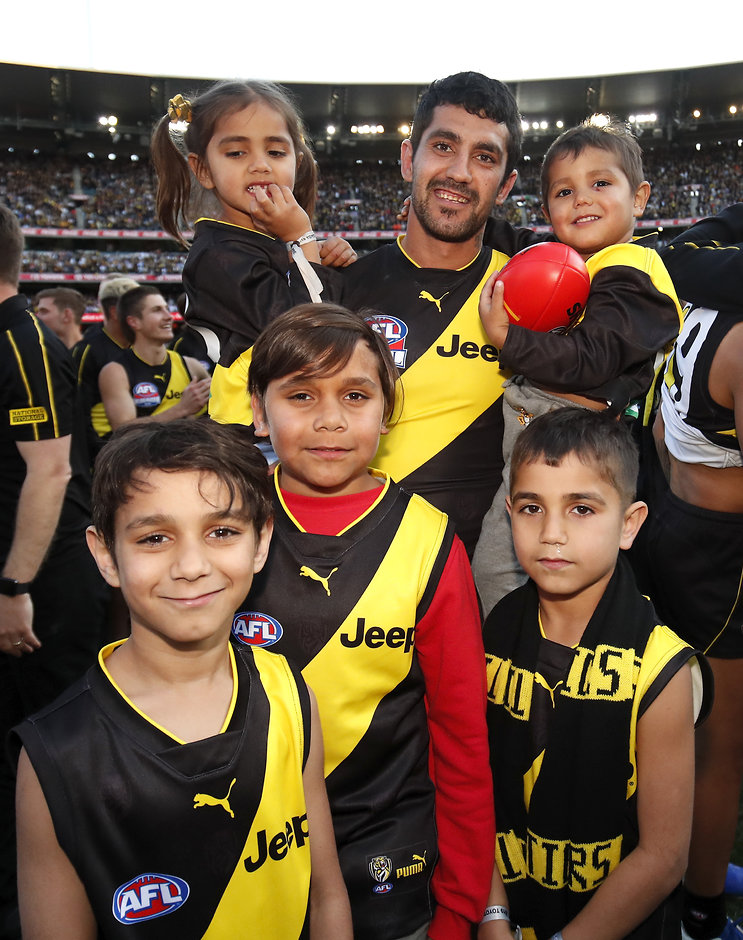 And he could seriously play.
"His talent was just too good to ignore," Richmond recruiting manager Matt Clarke told AFL.com.au in the victors' rooms on Saturday night.
THE MOMENT How the Tigers got their Hollywood ending
"He's naturally a contest player so he has a great ability to win it, use his hands and get out. The guys who have that appetite for the contest have the best chance of making it and playing well in big games, and he'd done that in Perth and in state footy."
Meanwhile, Richmond veteran Shaun Grigg was at the end of the road with injuries so he told the Tigers he'd retire if they felt they could replace him with a ready-to-go, mature-aged player in the mid-season draft. They had a player in mind – Pickett – whom they secured with pick 13.
It's worth repeating: if it hadn't been for Grigg's selflessness, Pickett might well remain an unrealised talent at AFL level.
Retired Tiger Shaun Grigg presented Marlion Pickett with his jumper before the match.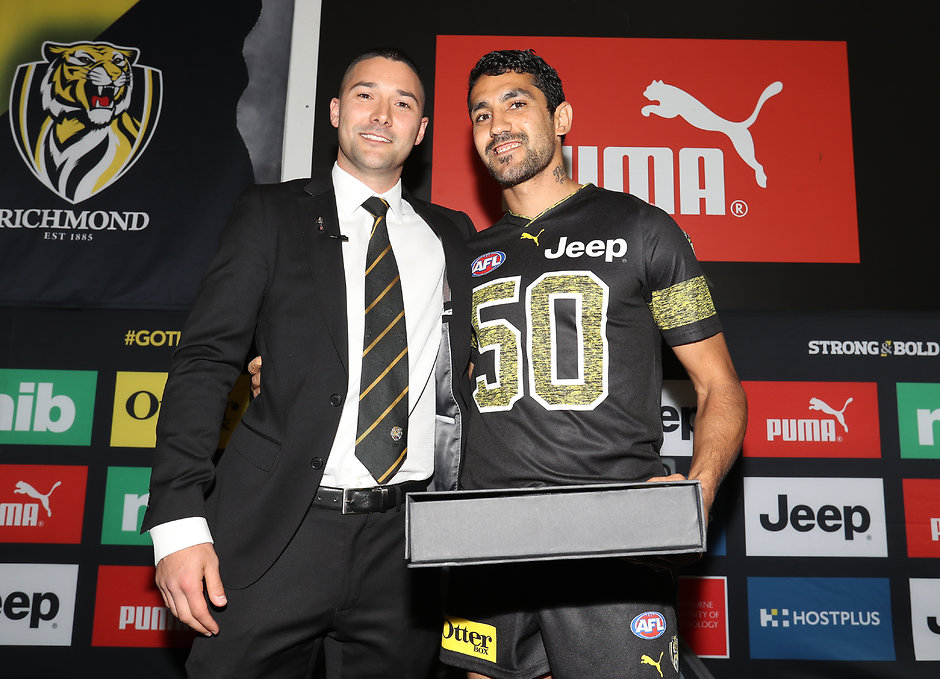 In something of an understatement, Richmond list manager Blair Hartley told the club's VFL coach Craig McRae: "I think we're going to give you a pretty good VFL player by the end of the year."
Being sidelined with injury proved a blessing in disguise for Pickett as it gave him more time to settle into Melbourne life and learn the Tigers' machine-like system.
10 THINGS WE LEARNED The Grand Final gamble that backfired
He was immediately surrounded by good mentors – before his wife Jessica and their four children (Marlion junior, nine, Latrelle, seven, Shaniqua, four and Levi, two) joined him he lived for a time with superstar Dustin Martin; and he was accompanied in rehab by fellow 2017 premiership hero Grigg.
"Rehab's a tough place with all the hard training but he just took it in his stride and learnt a lot in that time," Grigg said.
"Once he started playing it was pretty evident why we got him."

In six VFL games, Pickett averaged 18 possessions, four tackles and almost a goal a game to present a compelling case for a rapid promotion.
He impressed with his silky skills and composure, and drew gasps of awe after taking a mark that showcased his spine-tingling courage in the VFL qualifying final win over Essendon.
Calls for Pickett's elevation grew stronger after he was adjudged best-afield in the nail-biting VFL Grand Final triumph over Williamstown, collecting 20 possessions and laying a game-high nine tackles.
The 27-year-old won the Norm Goss Medal for the best player on the ground in the VFL Grand Final.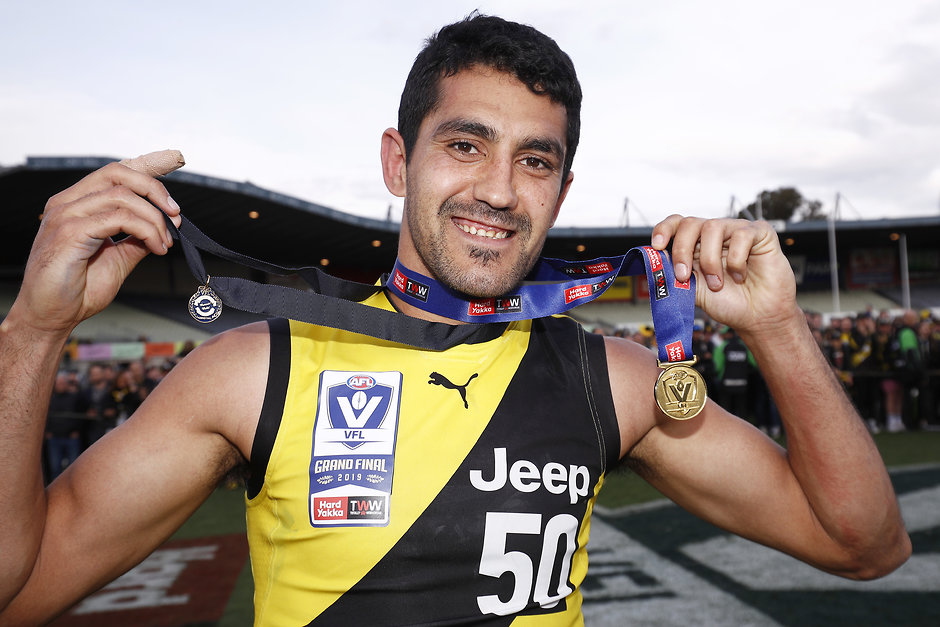 There was a vacancy in the Tigers' side for the AFL Grand Final six days later after Jack Graham succumbed to a shoulder injury. After lengthy discussions among selectors over several days, they bravely gave Pickett the nod ahead of like-for-like option Jack Ross, 2017 premiership player Kamdyn McIntosh and first-year sensation Sydney Stack.
"I reckon I didn't sleep for two nights," Tigers coach Damien Hardwick said post-match of the selection dilemma.
"It didn't come down until Thursday afternoon where we sat down and worked our way through what it looks like with their tags and what's going to give us the best chance to get the game played on our terms, and Marlion was the guy.
"The fact he hadn't played a single game of AFL footy to that point was a slight concern. We spoke to our recruiters, we spoke to a lot of people in the room, and we had incredible faith that he'd be unflappable and he was.
"He looked like he'd played 100 games."
WHO TORE IT APART? Every Tiger rated from their record Grand Final win
The Tigers coaches had kept things simple for Pickett, with Hardwick telling him: "Mate, play to your strengths. We'll look after you in a couple of areas just to get you through."
After entering footy folklore in his first game, the shy Pickett seemed surprised by all the fuss. He rarely wastes words or possessions.
There had been times he didn't think he'd be given an opportunity to play in the AFL but added matter-of-factly that if it didn't eventuate he'd have been "happy to play 150 (games) back at South Fremantle".
Marlion Pickett was far from overawed by making his debut on the big stage.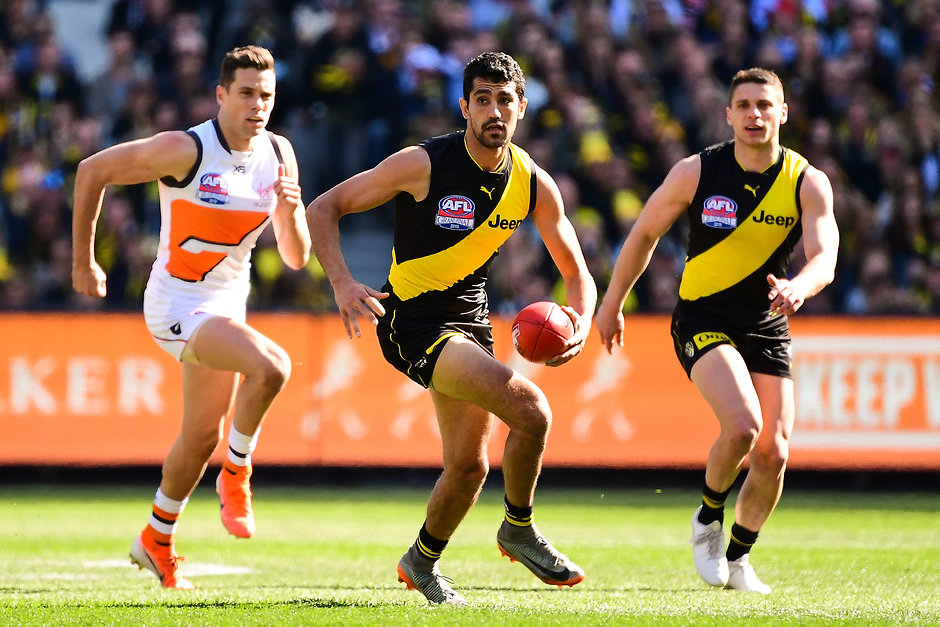 During the build-up to the Grand Final Pickett had often reflected on his unorthodox journey to the AFL, concluding that "probably the reason why I'm here doing what I'm doing is because of the obstacles I have faced in life".
The keys to his success, he said, had been making sacrifices, putting his family first and old-fashioned toil.
"Dreams are not impossible if you work hard for it," he said.
WE WERE WRONG Eight times we thought the Tigers were gone in 2019
"I never thought I'd win a premiership this early though."
Contrary to what most would expect, Pickett wasn't overawed by the occasion in front of a packed MCG.
"I felt at home. Footy is home. It takes your mind off a lot of things. I just played footy," he said.
When it was suggested it looked like he enjoyed himself, he replied: "If I'm playing footy I enjoy the day."
He didn't even motive a discernible increase in tempo or intensity from state-league level.
"It doesn't matter if I'm playing local, WAFL or AFL, footy's footy," he said.
Instant cult hero: Pickett greets Tigers fans after the match.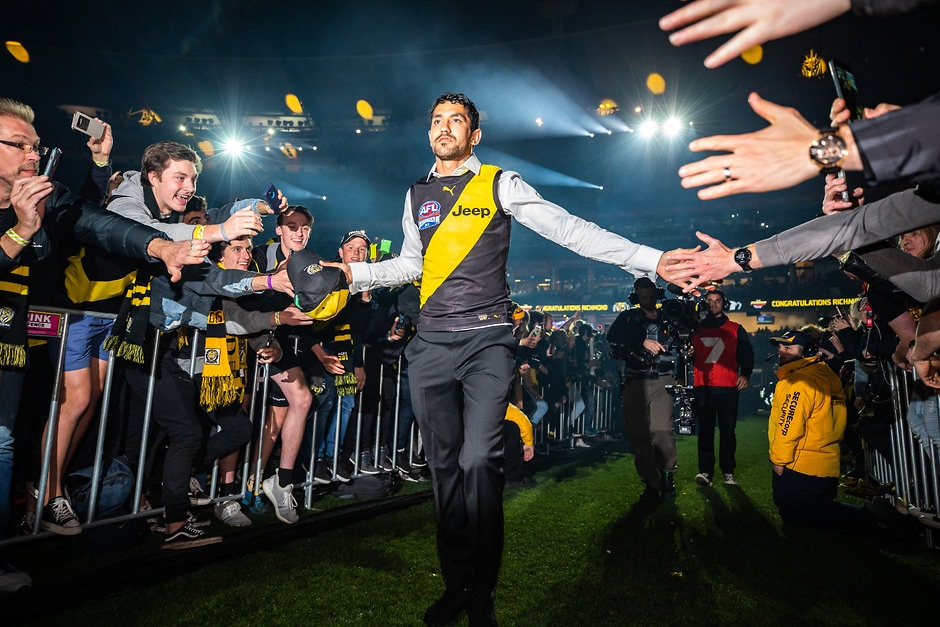 He was central to the moment of the match when, in the third quarter, he sent a well-weighted kick to the advantage of his former housemate Martin, who then set up Pickett for a goal from 30 metres.
Grigg suggested Martin wouldn't have passed the ball off if it had been Jack Riewoldt in space instead of Pickett.
"(Martin) knew the occasion, he knew the moment, and he kicked it to him. I was up in the stands and I probably jumped around like they jump around in the cheersquad," Grigg said.
"It was one of those moments you know where you were when that happened," Hardwick said.
"To see all 21 other players get to him, and the crowd, we've got a cult hero, haven't we?"
The Tigers' 89-point winning margin was their highest in Grand Final history.

Pickett isn't so sure about that label from the coach.
"I don't class myself as a hero; I class myself as a teammate," he said.
"I'm just enjoying my journey and I'll take whatever comes."
Grigg, who says he and Pickett share an unspoken bond, joked that the Tigers should have traded him in years ago.
"I couldn't be any more proud of him. I couldn't be happier for him to take my spot and perform for us. It's changed his life and his family's life forever," he said.
Veteran forward Jack Riewoldt marvels at the impact Pickett has made in such a short time.
"He's been here for only 12 weeks. He's a bloody smart footballer and he's a fantastic person," he said.
"He's a Richmond man and he's proven that."
Clarke, the man who convinced the Tigers to take a punt in the first place, is looking forward to even better things from Pickett.
"I think there's still a lot of improvement left in him. Get a good pre-season into him, an AFL pre-season, and he'll keep developing. That's why we picked him," Clarke said.
"Even at his age there's got to be three or four years left in him because he's pretty durable."