MELBOURNE has won the race for highly sought-after ruck prodigy Austin Bradtke.
The 17-year-old former junior basketball star will sign for the Demons as a Category B rookie in November after meeting with a number of other Victorian clubs in recent months.
It is understood a handful of other clubs enquired about the 204cm project player in April and were told they were too late into the process.
The lifelong Demons supporter then a made a decision to join a ruck division led by Max Gawn.
The son of former basketball champion Mark and former dual tennis Grand Slam champion Nicole, Austin passed on lucrative US basketball scholarships to turn his hand to football.
Father Mark, who has taken on kick-to-kick responsibilities in the backyard with Austin, said the journey had just begun.
"We are very excited and proud of Austin and the opportunity with the Melbourne FC," Mark told AFL.com.au.
"It was a long process in which all clubs presented extremely well.
"It is a tough decision for a 17-year-old to make, but he took his time and weighed up all the options.
"He understands that it will take time to develop his body and game, but believes that the coaches and players at Melbourne will be a massive asset for him."
Nicole and Mark Bradtke with son Austin, who is set to join the Demons. Picture: melbournefc.com.au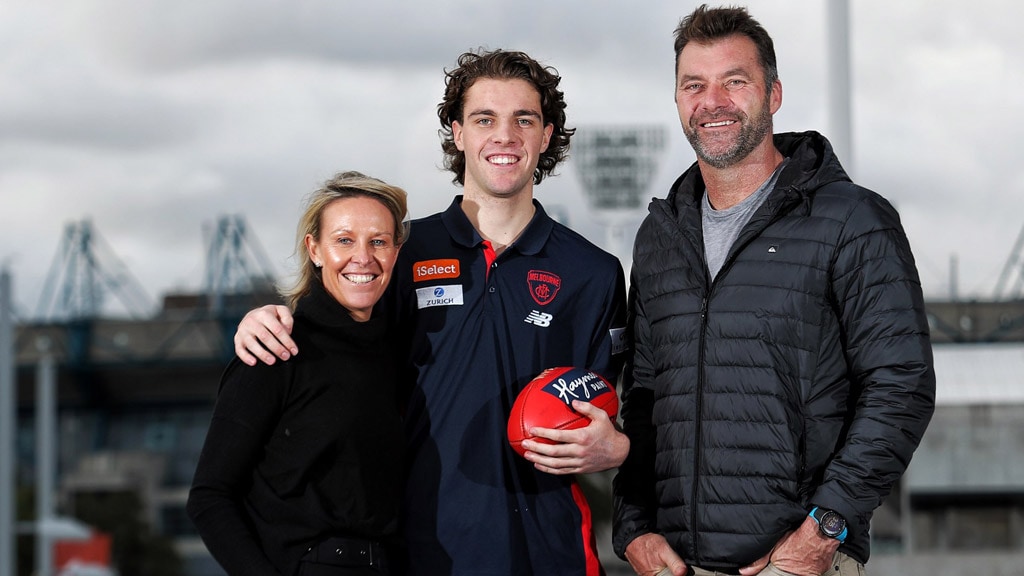 Austin said his final decision had only been made in the past week that he wanted to play for the Demons.
"At the end of last year, Dad told me he got a couple of calls asking if I was interested in playing footy and Melbourne was one of the teams," he told the Melbourne website on Wednesday.
"I decided probably about a week ago that I wanted to come to Melbourne and since then it has been a bit of a whirlwind.
"All the clubs that presented to me were really good, and it was a tough decision, but I know this is where I felt like I could get the best out of myself and I am happy to be here.
"I have been a Melbourne supporter my whole life, so it's a dream come true to [hopefully] play for the club in the years to come," he said.
Melbourne head of football Josh Mahoney was ecstatic to secure the third basketball convert on the list. Bradtke will join Corey Maynard and Joel Smith at AAMI Park, both of whom have come through the Category B rookie pathway.
"Understandably, there were a number of clubs interested in adding Austin as a Category B rookie and it was a competitive process," he told the club's website.
Bradtke played junior football for East Sandringham before focusing solely on basketball in recent years, representing Vic Country in last year's National Championships.
Having not played registered football for the past three seasons, Bradtke was eligible to be recruited as a Category B rookie and avoided the formal draft process.
Attending Haileybury College alongside potential top-10 draft picks Max and Ben King, Bradtke's passion for football grew rapidly in the past 12 months.
Bradtke will be allowed to start spending time at the Demons in the coming weeks before a full pre-season ahead of 2019.
Road to the Draft podcast
Tasmanian gun draft pick Tarryn Thomas joins Cal Twomey and Mitch Cleary. What will the Saints do with their first pick? And the Straw Poll returns as the guys quiz five recruiters on the best key position prospects: